As Amitabh Bachchan's granddaughter Navya Naveli Nanda readies for her Parisian 'society' debut, Mitali Parekh looks at what it really means to get invited to the ball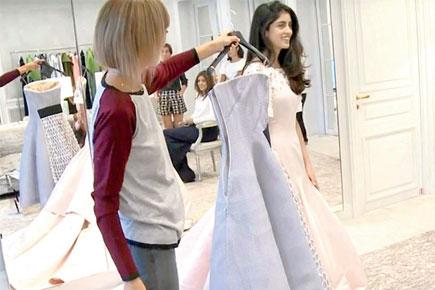 Navya Naveli Nanda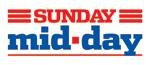 Superstar Amitabh Bachchan's granddaughter Navya Naveli Nanda is going to be presented at Paris's Le Bal this November. An AFPTV video following this announcement shows the 17-year-old talk about the daunting tasks she has ahead of the annual event — learning to walk in heels, for one. Slipping that tall, lissome Bachchan frame into a couture gown; sitting still while a make-up artiste hides the excitement of a teenager's skin and learning ballroom dancing.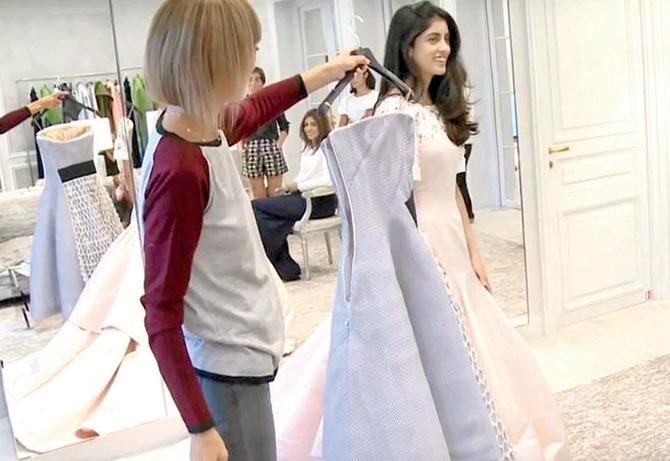 A still from the AFPTV interview of Navya Naveli, Amitabh Bachchan's granddaughter, as she prepares for her November debut
Debutante balls are a European tradition; a way to introduce 16-to-18-year-old girls of breeding and lineage into society to the reigning king (or queen) in imperial states. It marks the beginning of the girl's public life, from when she will begin to receive
invitations to social events amongst adults.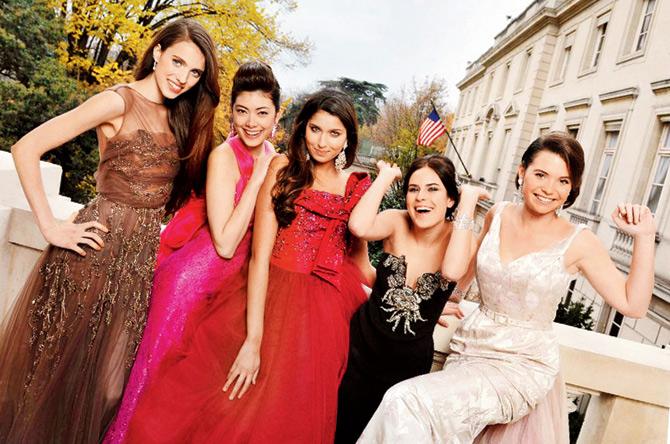 Leana Mallya (red), UB Group chairman Vijay Mallya's daughter, with the other 'debs' at the 2011 debut. PIC/Photo archives Le Ball
Most explicitly, it is an elegant way of presenting a fresh crop of wealthy and pedigree genetics up for harvest (read marriage). It's all there in the clothes — the girls wear virginal white couture gowns and gossamer heels. Their skin, already bud-fresh, is left as is — there is no over-processing of colours such as smokey eyes or matte lips — it's all dewy and pink and peach.
In these times, the relevance is somewhat diluted but the tradition still holds in some echelons of society. Queen Charlotte's Ball held in Highclere Castle (more famous as Downton Abbey), England; the International Debutante Ball held every two years in New York and Le Bal in Paris.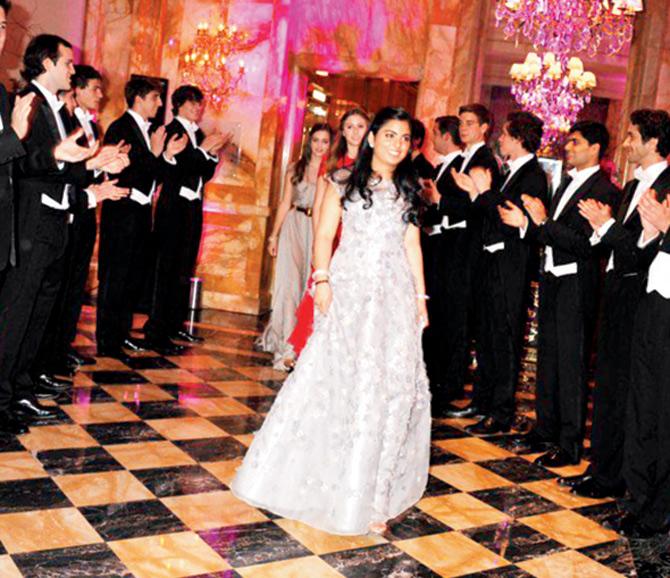 Mukesh and Neeta Ambani's daughter, Isha, also made her debut at Hotel Crillon in 2012. Pic/Photo archives Le Bal
"Debutant balls are rich in non-negotiable protocol, rituals and etiquette," one society watcher tells us. "They are only for the creamiest layer of society and families prepare almost a year in advance. There are finishing schools to teach the girls how to use the right cutlery, lose weight to fit into couture gowns, correct skin and hair imperfections and take ballroom classes. These are for both, daughter and father as they will take to the floor together. They are also groomed in holding elegant conversations on current events (without crude debating or baiting) and how to walk down a curving staircase in heels." Some of them require you to be associated with a charity for a while, raising funds or awareness. At Queen Charlotte's ball, the debutante curtsies a cake, presumably seeing it as a representative of royalty, and not carbohydrates.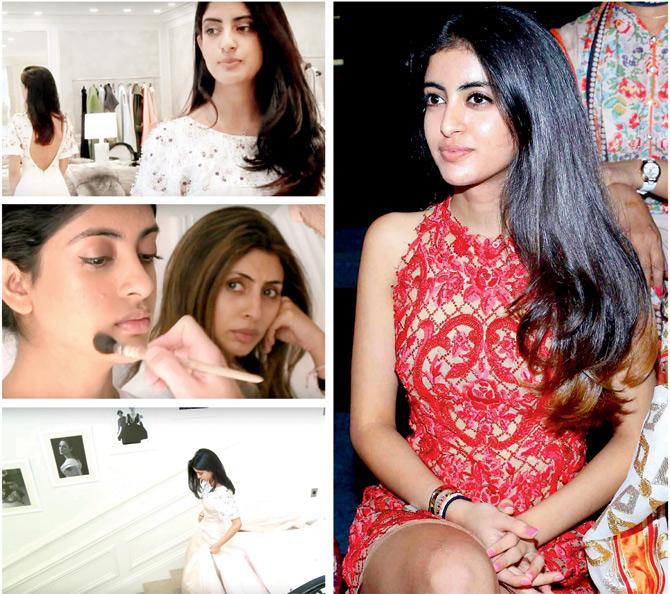 Amitabh Bachchan's 17-year-old granddaughter, Navya Naveli Nanda is going to be 'presented' at Paris's Le Bal in November. In an interview with AFPTV, shot in Paris where she is currently staying with her mother Shweta Bachchan, Navya says she has been taking dance lessons and practicing walking in heels "cause that's not a usual thing" for her. Make-up sessions are a mandatory stage for the preparation for Le Bal, at which 25 young girls are presented each year. Each girl gets one top designer to provide the dress. For Navya, it's Christian Dior
The biggest balls are in Europe, and the "invitees are a mix of royalty, industrialists and people from creative royalty such as rockstars and actors," says Chhaya Momaya, an image consultant. "Everyone from a Trump, to Madonna's daughter to a European prince will be present. Asians are not as widely represented, but that is changing." Navya Naveli will be the seventh Indian to be invited to Paris; prior to her Isha Ambani, Leana Mallya, Shaiyra Devi of Kapurthala, Adishree Singh of Jammu and Kashmir, Akshita Bhanjdeo of Mayurbhanj and Ashna Mehta have descended faintly from the staircase.


Among the India royalty who have debuted at Le Bal, which is held at Hotel Crillon every November, are Akshita Bhanjdeo of Mayurbhanj (in gold) seen here with Ashna Mehta (pink), daughter of an industrialist, in 2013. Debs are allowed to invite friends, boyfriends and brothers to act as escorts. When they do ask for dates, the choices are usually princes or barons
While most of the balls are said to be by-invitation only, there are murmurs that there is an intimidating fee. "Every royal, who doesn't have the money to buy a gourmet meal, will make sure their daughter gets into the debutante ball so that she marries well," says a wry socialite.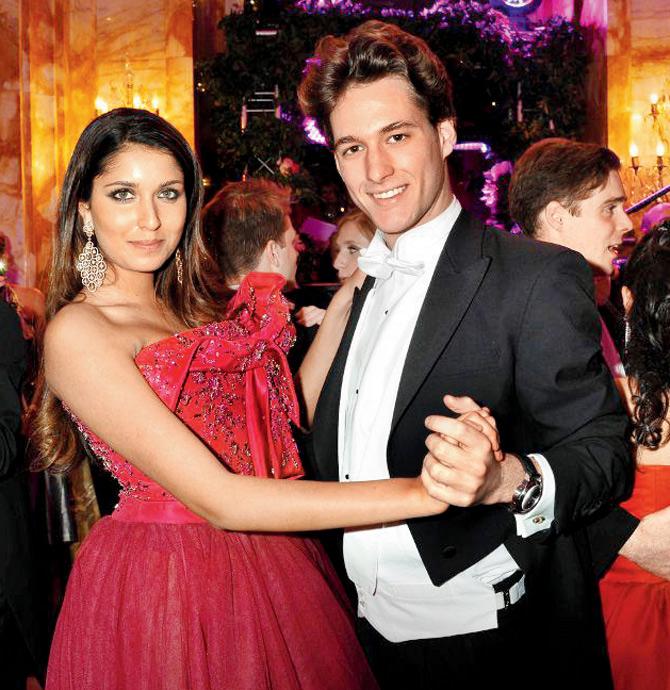 Invitees are a mix of royalty, industrialists and people from creative royalty such as rockstars and actors. Among the six other Indians who have debuted at Le Bal, is Leana Mallya, daughter of UB Group chairman Vijay Mallya. PICS/ LE BAL PHOTO GALLERY
In more informal
society, debutante balls are downscaled and adapted to be sophisticated fun. Devita Saraf, founder and CEO of Vu Technologies, remembers her college mates attending some. "It has lost its original purpose, but it remains a night of elegance, tradition and high society," says Saraf, who went to university in California. "The girls wear prom dresses and could be from sororities. It is certainly not for marriage because girls don't marry that young anymore. Men are involved as escorts, but it more about the girls. Any way, there are such few avenues for women to put themselves forward without seeming pushy and this is one of them."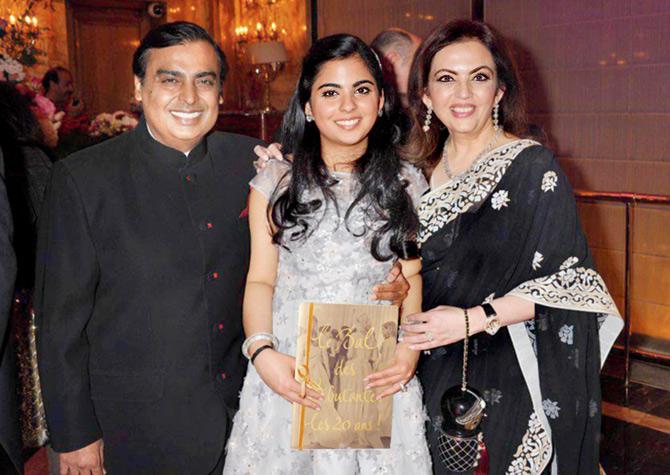 Daughter of Reliance tycoon Mukesh Ambani, Isha Ambani, debuted at the Paris Le Bal in 2012. Part of the preparatory stage, which often starts a year before the society debut, is ballroom classes, for both daughter and father, as they will take to the floor together. A year before the European debut, Isha made the Indian society debut by way of appearing on the cover of Hello! magazine with mother Neeta Ambani
Fashion designer Delna Poonawalla, daughter to Pune-based billionaire breeder, Cyrus Poonawalla, is a detractor of these rituals. "As a modern woman," she says. "I believe we do not need any more rituals through which we are introduced into society to make good wives. Instead, we need to empower young girls with a great education, skills and confidence to make of themselves what they like."
Closer home, a cover on a high society magazine or an interview in the Sunday pages is another way of coming out. Relevantly, this showcases a woman's attributes along with breeding and status in society.
"We all each have our own rituals and a debutante ball is very English in nature," says Delna. "Being Parsi, my family is more open to Western influences but even so to see an actual debutante ball is rare. What I have seen celebrated by the upper class of society and now daughters of celebrities is their Sweet 16 or the 18th birthday that marks a girl's entry into young adulthood and independence."
Momaya, who helps with such media introductions, says, "Families will now choose the right magazines or papers to introduce their children. It could be to say that the son or daughter has joined the family business and not just for marriage. Now, our children study abroad and are gone for many years. This becomes a way of saying they are back. And yes, eligible for marriage. But it's not just superficial; it's about personality and attributes. Usually, I'll speak to a media house and say instead, of a fashion shoot, why not do an interview about their charity work. One person set up an exhibition of her art and proposals flooded in."
There is still a standard to be maintained, which is done by choice of magazine. Hello! is the official partner for Le Ball and thus has exclusive rights to the pictures. But, even that doesn't mean you'll make it to the cover. "We have certain standards and work with royal and high profile families closely," says editor Ruchika Mehta. "We know in advance when an heir or heiress is graduating or coming back to the country and we'll chart out an interview or cover with the parents."
They can't just be children of cinematic stars or minor princelings, says another editor of a society magazine. "They would have to be direct descendant of a major royal family," he snorts. "A Jhanvi Kapoor (Sridevi and Boney Kapoor's daughter) would not be a solo cover for us."
The rest of us? Let's eat cake.