Kainaz Messman tells Deepali Dhingra that her greatest joy lies in feeding people and making them smile. What makes her day, however, is an early morning cup of tea lovingly prepared by her husband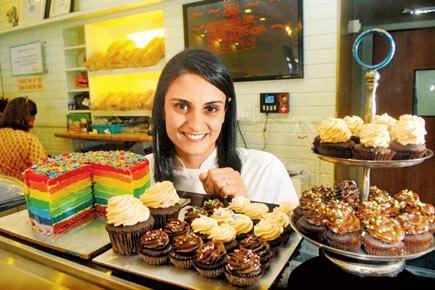 Kainaz Messman, Brunch with the boss, interview, Theobroma, chefs
Kainaz Messman, Owner and Chef, Theobroma
As a kid, I would often read Enid Blyton books and fantasise about having midnight feasts of ginger bread, scones and tinned pineapples, just the way the girls in her St Claire's series did. But for Kainaz Messman, the owner of Theobroma, these midnight feasts were a reality and a big part of her childhood. "My mum, who ran a fast food business when I was a child, would often wake up my sister and I in the middle of the night for ice-cream sundaes with crème de menthe poured over them and other goodies. At other times, she would wake up all of us early morning and we would go for a drive to Lonavla, have breakfast at Fariyas hotel and drive back," says Messman, reminiscing about her idyllic childhood.

Kainaz Messman unwinds by going for a run and having hearty breakfast meals with her husband. Pics/Pradeep Dhivar
We're at the Colaba-based Theobroma, the first outlet of the much-loved bakery, patisserie and chocolaterie, which Messman opened in 2004. A customer who either wants her to recommend a dessert or just say a quick hello, interrupts us every so often. "I had intended this place to be a neighbourhood coffee shop but I guess God had other plans," she laughs. Well, the 'neighbourhood coffee shop' is certainly much more than that today. With five outlets in the city and three more coming up, Theobroma's 10-year-long journey has been one of the great learnings for its 35-year-old owner. "Honestly, I cried when we were opening our second outlet at Bandra in 2010," she admits sheepishly, "I was happy that the business is growing but somewhere, I felt that I would lose the soul of my business. But then, you have to go along with the flow. You can plan for certain things, but with some things, you should just dive right in."
Foodie dreams
While growing up, food was a big part of Messman's life. "We would always be teary-eyed on Sundays because there were so many onions to be cut for mom's catering business. My mum would experiment in the kitchen and as kids, we had already tasted Gazpacho, Jambalaya and other world cuisine, which other kids our age had no idea of," recalls the chef. Yet, till the age of 14 or 15, Messman saw herself becoming a lawyer. However, a year in France as a rotary exchange student when she was 16 years old changed all that. "To my luck, I went to this tiny town called Albi in the South of France, where food is the centre and soul of life. With my host mums, I would go to the farmer's markets or take vegetables grown in the backyard and make food. For Christmas, we stayed up the whole night making desserts and then called 50 people over for a dessert and champagne party. I found myself spending more time in cafes and patisseries than going to school," she laughs. It was then that it became clear to her that she would have a career in food and law would have to wait for another lifetime.
You would think that after studying at the Institute of Hotel Management, Catering Technology and Applied Nutrition, (IHM) Mumbai, completing her post-graduation from Oberoi Centre of Learning and Development, Delhi, and securing a place for herself as the pastry chef of Oberoi Udaivilas in Udaipur, would have been the ultimate high in Messman's food journey. But God, again, had other plans. A severe back injury in 2003 led to the enterprising young lady being confined to the bed. "I still remember lying in the hospital bed and the doctor telling me, very nonchalantly, that I can't be a chef any more as I couldn't stand for long hours and would have to think of an alternate career," she adds. But Messman was not ready to give up on something she had strived the last 10 years of her life for. She quit her job at Oberoi and spent the next year undergoing physiotherapy sessions and swimming every day, to pursue her dream of becoming a chef. It was during this period of recovery that the idea of Theobroma was born. The initial days, were very tough. "We weren't ready for the kind of positive response we got. We started off with only a handful of items on the menu but today we have thousands of items, which we rotate at regular intervals. We've been yelled at by customers, but for every one unjustified complaint we've received, there have been 20 people coming and telling us what an amazing job we're doing. That makes all the pain and hard work worth it," says an emotional Messman.
Sharing food, fun and smiles
In the initial years of Theobroma, the chef would work seven days a week. But now, she takes her Sundays off. "As you grow older, you realise that you require to balance your life," she says. And now, she has another reason to take that much-needed break every week. The lovely entrepreneur got married early this year to boyfriend Nihal Harchandrai, who, according to Messman, is the only person who can beat her at eating chocolate! "I love the fact that he's a big foodie. He doesn't help me in the kitchen, but at times, he makes tea for me in the mornings," she smiles. Breakfast is her favourite meal of the day, and on Sundays, she and her husband can often be seen enjoying breakfast in some restaurant in the city or calling their friends over at home for a hearty meal.
Unwinding, for the young entrepreneur, means going for a run in the morning. "I love running. It takes me into my own world and it's my time with myself. I try and go for a run at least four or five times in a week. In fact, on my birthday a couple of days ago, my husband asked me what I wanted to do and I said, let's go for a run. So he woke me up and we went for a run in the morning," she reveals.
Travelling, too, is another one of Messman's passions. "I just want to spend money on food and travel," she laughs, "I think travelling is the best form of education. It's such a beautiful and enriching experience."
Food often determines the place she would pick up next for her holiday, but sometimes, it is simply the love for a place which inspires her. "I have a strong connection with France, where I have friends and family, so I keep going back there. For our honeymoon, we picked Italy, because it was a place neither of us had been to. It was absolutely lovely," she adds.
But what the Parsi bride enjoys the most, is feeding people and making them smile. For her birthday, her husband called a bunch of their friends for brunch to their place, and there was much food, fun and laughter. "For me, food is always about sharing with family and friends. That's what makes me the happiest," says the foodie at heart, before another customer calls out a greeting and she goes back to spreading some more smiles.