With most employees stuck in WFH situations, companies are scrubbing emails from their workplace tools, and exploring the informality of user-friendly papas Flock, Slack and Snapchat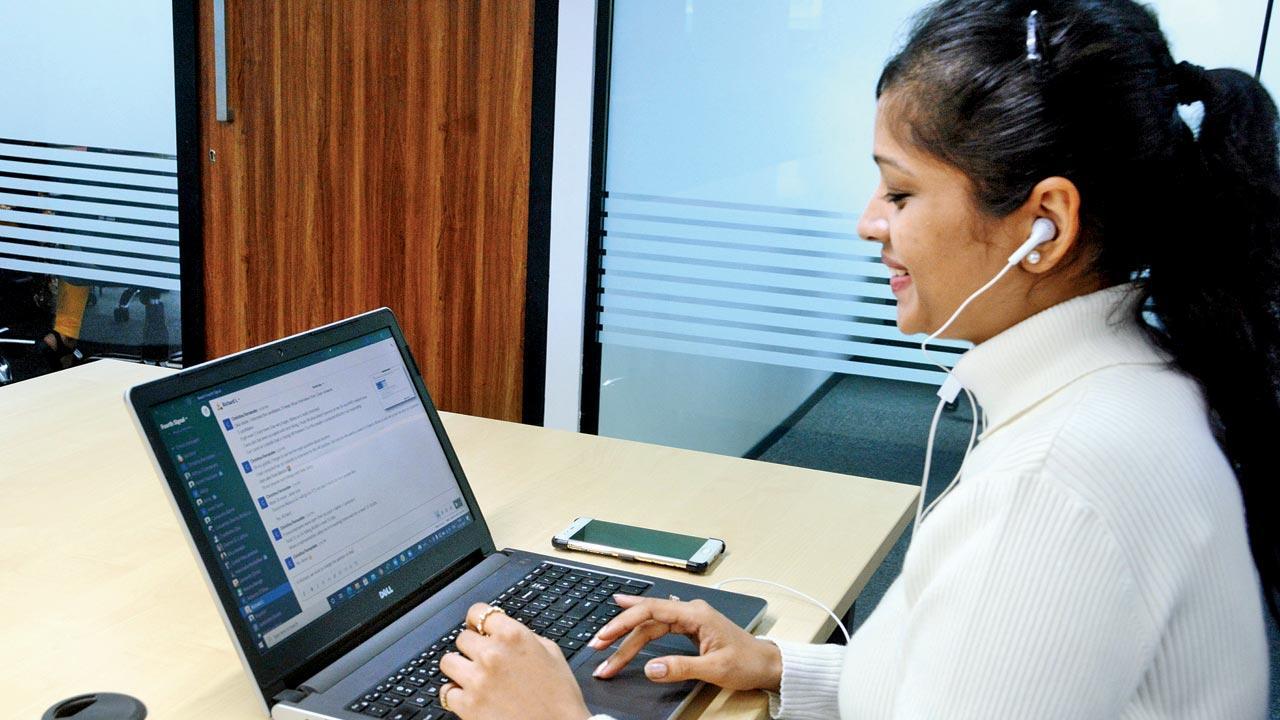 Employees at Fourth Signal use Slack for instant messaging on the corporate network. They feel that it helps them collaborate and work effectively as a team. Pic/Satej Shinde
Emails have been the bedrock of communication in the corporate sector. But, with digital tools evolving at a rapid pace in recent years, many feel that opening your inbox might soon be a thing of the past. With remote work becoming the new norm, most organisations are relying heavily on direct messaging more than ever before, which allows managers and bosses to ping anyone in an organisation with blinding immediacy. Numerous web tools like Slack, Microsoft Teams, Skype, and even personal communication platforms like WhatsApp and social-media platforms like Instagram, Facebook Messenger, and Snapchat are gradually replacing the email's old function.
Shalini Sharma, senior manager, Human Resources at Flock, a team communication application and online collaboration platform, highlights how Flock is being used by several organisations globally. "Emails don't let you communicate in real time. Flock makes communication within organisations across locations efficient with a simple chat interface, enhanced with emojis, GIFs, and polls. It has helped leads remain in touch with their own team and teams across the organisation," she shares.
Flock sorts out basic work needs like setting reminders, creating to-do lists, sharing notes and the most favourite of all, the Praise app, where employees can appreciate each other for small tasks, which otherwise go unseen. The application also houses other apps, such as Zoom, GitHub, Jira, Google Drive, Google Calendar, Trello, and Twitter. These apps can be easily integrated into a channel, so that you don't waste time switching between multiple tools.
Nayan Jadeja and Deepak Nachnani, founders of peopleHum and Engati, use a chatbot called PHIA, which they say, makes engaging with employees, planning surveys and ideation campaigns, easy among other things
Cidel D'souza, who works in engagement and talent branding, says that running communication on Flock has made team bondings and running internal events a reality. "We have hosted multiple activities, challenges and virtual events right here on Flock. Team members can react using fun emojis, voice notes, videos, scribble some notes or draw something  - truly unleashing their creativity. We also use Flock to host our interest groups, like a meme club, a music and book club, so that employees can connect with others  who share their  interests."
Taking a break from tradition, many companies are now encouraging among employees the use of direct messaging, available on different social media apps. A Manchester-based energy retailer, Love Energy Savings, recently announced that it was scrubbing email from its workplace tools, replacing it with a bevy of social media apps, because its younger employees preferred the immediacy of DMs. The sales software company Close uses Snapchat as an internal communications tool for its remote workforce, claiming the disappearing messaging app creates "a team culture that's not only centred around work, but also life outside it".
Cidel D'Souza, who works as an associate in engagement and talent branding, and uses Flock, says she no longer needs to wait for hours to get an approval over email. An acknowledgement on Flock is also considered valid
peopleHum, an AI-driven integrated Human Capital Management solutions company, uses a bot called PHIA. It is not just an HR chatbot, but an Intelligent Assistant created for the platform by Engati, which builds AI chabots. "PHIA makes engaging with our employees easy, as it plans surveys, ideation campaigns, recognitions and suggestions. It also lets employees check their leave balance, apply for leaves, claim reimbursement, check the holiday calendar, and look up employee profiles right from the interface itself," says Nayan Jadeja, founder of peopleHum.
"Implementing PHIA has provided the employees with a communication platform that's new-age, interactive and intuitive. Since, PHIA  has also integrated with Slack and MS teams, it has made collaborations quick and meaningful," feels Deepak Nachnani, co-founder of peopleHum.
Shalini Sharma, senior manager, Human Resources, Flock
Fourth Signal, a leading provider of Finance and Treasury Solutions in India and the APAC region, has also limited the use of emails to business/professional communication only. Apart from that, LinkedIn has been the choice for professional networking. But, for instant messaging on a corporate network they use an application called Slack. "During this period of WFH, the instant messaging features of Slack helped all of us collaborate and work effectively as a team. If I have to work with some teammates on a project, I can quickly setup a group [called channel] and exchange messages on the project. Another benefit is that I can link Slack to my Google calendar. With the number of meetings during the day, Slack sends me reminders on all upcoming virtual meetings," says Ajay Furtado, Director, Treasury Centre of Excellence at Fourth Signal. 
Another way they collaborate is on Google Sheets. It has been their main collaboration platform for working on projects together. "All our project work is posted online, and we jointly fill in worksheets together, updating project statuses and monitoring the progress. These applications have made it easier and convenient for real-time sharing, analysis, validations and have helped in facilitating availability, collaboration, and quick and effective engagement," says AV Subramanian, Director, Digital Transformation, Finance & Treasury. Fourth Signal has even considered setting up intranets such as Facebook workplace, Claromentis and Happeo, to post company announcements, for bulletin-based messaging.
But the casual nature of communication on these platforms can sometimes blur the lines between professional and personal relationships. Sharma agrees. "The onslaught of direct messages can follow workers home well after office hours, chaining them to their devices. Features like Do Not Disturb and status update that lets a user state their working timing when they're away on a break, and also provides an alternative if they aren't available online," she says. Some professionals agree that colleagues pinging them continuously can reduce their ability to focus, proving to be a distraction.