The script of 'Teraa Surroor' holds a lot of interest but the patchy, amateur execution kills it. Director Shawn Arranha ends up delivering unintentional amusement and Himesh Reshammiya the actor is never a patch on Himesh Reshammiya the musician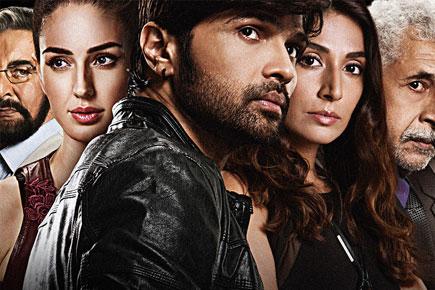 'Teraa Surroor' - Movie Review
'Teraa Surroor'
U/A; Romance-thriller
Director: Shawn Arranha
Cast: Himesh Reshammiya, Farah Karimaee, Naseeruddin Shah, Shekhar Kapur, Kabir Bedi
Rating: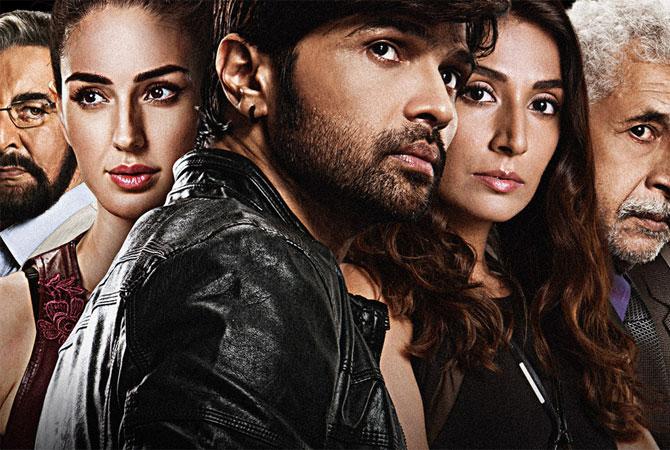 'Teraa Surroor'  poster. Pic/Santa Banta
ADVERTISEMENT
As the movie's opening credits roll, you hear a melodious song composed and sung by Himesh Reshammiya playing in the background, and for the nth time you wish the man continues giving you more music and concentrates less on in being front of the camera.
By the time you come to the end credits, in between all the snotting and sniggering, you make that wish again. Because, in spite of the bulging muscles and that constant intense gaze, Himesh the actor is never a patch on Himesh the musician. 
Himesh plays the gun-toting badass who's going thorough a bit of a love tangle with his girl, Tara (Farah Karimaee). Tara leaves him in a huff to go to Dublin where she ends up in jail because she's falsely implicated for drug possession. The lover boy decides to get her out with the help of Santino aka Bird (Naseeruddin Shah).
The script holds a lot of interest but the patchy, amateur execution kills it. In his attempt to give it a Hollywood thriller kind of treatment, debutant director Shawn Arranha goes haywire with the camera angles and shots, and never finds his foothold back. What he ends up delivering is a lot of unintentional amusement — nowhere close to the 'stylish' film it is intended to be.
All Himesh is expected to do in most situations is stand at one fixed spot and stare at the object of his love while the camera fades in and out of his face for what seems like eons, and sometimes till an entire song plays out. The one time he gets to say a few dialogues, you are so taken aback by the mock heroism on display that you forget to concentrate on the not particularly impressive but supposedly patriotic lines.
The new girl (Karimaee), who looks like a cross breed between Nargis Fakhri and Katrina Kaif, is pleasant to look at but seems too bewildered by the goings on to be able to concentrate on other expressions. The few scenes in which the irrepressibly magical Naseer appears don't seem to belong to this film.
Filmmaker Shekhar Kapur makes a rare appearance, but unfortunately, this yet so charming man doesn't deserve two random scenes and a tacky, bizarre line which goes like "Bad girls should not get good boyfriends" or whatever.