Ayushmann Khurrana is petrified to reveal to the world he's all set to become Anupam Kher from Shah Rukh Khan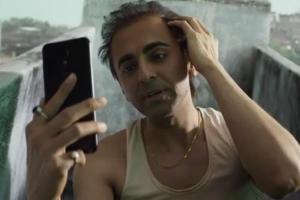 A still from Bala's trailer. Pic/YouTube screengrab
Bala
U/A: Drama, Comedy
Director: Amar Kaushik
Cast: Ayushmann Khurrana, Bhumi Pednekar, Yami Gautam, Seema Pahwa
Rating: 

ADVERTISEMENT
Last year, in Zero, Aanand L. Rai presented three flawed characters, both physically and emotionally. But they were unapologetic and unabashed about their imperfections, particularly the central character, who was, surprisingly, never mocked for his dwarfness. In Amar Kaushik's Bala, Ayushmann Khurrana plays the eponymous character who gets the moniker due to his curly hair he's too proud of to the point of pompousness.
The trailers have already triggered the right kind of emotions into the audiences for what they are about to see in this comedy. Bala loses all his hair and is clearly unable to come to terms with it. He tries at least 112 ways to get his hair back but all prove to be futile. Khurrana's last release, Dream Girl, was a mindless comedy that never asked you to take the frivolousness seriously. Bala is not that kind of a film. It touches issues that are both relevant and disturbing.
But Kaushik and writer Niren Bhatt have a jocular way of telling the bitter truth that still looms large in India. And just like Zero, the characters here too are imperfect. Bhumi Pednekar (in unconvincing makeup but a convincing performance) has been derided for her dark skin, Seema Pahwa has a moustache, and, of course, Khurrana is petrified to reveal to the world he's all set to become bald.
Coming to Yami Gautam, she has been imperfect too, but merely academically, but her skin and aura helped her in becoming a Tik Tok sensation. She's the model of a fairness cream, and we feel this was an amusing and ingenious idea to create a character out of the real-life memes and jokes she has often inspired. In a nicely-done scene, she tells Khurrana that being gorgeous is the only crucial factor of her life, as it has helped people transcend her imperfections.
Check out the trailer here:
Gautam and Khurrana share better chemistry here than they did in their debut film, mainly because the material is more slapstick and silly but in all the good ways. The film's best bits come when they both dance on some classic Hindi film songs, enjoy making their Tik Tok videos, and even replicating the outfits worn by the original actors in those films. If there's one trump card of Bala, it's Tik Tok. And point to be noted - Khurrana does a better impersonation of Bobby Deol than he does of Shah Rukh Khan, at least the whistles and claps in the cinema hall suggested.
Gautam gets a role that requires to do physical comedy, and she gets some bits spot on. Being a Tik Tok sensation is all about being as unabashed as possible, brimming with unassuming mien and channeling your inner comic. We don't have too many roles written for actresses that are filled with both meat and mirth; she gets one and we wish to see such comical bits from female stars more often. But Bala isn't all about frolic and fun. It has an underlying message tucked beneath the madness and mayhem.
It's all about loving yourself and this is something that we have been taught by the movies before. The tone gets serious and the scenarios solemn. There's another film that tackled the same issue, the lesser known I Am 24, where Rajat Kapoor had the same inhibitions about his baldness, and even had to lie to his girlfriend to escape any form of embarrassment and guilt. Bala may have asked all of us to cheerfully accept our imperfections and love ourselves, but will the mindsets of the society ever change? Can a film really make a difference? Maybe not! So how about we just enjoy the film and move on to the next one sevens days later!
Catch up on all the latest entertainment news and gossip here. Also download the new mid-day Android and iOS apps to get latest updates