Done with Thackeray biopic, make-up artist Rajesh Nag discusses how he got Nawazuddin Siddiqui to look like a splitting image of politico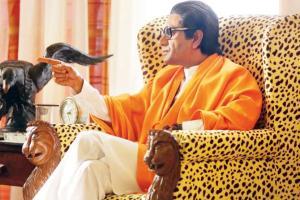 Actor in a still from the film
Nawazuddin Siddiqui looked relieved as the 65-day-long start-to-finish schedule of Thackeray, biopic on the life of late Shiv Sena chief Balasaheb Thackeray, ended yesterday. Instead of talking about his performance, the actor couldn't stop praising his make-up man, Rajesh Nag.
Nag tells mid-day, "It takes me two hours to do Nawaz bhai's make-up and make him look like Balasaheb. He has three different looks in the film, which needed to be alternated in a single day's shoot. Director Abhijit Panse is a stickler for detail. There was a time when my house was flooded with old pictures of Balasaheb. His young and the slightly older avatar were the prominent ones I had to work on. In terms of the face structure, Nawaz bhai's face is 70 per cent like Balasaheb's. To get the remaining 30 per cent right was my job."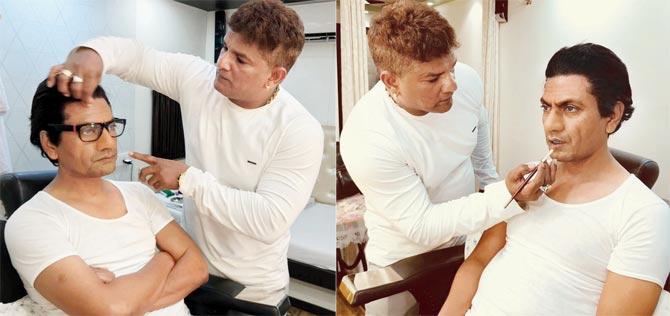 Rajesh Nag working on Nawazuddin Siddiqui's look in the film
For the younger look, a pronounced lip and bushy hair patch were pivotal. The make-up artist thanks Nawazuddin Siddiqui for encouraging him to be part of the film. "Bagging the movie was an honour for me. Nawaz bhai has immense faith in me. In the younger look, I had to put in my all. It started with getting the right hair, so we used a patch for it. Also, I had to give him fuller lips, so I would create the outline and then highlight the lips. In his 20s, Thackeray saab had a clear face, so we had to do the right contouring on Nawaz bhai," says Nag.
He says older Thackeray's face was easier to create because prosthetics made the job easier. "We used a prosthetic nose. The receding hairline was achieved by the right wig. Balasaheb's chin was different from Nawaz bhai's, so I had to carefully fill the gaps," says Nag, who always had his research board on set for reference.
Also View: In pictures: The life and times of Bal Thackeray
Catch up on all the latest entertainment news and gossip here. Also download the new mid-day Android and iOS apps to get latest updates