Katiyabaaz is one of those documentaries, which do a good service by pulling us out of our blissful cocoons and holding the mirror to certain harsh realities within our country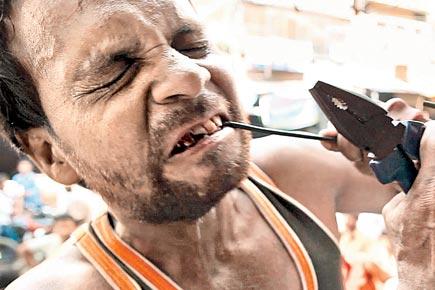 'Katiyabaaz'
Katiyabaaz
A; Documentary/ Drama
Dir: Deepti Kakkar and Fahad Mustafa


Katiyabaaz is one of those documentaries, which do a good service by pulling us out of our blissful cocoons and holding the mirror to certain harsh realities within our country.

Loha Singh, the protagonist, has a personality as solid as his name. His job is to go around stealing power
It is heartening to see this National Award-winning documentary getting a theatrical release and jostling for space amidst other commercial ventures.
Loha Singh, the protagonist, has a personality as solid as his name. His job is to go around stealing electricity from transformers in the areas of Kanpur and provide free connection to anybody who offers him his price. Loha has no remorse and defies his stand with a logic that you are tempted to be convinced with. The industrial town of Kanpur, as the documentary shows, has been grappling with grossly inadequate supply of electricity, thanks to the absence of new power plants.
Katiyabaaz, directed by Deepti Kakkar and Fahad Mustafa, looks at the situation in a straight, non-judgemental manner and presents the facts as it is, without taking sides.
The burgeoning and worrying issue of power cuts in Kanpur district has led to desperate struggle between the citizens, bureaucrats and politicians. In a state
where citizens are powerless for days altogether, Loha Singh is looked at as a messiah of the powerless as he brandishes his cutter and uses every trick possible in order to get them to see the light through illegal connections. In comes IAS officer Ritu Maheshwari, who's out to cut all those illegal connections and get the money flowing back into the now almost empty KESCO treasury. Most people are done with the excuses and would rather trust Loha Singh than any of the bureaucrats.
Extremely well-researched, Katiyabaaz is all that a good documentary should be. The camera follows Loha Singh relentlessly even as he goes about his duties and soon Maheshwari is getting increasingly despondent with the situation. Ironically, in a situation which seems hopeless, you find hope and the story of survival.
Please go and watch this one, as doing so would encourage many such documentaries to see the light of the day.