Sunny and Bobby Deol preferred to do a no show at half-sister Ahana Deol's wedding that was held over the weekend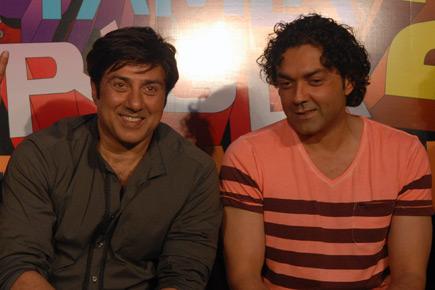 Sunny Deol and Bobby Deol
The brothers were not spotted at any of the events marking the wedding of Hema Malini and Dharmendra's younger daughter to Delhi-based businessman Vaibhav Vohra.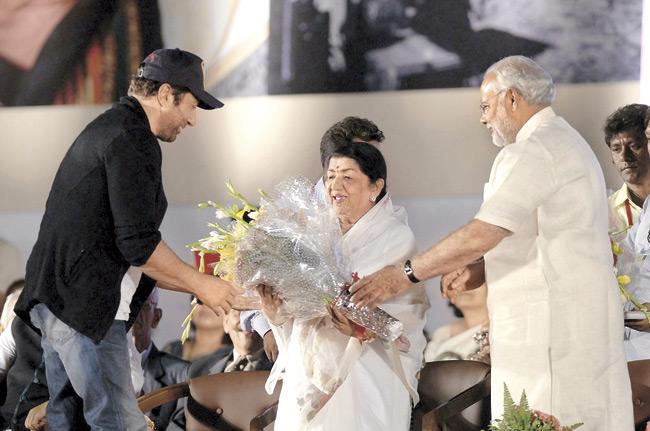 Sunny Deol attended Narendra Modi's event at the Mahalakshmi Race Course to felicitate Lata Mangeshkar last week. Pic/Ashish Rane
Prior to Ahana's nuptials, Hema Malini had reportedly stated that Sunny and Bobby would attend the wedding celebrations. She had said that there was no reason why the brothers would skip the same, even though they were conspicuous by their absence even during her older daughter Esha Deol's wedding in 2012. At that time, Hema Malini had claimed that the Deol brothers were not in town during the wedding.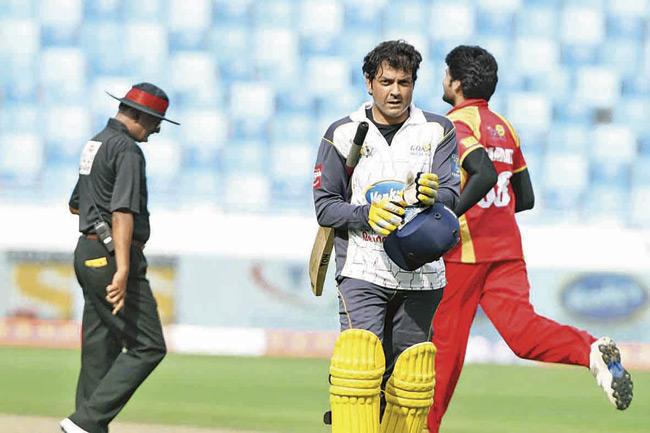 Bobby Deol played a celebrity cricket match in Dubai on Saturday
Says a source close to the family, "Sunny and Bobby's absence comes as no surprise. Everyone knows they did it out of respect for their mother, Prakash. It was better for them to stay away as their presence would add
to speculation."
Bobby was in Dubai where he took part in a celebrity cricket tournament on Saturday. Though many stars were back in Mumbai on Sunday, he preferred to remain in Dubai and is slated to be back in the city today.
Sunny, on the other hand, was very much in the city. Though he avoids attending events unless it pertains to promotions for his film, he was spotted last week at an event hosted by Bharatiya Janata Party's Prime Ministerial candidate Narendra Modi's event where Lata Mangeshkar was felicitated. Ironically, Modi attended Ahana and Vaibhav's reception.
It may be recalled that Dharmendra's private life came under the scanner when he wed Hema Malini in 1980 even though he was already married to Prakash. Ever since, Hema Malini has stayed separately with her two daughters, with only cousin Abhay Deol reaching out to them.