The guest list included buddies Vikaas Kalantri, Karanvir Bohra, Teejay Sidhu, Vivek Mushran, Manish Naggdev and Manini Mishra among others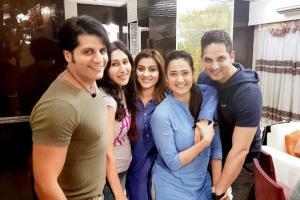 Vikaas Kalantri, Karanvir Bohra, Teejay Sidhu, Vivek Mushran, Manish Naggdev and Manini Mishra
Telly actor Shweta Tiwari held a get-together at her home in Kandivali over the weekend. The guest list included buddies Vikaas Kalantri, Karanvir Bohra, Teejay Sidhu, Vivek Mushran, Manish Naggdev and Manini Mishra among others. Shweta is known for her house parties and often invites different groups of pals. Apart from a lavish food spread, her playlist has some great dance numbers. She wants her home to be the perfect place to chill and party.
In April, Kasauti Zindagi Kii fame actress, Shweta Tiwari's daughter, Palak Tiwari had been trolled for going under the knife. The 17-year old was accused of getting a lip-job done. Palak is a stunning sensation on social media and has some amazing photos on her Instagram account. One of the users commented on her picture and wrote that she has got a lip-job done.
While many of the celebrities tend to ignore such comments, Palak Tiwari gave a befitting reply to the user. The young girl wrote, "I'm only 17, and not somebody who's a supporter of changing myself based on what the world May or May not like. So no Ma'am, that's a false accusation, and it's because of such accusations that going under the knife is considered a trend, and is ultimately promoted. I'm not for it ma'am. Sorry to disappoint you, have good night and best wishes (sic)."
Also view: Shweta Tiwari's 17-year-old daughter Palak is the next star kid to watch out for
Catch up on all the latest entertainment news and gossip here. Also download the new mid-day Android and iOS apps to get latest updates