Noted poet Hemant Divate's book, Struggles With Imagined Gods, has been recently translated in English by poet-professor Mustansir Dalvi
From a distance, winking hoardings gaze at me, intently. For which of these am I the target audience?
"A man may die, but like poetry his email ID is never deleted."
Reputed Marathi poet and littérateur Hemant Divate's poem, A man may die, but…, is one of the many hard-hitting poems in his recently-released book, Struggles With Imagined Gods, translated by Mustansir Dalvi.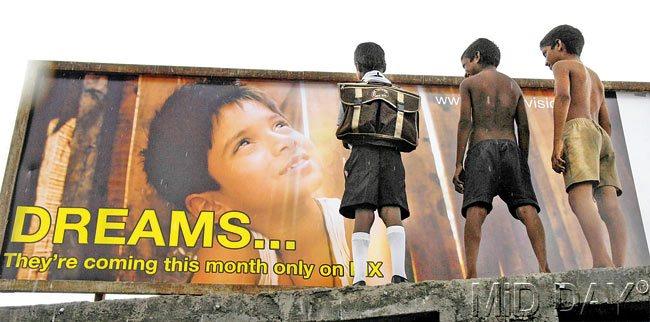 From a distance, winking hoardings gaze at me, intently. For which of these am I the target audience? Pic/Suresh KK
The poet-publisher and advertising professional has been helming quality literature in Marathi for 22 years now. Synonymously known with the magazine, Abhidhanantar that Divate started in 1991, he is currently associated with Poetrywala, an indie publishing house that publishes literary poetry — both in Marathi and English — straight from his pocket.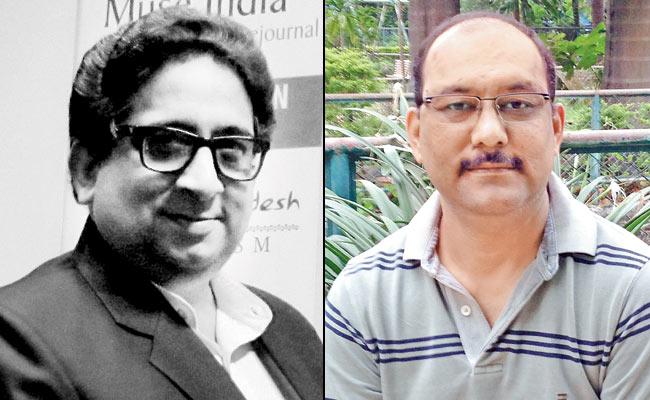 Mustansir Dalvi and Hemant Divate
It is this rebellious streak of standing against the grain that characterises Divate's poems. Much like his titular work, Ya Roommadhe Aale Ki Life Suru Hote (life begins when you enter this room), his poems introduce the angst in the reader, which one feels in one's everyday life that is overwhelmed by the Internet and globalisation. "These poems have been written from 2007 onwards and thematically look at identity crisis and globalisation in a city such as Mumbai. About seven to eight poems were taken from my book, Thambtach Yet Nahi, but the rest come from Ya Roommadhe Aale Ki Life Suru Hote that came out in 2009." The book, Struggles with Imagined Gods, is divided into two sections — life begins and what happened? Repeatedly, the common parlance and an angst against the urban life in the city is perceptible through the titles of his poems, 'who typed the password to restart?', 'f*#k me, if you can' and 'despite this very timidly, he lives a good life'.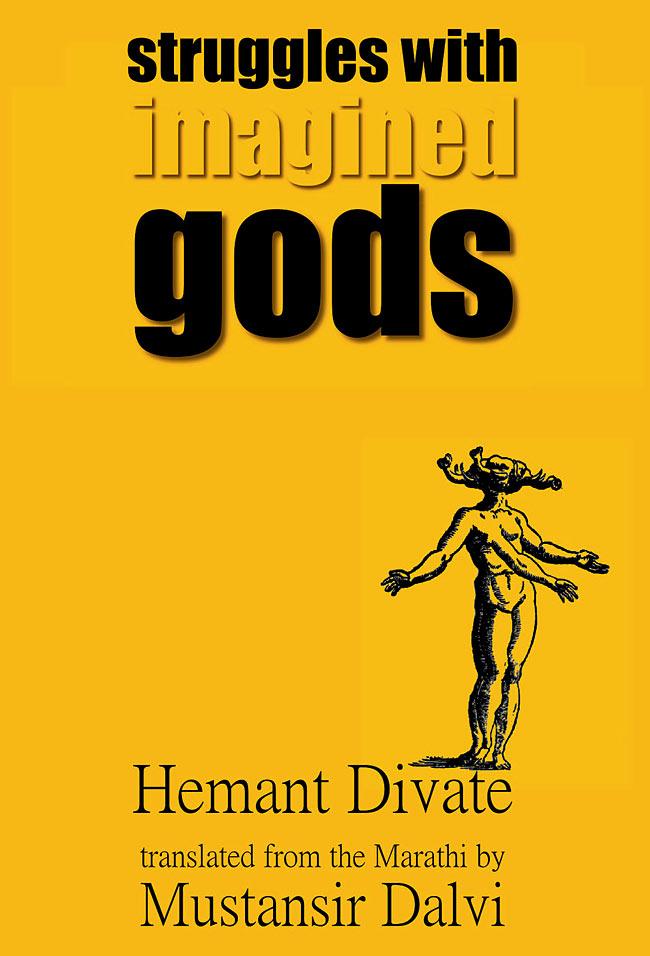 Struggles with Imagined Gods, Hemant Divate, translated from Marathi by Mustansir Dalvi, Poetrywala, R200. Available at amazon.in.
Divate's Virus Alert is one of the first poetry books in Marathi to deal with globalisation in the city says the 47-year-old poet who counts the Hindi poet Vinod Kumar Shukla, Dilip Chitre, Namdeo Dhasal and Arun Kolatkar as his favourites. Wondering why the translation took this long to be published, Dalvi, a poet and professor at Sir JJ School of Architecture, relates, "In 2011, Divate, Sampurna Chattarji and I participated in an exchange programme for translators at the International Centre of Poetry, Marseilles, in France. In order to let people from France translate his book, I translated his poetry from Marathi. But since my return it was constantly in my thoughts, and we started the project."
Writing about lay people, Divate rues about the status of art and how it has diminished in today's day and age, "During Tyeb Mehta's life, he mostly got peanuts for his paintings. But since his death, his works have fetched crores that he ironically never got to enjoy. There is an indifference in people when artists are alive. In the same vein, Kishori Amonkar is far better than Lata Mangeshkar. But people only run after hyped things these days." Dalvi comments that Divate belongs to the new generation of poets who abhors florid and sentimental poetry that has been the norm in Marathi. Encouraging this, Divate has published Latin American poet Gabriel Rosenstock and American poet Ben Mather to diversify poetry in India.