Little Free Library, an initiative to set up bookshelves in public spaces that started in the US in 2009, has now reached the city. With the first one set up at Juhu-Versova Link Road and the second in Bandra, this is only the beginning of more cheer for bibliophiles in Mumbai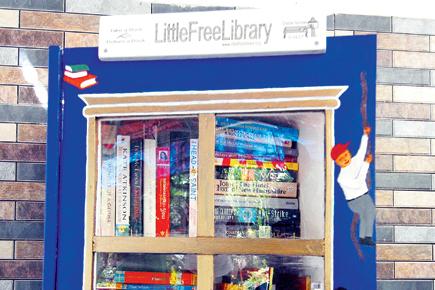 Little free library
If you are walking along D'Monte Park Road in Bandra West, look out for Ratna Iyer Park. A hand-written sign on the gate reads 'Little Free Library Inside'.
With summer vacations on, children sit on the granite seating under the gazebo and read at Ratna Iyer Park, Bandra West. Pics/Sameer Markande
ADVERTISEMENT
Under the brick-roofed gazebo on the far end of the park sits a wooden box of books, which Vinita Kamat set up on March 29. "A friend of mine in the US introduced me to the concept of Little Free Library, which started in Husdon, Wisconsin, in 2009. The idea is to set up a library in a public space, which makes it accessible to all. The policy is to take a book, return a book," says the French teacher, who also helps run Mcubed Library across the street.
Her daughter, Surabhi, opens the library and we browse the books together. The top rack, she tells me is dedicated to the adult's section. I spot Kiran Desai's Inheritance of Loss, The Autobiography of a Yogi by Paramahansa Yogananda and even John Irving's The Hotel New Hampshire. The children's section on the bottom shelf is replete with The Diary of a Wimpy Kid, The Little Prince, Stories for Boys and even the Harry Potter series.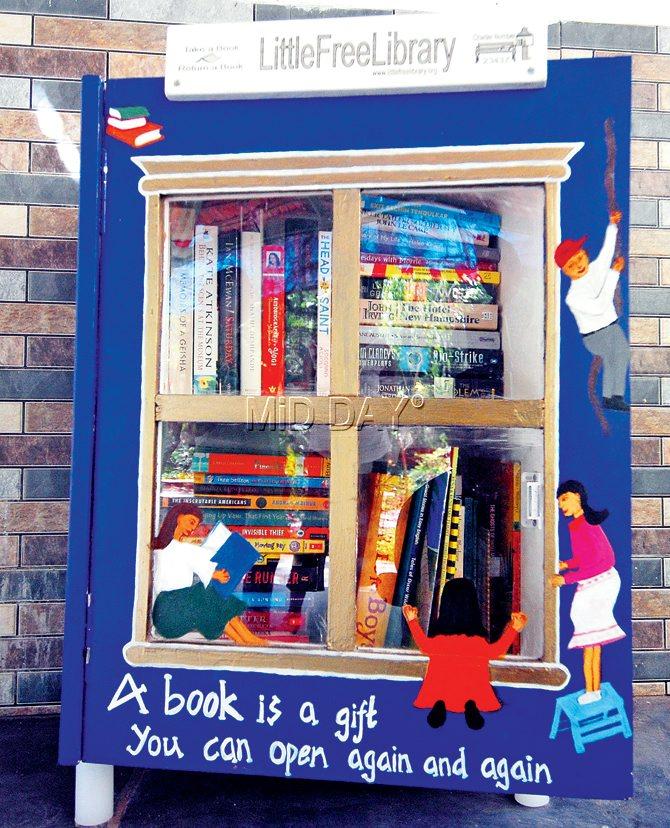 The Little Free Library by Vinita Kamat
As we chat, I spot an unabridged version of Pinocchio and even Yann Martel's Life of Pi. "I notice that people have dropped by and exchanged books," Kamat smiles triumphantly, explaining that she has even placed a notebook for people to leave their requests behind.
"It is a great initiative as many people are looking beyond spending time with the small and large screen. Reading is important for one's imagination. It helps build a relationship with the power of words," says Kamat who calls it a 'virtual exchange of a real kind'. "While returning a book, the reader must leave a note for the next person," says Kamat who leaves us to browse, as she has a flight to catch.
I chat with Vinita Ramchandani, editor of a publishing house and a resident of Carter Road, who has dropped by with her children. She begins to stick Little Free Library stickers on each of the books. "I have volunteered to be 'steward', and visit once a day to dust the library and ensure it is not misused," she says.
Just then, Bandra ALM member Marie Paul walks in with a tumbler of compost for the saplings of pumpkin, chillies and tomatoes that she has planted in the garden. She points out to a mulberry tree and invites the children to pluck some ands taste. "We want this park to be a place for children to play and be close to nature. The library will be a great way to attract more people to sit in the shade and read, too," says Paul.
As I get up to leave, a line by Garrison Keiller painted on the little library catches my eye: A book is a gift you can open again and again.
I couldn't agree more.