As Jitish Kallat readies to re-exhibit an installation on the historic 1939 piece of correspondence between Gandhi and Hitler, he says it's like a well-composed haiku, and relevant even now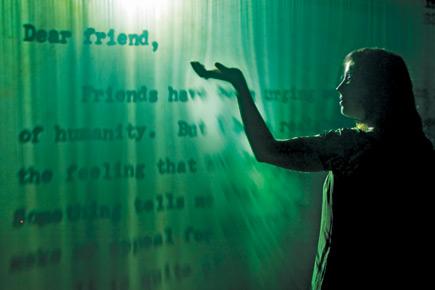 Covering Letter, 2012, fog screen projection. Pic Courtesy/B Huet/Tutti, Paris
Q. How did the idea to create Covering Letter come about? Why did you decide to work with the letter by Gandhi to Hitler?
A. The historic letter has been on my mind ever since I first saw it at Mani Bhavan nine years ago. It reads like a thoughtfully composed haiku; its intent tightly held within a wrap of ambivalence. Somehow, I envisaged it as a nebulous apparition that one could traverse with one's body. As people move through it, I hope they will not read just the letter but reflect on the layered complexities within this seemingly simple proposition; words emanating from the principal proponent of peace to one of the most violent individuals who lived in that era. And yet, like all Gandhi's gestures and his life experiments, this piece of correspondence seems like an open letter destined to travel beyond its delivery date and intended recipient. It seems like a letter written to anyone, anytime, anywhere.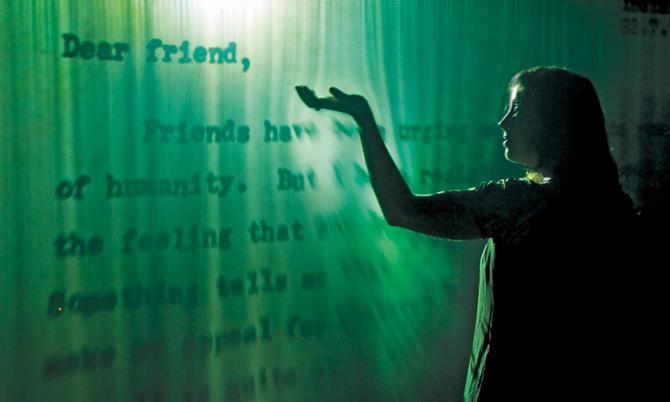 Covering Letter, 2012, fog screen projection. Pic Courtesy/B Huet/Tutti, Paris
ADVERTISEMENT
Q. Have you made any additions to the installation post its first viewing in 2012?
A. While the core aspects of the installation remain the same, it responds to the architecture of the space it is in. The Jehangir Nicholson Gallery at the CSMVS being an encyclopedic museum, provided the ideal space and context since it is attended by a wide spectrum of society.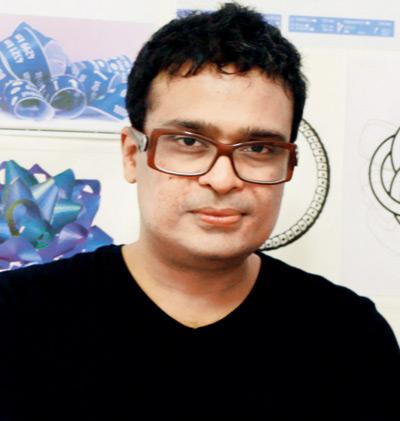 Jitish Kallat;  Artist
Q. As seen with your earlier Public Notice series, what about a historical speech appeals to you to turn it into an art device?
A. In the beginning, it was a feeling that going back into the past might help understand the present. In Public Notice (2003), the words of India's first Prime Minister, Jawaharlal Nehru, spoken on the midnight of India's Independence against the backdrop of riots and the bloodshed of the Partition, were evoked by hand-rendering them on mirror using a rubber adhesive. The speech, full of hope for the newly formed nation-state, speaking of secularism, tolerance, and peace, was in contradiction with the violence and sectarianism we have witnessed in the decades since Independence.
Public Notice 3 (2010) was essentially a superimposition of the same dates, and their varying contexts separated by 108 years. On 9/11, 1893, the first World's Parliament of Religions took place, 108 years before the attack on the World Trade Centre. It was on this occasion that Swami Vivekananda delivered a keynote lecture calling for universal tolerance, end of fanaticism, fundamentalism and bigotry on the morning of September 11. In Public Notice 3, these words are visible on the risers of the Grand Staircase, at the Art Institute of Chicago, which was the location where the World's Parliament of Religions took place.
Q. In an age where offence is taken easily, as an artist, are you more careful while presenting works that feature devices of historical significance?
A. The three Public Notice works and Covering Letter all, in fact, call for self-reflection, the anti-dote to hurried judgment and taking offence.
Q. The exhibition will open with a conversation between Dr Homi Bhabha and you. What can audiences expect?
A. I look forward to the dialogue with Homi. In 2011, he delivered a resonant lecture at the Public Notice 3 exhibition at the Art Institute of Chicago and a recent bilingual book on my work titled, The Infinite Episode published in France has a conversation between us. I've enjoyed each of our conversations.
Q. What's in the pipeline?
A. In a few months' time, a leading American Museum will announce a solo project with Covering Letter. A large mid-career survey of my work will be announced by a museum in February. In March, I have work at the Setouchi Triennale on an interesting Japanese island.
From: January 15 (opening talk with Dr Homi Bhabha, 6 pm) to February 28
Time: 10.15 am to 6 pm
At: Jehangir Nicholson Gallery, second floor, East Wing, Chhatrapati Shivaji Maharaj Vastu Sangrahalaya, MG Road, Kala Ghoda.
Call: 22844484