Have you been spending most of your time with your smartphone, chatting on WhatsApp or playing games? Stop now, before you develop new-age diseases like Tech-Neck or WhatsAppititis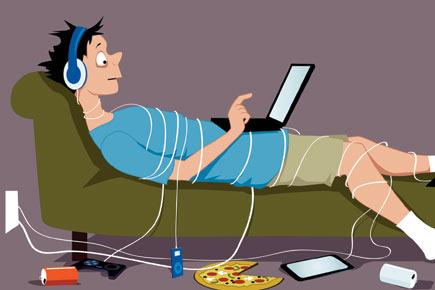 Fifteen-year-old Mumbai schoolboy Siddharth Saxena (name changed on request) had a very stable childhood. He stayed out of trouble at home and in school, and his parents rewarded his behaviour by fulfilling all his needs. Last year, however, he failed his Class 10 exams. Soon afterwards, he withdrew himself from his friends and family.
Also read: Heavy smartphone use can make you depressed
ADVERTISEMENT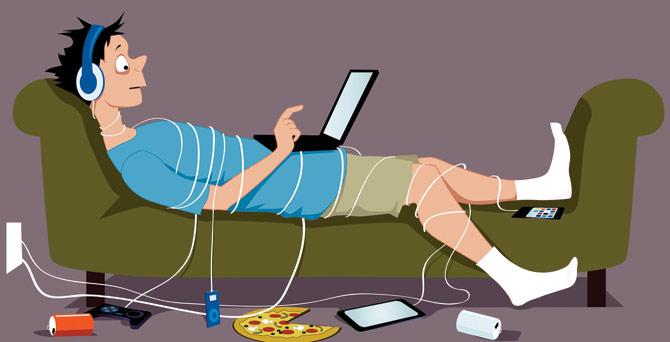 He started spending most of his time at his computer and smartphone, and playing online games was his primary obsession. Gradually, he changed his food habits, stopped eating on time, or even taking a bath. Alarmed by this disturbing behaviour, his father cut off the Internet connection at home, hoping that his son would get back on track. But Siddharth's reaction was totally the opposite. He destroyed his desktop PC, keyboard and his smartphone, and threatened to do more if the Internet connection was not restored.
Do you have IGD?
Siddharth is now seeking counselling to get over what is broadly described as Internet Gaming Disorder (IGD), one of the many health problems caused by increased usage of gadgets like desktops, laptops, tablet and smartphones. It's an old term, but was recently listed in Section III of the Diagnostic and Statistical Manual of Mental Disorders (DSM-5) by the American Psychiatry Association.
It found IGD to be more common among youth in Asian countries including India. But IGD is not the only thing affecting the youth. Recent penetration of smartphones has led to several more technology-linked problems, says Dr Chetan Vispute, MD, DNB, Psychiatry and expert on TypeAThought.com, an online platform for seeking psychiatric help.
Also read: Is your life dependent on Facebook?
"We are facing an epidemic level of technology-related health problems — from addictions to social media platforms like Twitter, Facebook and Instagram, cyberchondria (compulsive surfing) and online shopping," he says.
Tech travails
The effects of technology-dependence, however is not only psychological, as new musculoskeletal disorders have emerged as well, and some with tacky names. One such problem is Tech-Neck, which refers to the head hanging, shoulders hunched and eyes glued to the device position of smartphone and laptop/desktop users, and is forcing some to seek cosmetic treatments as well.
"This unique position causes postural changes in the human body, characterised by neck and back pain, as well as dark eyes and a sagging neckline," says Dr Mohan Thomas, senior cosmetic surgeon at Breach Candy Hospital. Dr Thomas informs that he has been treating patients both male and female, mostly from corporate world, and showbiz and entertainment, seeking cosmetic treatments to cure sagging neckline and dark eye circles, etc.
WhatsAppititis is another such example. First coined in Spain in 2014, it refers to bilateral wrist pain due to excessive use of thumbs for typing in instant messaging platforms like WhatsApp. Similar examples include Twitter and Facebook Addiction (TFAD), Fear of Missing Out (FOMO) and Selfie Addiction, which forces one to make some unreasonable choices. Last February, two HSC students from Pune drowned at a dam in Nashik while clicking selfies. In 2015, a 21-year-old tried to commit suicide after being scolded for using WhatsApp. Similar cases have been reported internationally as well.
It's your behaviour, boss
But is technology alone to be blamed? Experts say these technology-related addictions and health problems are a symptom of an underlying mental illness or poor lifestyle choices.
Also read: Don't let screen addiction take its toll on your toddler
"We have often seen that in such cases that the patients are suffering from co-morbid illnesses such as depression, general anxiety, obsessive compulsive disorder (OCD), bipolar disorder, or have past history of Attention Deficit Hyperactivity Disorder (ADHD). If we treat these psychiatric conditions independently, there could be an overall improvement in the other tech-related illnesses or behaviour," he says.
Vispute points out that in all these tech-related illnesses, timely intervention from support groups, prove more vital. "I remember a case where a wife gifted her husband a greeting card on their anniversary, saying, 'I love you more than your computer.' This made him realise how he had been ignoring his husbandly duties and been more glued to his machine. It forced him to make some behavioural changes and pay more attention to his wife," he signs off.