With the Parsi community celebrating Navroze this week, here's where you can get your fill of traditional bhonu delicacies in the city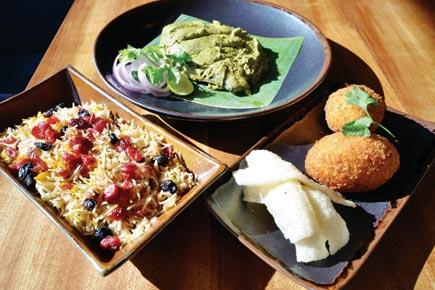 Celebrate, Parsi style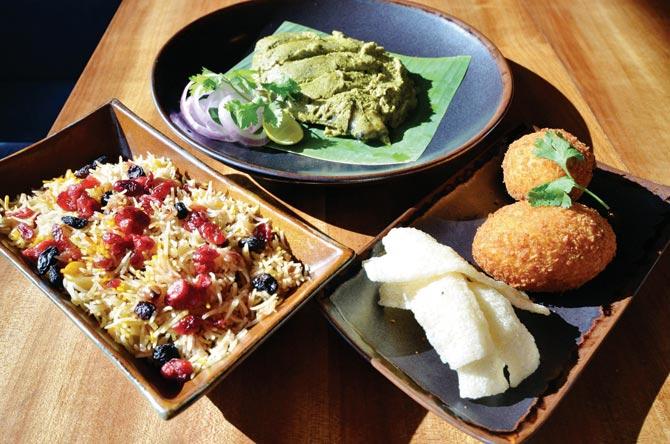 ONGOING TILL AUG 17, 7 PM ONWARDS: To ring in Navroze festivities, Pondichery Café is organising a cultural festival — Khavani! Pivanu! Majjani Life! (eat, drink, enjoy life)! Discover Parsi cuisine, while relishing some authentic favourites. Adding to the flavour will be a stunning display of Gara sarees and books on the Parsi ethos.
Where Pondichery Café, Sofitel Mumbai BKC, Bandra (East)
Call: 61175000
Machchi on your mind
AUG 21, 12.30 PM ONWARDS: Parsi food lovers have reason to celebrate. Bawi Bride Kitchen has put together a special meal for the city's fish lovers. The unique seven-course Parsi seafood pop-up will showcase some of the most popular delicacies, including rawas na cutlets, mawa ni boi, malai ma prawns, among others.
Where: Flavour Diaries, 3rd Floor, Rohan Plaza, Off SV Road, Khar (W)
Entry: R2,500 per head
To Book: 9819285720
Enjoy a saas-bahu bhonu
AUG 20, 4 to 6 PM:
Irani café SodaBottleOpenerWala is offering the delicious Bhonu with a twist, showcasing rival menus of a Parsi saas and bahu. The saas, Bachi Karkaria, will be presenting her signature tarela souffle and gos (mutton) no saas, while her bahu Akshata Karkaria will create the Russian enthu cutlet (chicken), and Shepherd's Pie, among others. Akshata will also offer rival menus for Navroze Bhonu.
Where: SodaBottleOpenerWala, Ground Floor, The Capital Building, G Block, BKC, Bandra (East)
Call: 40035678
Stuff yourself with a Parsi thali
AUG 16 - 18, 11 AM – 12 AM: If you want to enjoy a cracker jacker Parsi meal, head to Café Mocambo at Fort, which is offering a Parsi thali for R599. It includes saria (Parsi papad), sev, dahi with the choice of chicken or mutton dal. There's also sali chicken, jaldaloo salli boti with Parsi roti served with leg piece of farcha and a soft drink of your choice. The caramel custard is complementary.
Where: Café Mocambo, 23/A, Sir Phirozshah Mehta Road, Fort
Call: 22870458
Bite into salli boti puff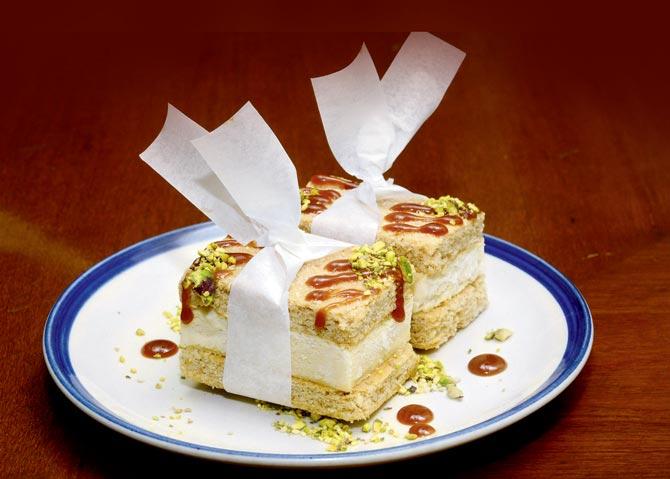 AUG 16 and 17, 8 AM to 11 PM: Fancy your favourite salli boti in a puff? Head to Theobroma's, which has curated a special menu for the New Year celebrations. From chocolate caramel salted cake, to cutlet gravy wrap, salli boti puff and tamatar per eedu, there is something for everybody at the patisserie.
Where: Theobroma, Colaba Causeway, Cusrow Baug Colony, Apollo Bandar, Colaba
Call: 33716011
Made to order
AUG 17, 11 AM to 11 PM: Jimmy Boy's has put together a three-course traditional lagan nu bhonu, which they are more than happy to deliver to your doorstep. On the menu is the saas/patra ni machchi, salli murgi/ghosh, sago wafers, chicken/mutton pulao, dhansak dal, gajar mewa nu achar and lagan nu custard for Rs 1,400.
Where: Jimmy Boy, Vikas Building, Horniman Circle, Fort
Call: 22700880
Ring in Pateti
AUG 16, 5.30 PM to 10.45 PM: Ideal Corner is offering a special New Year's eve dinner comprising king prawn curry rice (250), kid ghosh fried potatoes (R200), and fish fillet tartar sauce and chips (200), this Parsi menu will definitely please all.
Where: Idea Corner, 12/F/G Hornby View, Gunbow Street, Fort
Call: 22621830
Relish old favourites
AUG 17, 12 PM: On Navroze, when the Parsi community pays tribute to family ties, there's no better way to celebrate, than over a scrumptious handcrafted meal. For the occasion, chef Farrokh Khambata is creating an array of specialities like lagan nu stew, patra ni machchi, jardaloo sali chicken and bharuchi akoori with brun pao. You can end your meal with his signature nitro pomegranate and rose petal kulfi.
Where: Café at the NCPA, Gate No. 2, Dorabaji Tata Road, Nariman Point
Entry: R1,950 per head
To book: 67230110
Dig into berry pulao
ONGOING TILL AUG 30, 12 PM TO MIDNIGHT: Ice cream brand Dinshaw's has brought back its popular Bawa nu Bhonu menu. With signature offerings like dhansak rice, salli boti, chicken farcha, berry pulao, and veg variations of the same, the spicy and meaty cuisine, is not one you'd want to miss.
Where: Dinshaw's Xpress Café, 6, Oshiwara Shop, Windermere Building, Off Link Road, Andheri (West)
Call: 9004530507
A grand Parsi wedding feast
AUG 21, 11 AM ONWARDS: Soak in the works of talented artists from around the city, while relishing an authentic Parsi wedding meal at the Art Hub. The buffet includes unlimited helpings of chicken cheese croquettes, mutton cutlets, sali chicken, patra fish, mutton dhansak and lagan nu custard. There is a treat for vegetarians too.
Where: Pala Fala, The Art Hub, Atria Mall, Dr AB Road, Worli
Entry: R700
Call: 65583333
From grandma's kitchen
ONGOING TILL AUG 26, 12 To 11.30 PM: Chef Shehrezad Kapadia has rustled up a traditional Parsi meal to celebrate Navroze. Inspired by her grandmother's cooking, the menu, which will be served during lunch and dinner, will include specials like topli paneer, komli na churry chawal and old favourites like salli boti and berry pulao.
Where: SAN:QI, Four Seasons Hotel,
Dr E Moses Road, Worli
Call: 24818000
Meet Mr And Mrs Murarilal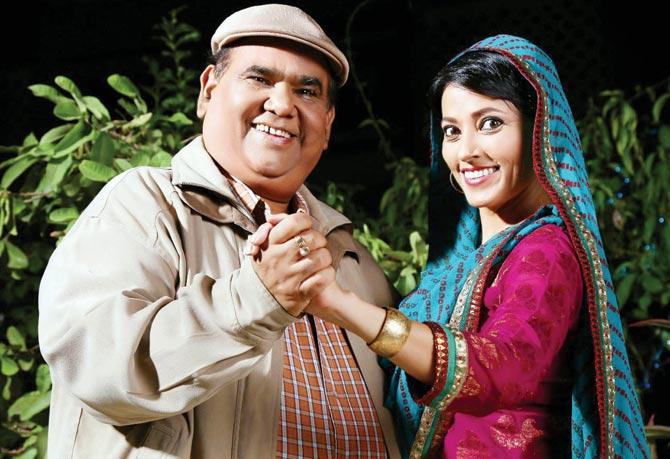 7.30 PM: Catch Saif Hyder Hasan's romantic play, Mr And Mrs Murarilal, that marked Satish Kaushik's theatrical comeback after a four-year hiatus. It is a love story about two people portrayed by Kaushik and Meghna Malik, who meet in a park one night, and are interrupted by a watchman. As the night unfolds, secrets are revealed, and the characters slowly begin to let their guard down.
WHERE: Rang Sharda, Bandra Reclamation, Bandra (West)
Entry: R500 – R1,500
Call: 26401919
Catch a starry sky on paper
11 Am – 7 PM: Project 88 is exhibiting a series of prints by Kaamna Patel and Kristina Chan. Titled Asterism, it is a collection of limited edition, pigment prints on Japanese Washi paper. The pieces are based on imagery sourced from the Hubble telescope, which were then recomposed and reproduced by hand as screen prints by the artists.
Where: BMP Building, Ground Floor, N A Sawant Marg, Colaba
Free
Call: 22810066
Groove to Javed Ali's songs
From playful numbers to soulful melodies, singer Javed Ali will enthrall you with his velvety voice at a concert organised by Swar Alap. Get ready to listen to a mix of genres right from ghazal, sufi, retro to western-classical and Bollywood numbers. He'll be accompanied by Shrinidhi Ghatate (Voice of Asia fame).
Where: Manik Sabhagriha Auditorium Bandra Reclamation, Opposites Lilavati Hospital, Bandra (West)
Entry: R500 – R10,000
Call: 26409393
Enjoy some Manglorean gadbad icecream
ONGOING. 12:30 pm – 1 am: Vedge in Andheri has introduced a vegan special menu. You could try starters like Chukandar ki galautis with mango tepenade and Tax max Taco bowl. If you have a sweet tooth, there's Manglorean gadbad icecream and honey fried noodles.
Where: Vedge, ground floor, Fun Republic mall, Shah Industrial Estate, New Link Road, Andheri (West)
Call: 61668906
Break a handi
5 pm – 6.30 Pm: Watch your little one turn Lord Krishna for a day in this Janmashtami activity organised by Fun Shine. It includes activities like breaking a dahi handi, decorating your own matki, makhaan (butter) tasting, dressing up as young Krishna and more. The session will also see screening of a film on the deity.
Where: Shrijee Darshan, next to Hanuman Mandir, Hanuman Road, Vile Parle East
Entry: R600
Call: 9820889297
Create your own Ganesha
11 Am – 4 Pm: CSMVS has organised a Ganesha clay modelling workshop with an aim to sensitise citizens about the use of traditional eco-friendly material such as terracotta clay to make Ganesha idols. This workshop will teach participants the complete process of making Ganesha models. They will also be taught how to paint the idol. The workshop is open to all ages.
Where: Chhatrapati Shivaji Maharaj Vastu Sangrahalaya, Mahatma Gandhi Road, Fort
Entry: R400 per person
Call: 22844484
Have curry and cocktails
12.30 PM – 1 AM: Sample some of the best curries from across continents at Bombay Vintage's curry festival. Try out Panang curry with carrot, zucchini, mushroom and broccoli, Jamaican curry from the West Indies or savour dishes from India, such as moilee from Kerala and dahi pakora curry from Punjab. Also, on the menu are cocktails that pair well with these curries.
Where: Bombay Vintage, Regal Circle, Colaba
Cost: R395 onwards
Call: 69444123
Unite for indie music
8.30 PM: Usher in Independence Day celebrations with some foot-tapping numbers from Jalebi Circus. The band will perform some of its most popular rock, Sufi, Bollywood and English classic numbers — all with the kind of spin that only jalebis come with. Try out the bar's new menu as well.
Where: The United Sports Bar and Grill, R City Mall, Ghtakopar (E)
Entry: R900 (cover charge)
Call: 66429850
Play with food
7.30 PM: In Saag Meat, a poignant play written by Bhisham Sahni, Jagga (Seema Bhargava Pahwa), a loyal servant to a Punjabi family, talks about death with humour. As the play progresses, so does Jagga's saag meat preparation, and you can taste it too.
WHERE: CLAP, Solitaire II, opposite Infinity Mall, Malad (W)
ENTRY: R300
CALL: 65876777
Get pro with watercolours
4 PM – 7 PM: If you fantasise about painting a dreamy monsoon scene, sign up for this workshop by The Art Circle. Learn to mix paints, apply watercolors and compose a painting. Also, pick up some fun techniques using rock salt and plastic wrap. The workshop is meant for people over 16, and you need to register by 2 pm today.
Where: Cinerang Studio, Savgan Heights, Jyotinagar Society, Andheri (W)
Entry: R2,000 (inclusive of materials)
Call: 8888883380
Dance like no one's watching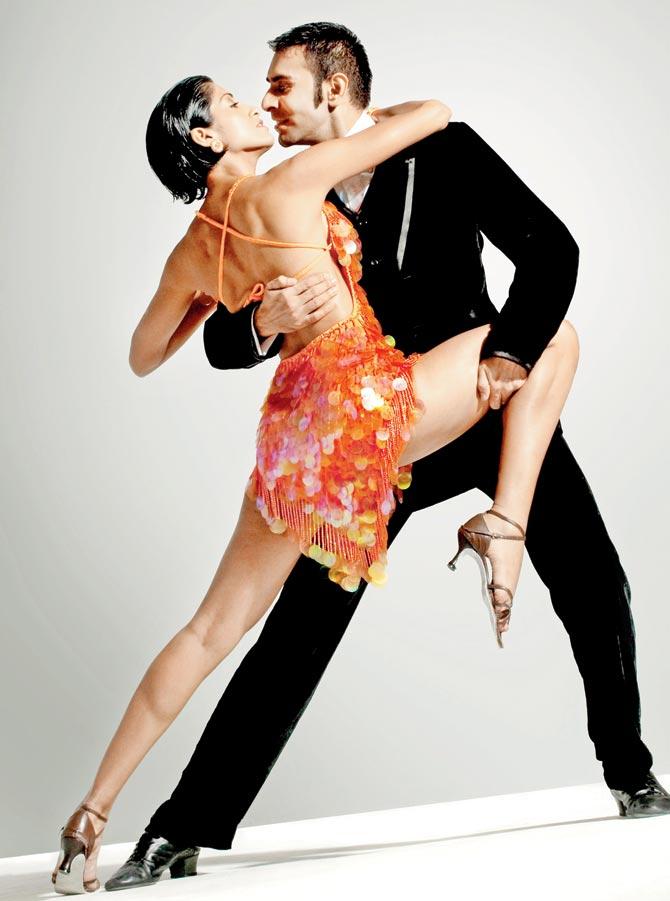 12 PM – 3 PM: Head to Dancing in the Dark, a series of dance workshops exploring different forms of dance, to not just bring awareness about visual impairment, but also give participants a chance to explore their other senses. Led by Sandip Soparrkar, the key word here is "inclusive" – for absolutely anyone, who loves to dance.
Where: House of Wow, Natraj Building, Hill Road, Bandra (W)
Entry: R2,500
Call: 9167043310
Take a dig with comedian Karthik Kumar
7.30 PM: How would you describe our (mostly) middle-class upbringing? Settling, compromising and adjusting for the second best of everything? There, but not quite? Well, stand-up comedian Karthik Kumar celebrates all things middle class in his set The Second Decoction. Why be embarrassed when you can laugh out loud?
Where: Tap, Royal Plaza, Shastri Nagar, Andheri (W)
Entry: R500 (cover charge)
Call: 33716069
Listen to the man with two loves
5 PM: As psychiatrist, actor and producer, Dr Mohan Agashe has quite a story to tell. In this edition of Mumbai Local, Agashe — an award winning actor who has starred in several Hindi and Marathi films — will talk about his parallel loves, including his first success in Ghashiram Kotwal and his most recent acting venture, Astu.
Where: Dr Bhau Daji Lad Museum, Byculla (E)
Entry: R10 (adults); R5 (children)
Call: 9833344173
Catch a classic
7 PM: Watch a Woody Allen flick on the big screen with Annie Hall. Alvy 'Max' Singer (Allen) figures out the reasons for the failure of his relationship with the eponymous female lead, played by Diane Keaton.
Where: Matterden CFC, Deepak Cinema, NM Joshi Marg, Lower Parel
Entry: R250 – R350
Call: 24923396
Go 'brandless' to Muji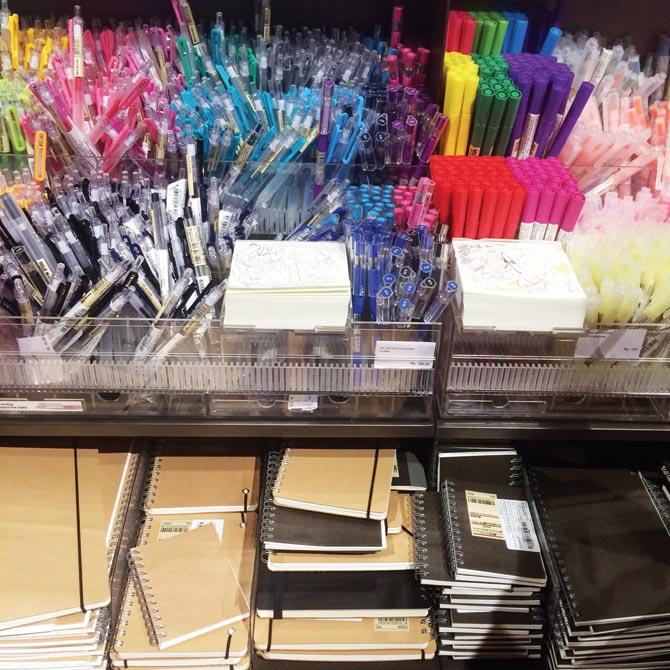 Japanese retail store, Muji made its Mumbai debut at Lower Parel's Palladium, and we joined the crowd browsing through the store's line of stationery, apparel, furniture and home décor. We were let down by the heavy packaging and pricing information on the stationery, especially the notebooks, which were impossible to tear off. Didn't they say that "Muji" meant "brandless quality goods"? While we were assured by the store personnel that the second round of stationery stock will come without these blasé labels, let's be clear about one thing: Muji is strictly for minimalists. If you are used to the cluttered stationery kiosks in Mumbai's Fort area, then Muji isn't for you.
Letters that will make you laugh and cry
How far would you go for friendship? This question is at the heart of Antara Ganguli's heartwarming debut novel Tanya Tania, published in June 2016. The story, which is told through a series of letters between teenagers Tanya Talati in Karachi and Tania Ghosh in Bombay — daughters of best friends from college — takes an unexpected turn, during the Mumbai riots of December 1992. Insecurities surface, loyalties get questioned and close relationships are destroyed. An easy and engaging read, this book should be reserved for that lazy Sunday afternoon, curled up in bed.
Making the last moments count
Flautist Rajeev Raja, one of the first performers on the blueFROG stage, is back with JUNCKT, comprised of other musicians such as Nakul Mehta on the Sax, and Paul Rodrigues on the trumpet. The sound is a mix of jazz and funk and between all the musicians playing, they have 50 years of experience.
When: August 14, 9.30 pm
Another night you need to wear your dancing shoes for is the one with Submerge, featuring Nikhil Chinapa and DJ Pearl. Get ready to enjoy Chinapa's eclectic mix and Pearl's foot-tapping diverse one.
When: August 20, 10 pm onwards
Guitar hero, electronic producer, dub pioneer, graphic artist; and Pentagram icon Randolph Correia, or Func, will delight with all the multi genres he has a finger in — glitch & funk to dub, alternative rock & drum and bass. This will be a night you are bound to spend dancing.
When: August 19, 9.30 pm onwards
If you are a metal fan, then you can't miss this gig. Bhayanak Maut, Noiseware, Dirge and Last Ride Home will play The Last Set and have you headbaging till the wee hours. Way to go out with a bang.
When: August 24, 10 pm onwards