Beer lovers rejoice! The next time you drink a tall frosty one, remember that it will do you some good too. On International Beer Day, we list some of the healthy beneifts that lager drinkers can avail of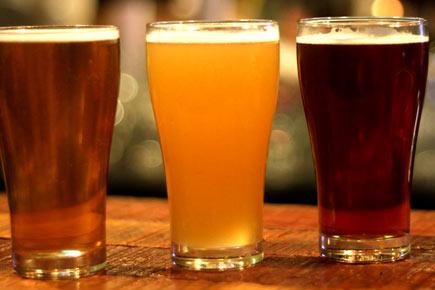 Key to good health: Beer contains almost all of the minerals we need to survive. It was a staple of many diets during the European Middle Ages, when good nutrition was rare. You drank beer to survive. Drinking wasn't just for adults. Children also consumed beer as a source of energy and nutrients.
Also read: US beer festival makes 'nudity' mandatory

Representational picture
Beer makes you smarter: A study in the New England Journal of Medicine found that women who drank moderately had better cognitive function compared to non-drinkers.
Be hale and 'hearty': Researchers pointed out that alcohol raises HDL cholesterol (good cholesterol), which is associated with a lower risk of heart diasease and better cognitive functioning. Drinking just one pint of beer is enough to boost the condition of the blood vessels around the heart. Arteries become more flexible and blood flow improves within hours, the report said.
Beer prevents kidney stones: A study published in American Journal of Epidemiology found that "beer consumption was inversely associated with risk of kidney stones (in middle aged men). Each bottle of beer consumed per day was estimated to reduce risk by 40 percent."
Beer strengthens your bones: According to a study in the American Journal of Clinical Nutrition, beer "protects bone-mineral density because of its high levels of silicon. This allows the deposit of calcium and other minerals into bone tissue.
Drink a 'cold one' after your workout: Drinking beer after a workout rehydrates the body better than water. Professor Manuel Garzon at Granada University in Spain also claimed the carbonation in beer helps to quench the thirst and that its carbohydrate content can help replace lost calories.
Beer staves off winter cold: A key ingredient found in beer may help ward off cold and flu virus. Researchers at Sapporo Medical University found that humulone, a chemical compound in hops, was effective against the respiratory syncytial (RS) virus and was found to have an anti-inflammatory effect. Jun Fuchimoto, a researcher from a beer company, said: "The RS virus can cause serious pneumonia and breathing difficulties for infants and toddlers, but no vaccination is available at the moment to contain it."
Leftover hops are better than toothpaste! Researchers have reported that the part of hops that isn't used for making beer contains healthful antioxidants and could be used to battle cavities and gum disease. In a new study, they have claimed to have identified some of the substances that could be responsible for these healthful effects. Yoshihisa Tanaka and colleagues note that their earlier research found that antioxidant polyphenols, contained in the hop leaves (called bracts) could help fight cavities and gum disease. Extracts from bracts stopped the bacteria responsible for these dental conditions from being able to stick to surfaces and prevented the release of some bacterial toxins.