A Surat-based company hopes to make security solutions affordable and reliable with its new range of Iris-scanning products, available from today
The eParakh Iris Scanner (model EPI-1000) is a portable Iris scanner that Biomatiques launched in Mumbai on Wednesday. It's a plug and play device that's compatible to Windows, Mac and Linux based computers as well as Android mobile devices
On Wednesday, a Surat-based tech company Biomatiques, unveiled an indigenously developed Iris recognition technology and a range of Iris scanning products in the city. The technology with a pending international patent uses a high-resolution image of human eye iris as the security code/key.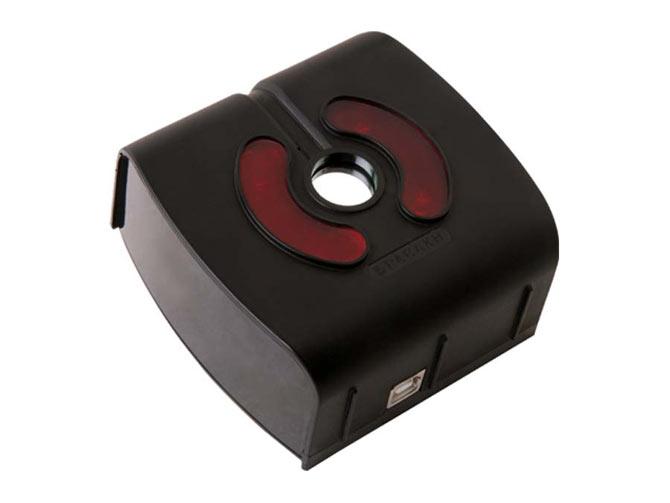 The eParakh Iris Scanner (model EPI-1000) is a portable Iris scanner that Biomatiques launched in Mumbai on Wednesday. It's a plug and play device that's compatible to Windows, Mac and Linux based computers as well as Android mobile devices

Tamaal Roy, the company's CEO, said that since the iris of every human eye is unique, iris-based security solutions are more robust and reliable as compared to the traditional finger-print-based security solutions. "Unlike finger prints, it can't be faked, and this is what makes it a robust technology," he added.

How does it work?
An Iris recognition method is an automated form of biometric identification that uses mathematical pattern-recognition techniques on video images of one or both of the irises of an individual's eyes, whose complex random patterns are unique, stable, and can be seen from some distance. The iris-scanners, says Roy use an iris-recognition algorithm, which can identify up to 250 identification points including rings, furrows and freckles within the iris.

How can this technology help?
The iris-scanners, says Roy, can be used in a variety of home/office security solutions to identify homeowners and employees as well as record employee attendance. It can also be used to verify an individual's identity with UIDAI data to make a variety of e-services like banking, visa, passports, etc available instantaneously. The iris scanners can capture the Iris image from a distance of two metres, and authenticate the iris. The scanners can also read an Iris through contact lenses.

Roy shared that the self-funded company has its own manufacturing facility in Surat with a capacity of 2,00,000 units per year. He added that in order to promote development of new security solutions based on its Iris scanners, the company would make its application programming interface (API) and the software development kits (SDKs) of its products available to all software developers for free.

Though, the company didn't reveal the price of its Iris scanning products, Roy informed that it will be priced on par with finger-print based products, and is currently available only via the company sales representatives.
ADVERTISEMENT