A cafe that houses graves, and other architectural marvels of Ahmedabad are captured in a unique travel guide created by four German architects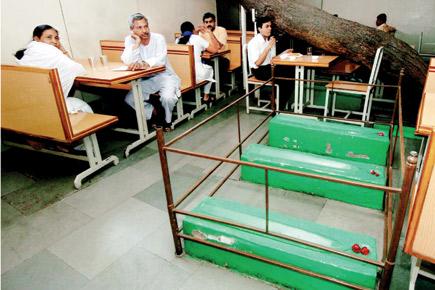 Lucky Cafe
Known for its Navratris and yummy veggie fare, Ahmedabad can now be seen in a new, refreshing light thanks to a travel guidebook, Architecture Reading Aid Ahmedabad, authored by four young German architects. Niklas Fanelsa, Marius Helten, Björn Martenson and Leonard Wertgen created this pocket-sized guide in an attempt to introduce newcomers to the cityscape and the development of the city and the idiosyncrasies that come along with it.

Customers wait for their orders next to graves inside Lucky Cafe in Ahmedabad. Pic/AFP
Scale of a city
A result of six years of research, the idea of the book surfaced when the authors visited Ahmedabad as a part of the International Habitat Design Workshop, a programme by Padma Shri-winning architect Professor Balkrishna Doshi. The trio also held an exhibition on the urban space of Ahmedabad at Studio X in Mumbai last month. "The two-month workshop by professor Doshi sees a new generation of students come to Ahmedabad every year. With this book, they can start engaging with the city quickly. The book is a way of trying to give them a good reading of Ahmedabad," says Helten.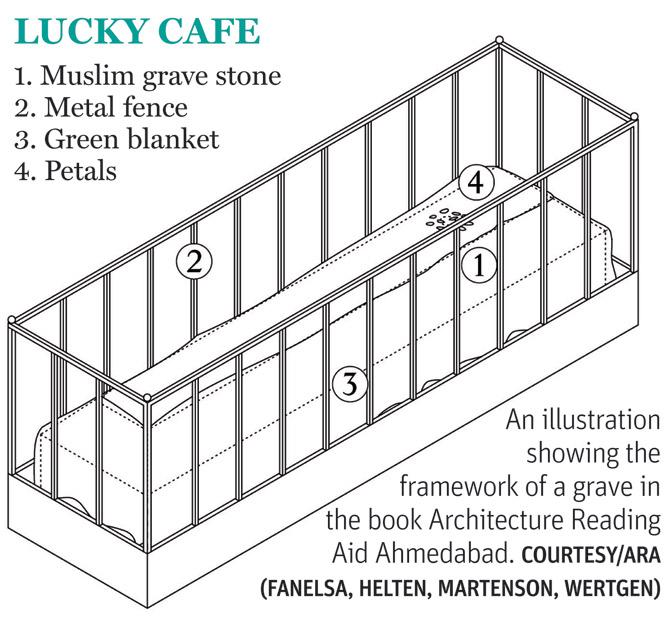 The architects were not just interested in the famous buildings designed by Le Corbusier or Professor Doshi but also in the everyday structures. "We have tried to showcase the everyday space making; it happens not just on a big scale. For example, a street vendor will put up a shade with cloth and make a stall; these kind of activities don't exist in Germany. The entire range fascinated us," says Helton who ranks Sangath building and Manek Chowk as his favourites from the city. It is this perspective that sets the book apart from just a typical guide on the city's architecture or a travel guide for the tourist.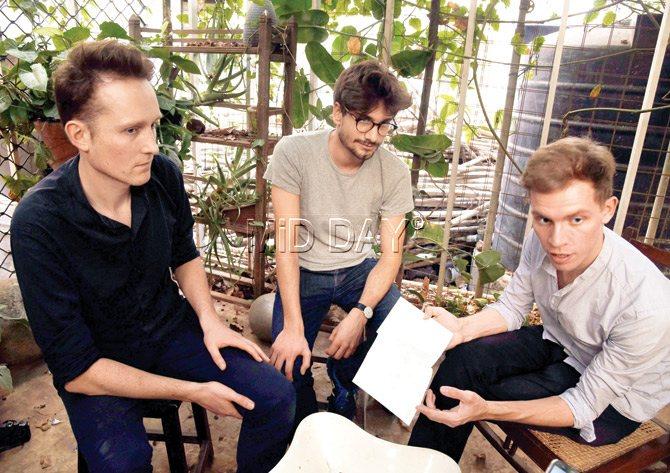 Architects Niklas Fanelsa, Leonard Wertgen and Marius Helten were recently in the city to conduct Khotachiwadi Imaginaries, a workshop that discussed ideas for the heritage precinct. Pic/Atul Kamble
Lines and squares
Pore over its pages to find engaging line drawings of the popular Jama Masjid or Gandhi Ashram and also of a humble pushcart. Each drawing comes with a photograph of the space and a small note on its uniqueness. The book will particularly interest design enthusiasts.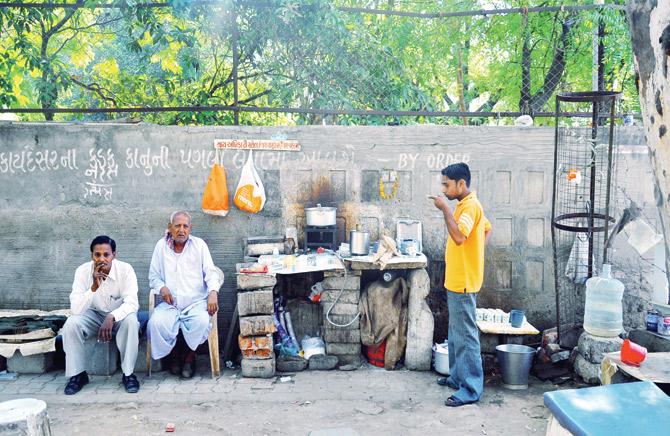 The authors were fascinated by the outer wall of Sangath, the office of Balkrishna Doshi, that served as a tea stall, a shrine and a mobile kiosk too. Pics and illustrations courtesy/ ARA (Fanelsa, Helten, Martenson, Wertgen)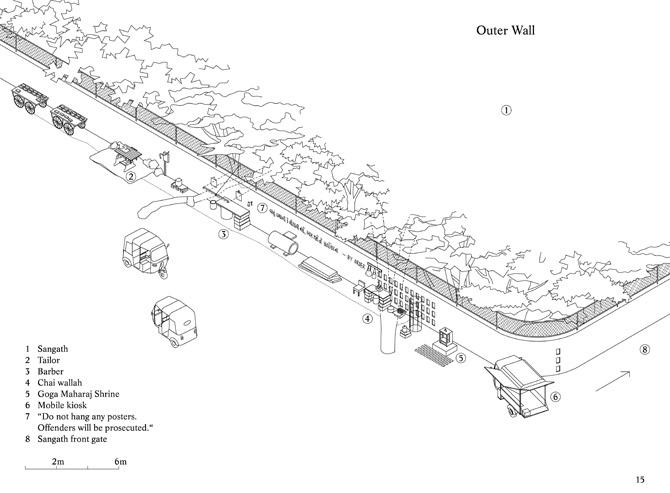 Like Mumbai, Ahmedabad showcases a mix of architectural styles. "Louis Kahn and Le Corbusier introduced modernist architecture related to the context of Ahmedabad. Indian architects transformed this style towards a local Modernism, and created a tradition of architecture," says Helten. This diversity can be noted in the use of materials too. "You find an interplay of local traditional and modern materials. For example, the Mill Owners' Building from Le Corbusier uses teak wood, Jodhpur and Morak stone as well as exposed concrete," elaborates Fanelsa.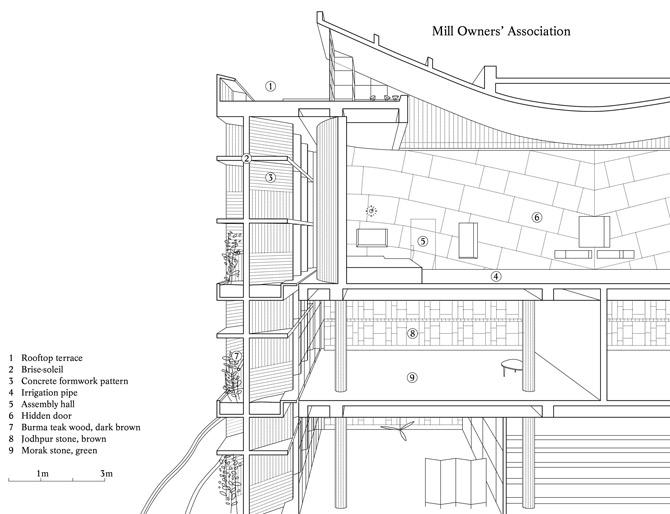 Designed by Le Corbusier in 1954, the Mill Owners' Association building has been designed according to prevailing winds. So, the east and west façades are designed to keep the sun out and north and south façades have almost no windows.
With a city so rich in culture, it was upon the authors to narrow down on the structures that would be featured in the book. In the end, the authors didn't include places that are representative of the entire city but also the spots that they grew fond of during their time.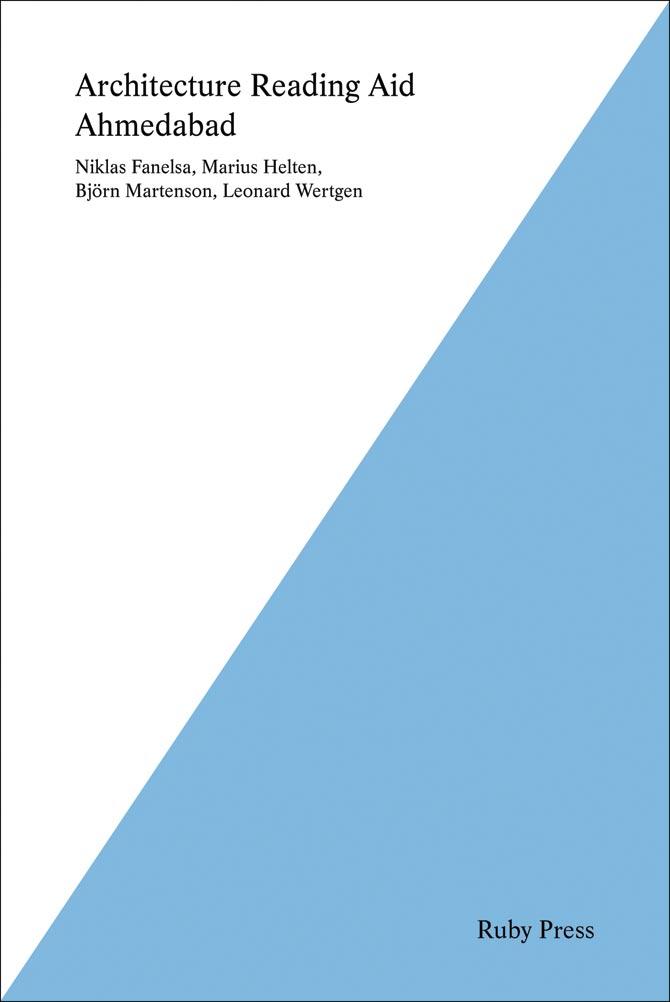 "From a long list of observations, we picked the ones that we found important to connect to Ahmedabad. We show a variety of specific observations in the city. For us they represent specific spatial qualities unique to Ahmedabad," says Fanelsa.
Architecture Reading Aid,  Niklas Fanelsa, Marius Helten, Björn Martenson and Leonard Wertgen, Ruby Press, 16 euros, available on www.ideabooks.nl