Love to escape the city buzz every weekend, but it breaks your heart to leave your pooch behind? The guide lists a range of getaways that host your furry friends as well. Do we hear woofs of joy?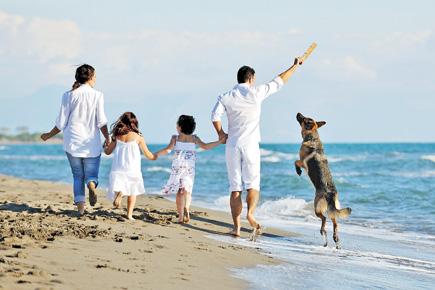 Family
If the only reason that stops you from taking weekend breaks and vacations is separation anxiety from your pet, help is on the way. Now, you can take your pet along too when you set out. Coming up is Letscampout's, campsite in Lonavala that will host pet-owners and their pooches for a weekend amidst nature.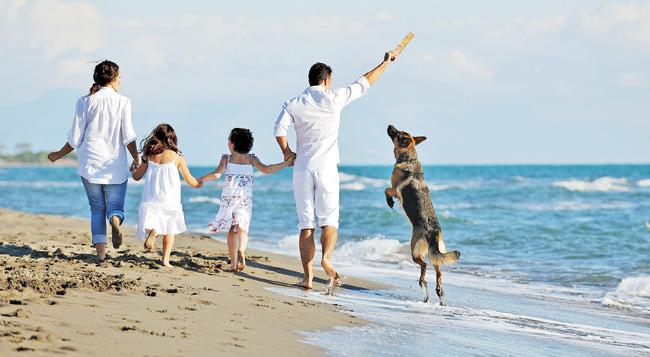 What's in store?
The day will start with agility sessions and fun games for both dogs and their owners. A qualified dog trainer will conduct these sessions, which include various activities and games such as Doggy See Saw, Dog Agility Tunnel, Dog Jump-through- hoop, Dog Climbing Ramp etc.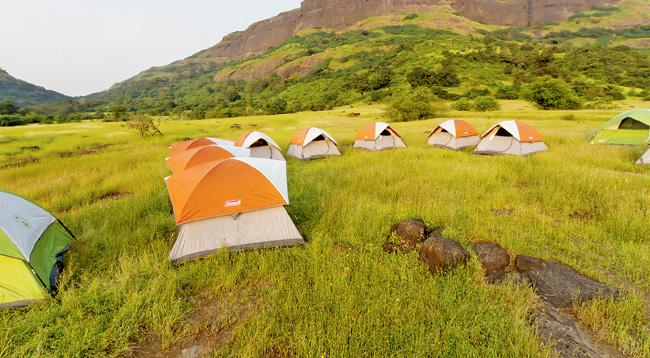 Letscampout campsite at Lonavala
You can enjoy their signature barbeque and bonfire. The pets needn't feel left out, as a special barbeque menu has been planned for them too. The organisers have tied up with Harley's Corner, a gourmet pet food company, which will be organising the food and activities for the pets, while they take care of all the camping requirements of the owners and offer elaborate meals using traditional cooking methods.
On: January 31-February 1 (1 night/ 2 days; check in: 11 am, check out: 11 am)
At: Lonavala
Cost: Rs 3000 per person, Rs 1250 per pet (all inclusive)
Call: 9819813493
Log on to: letscampout.com
Email: info@letscampout.com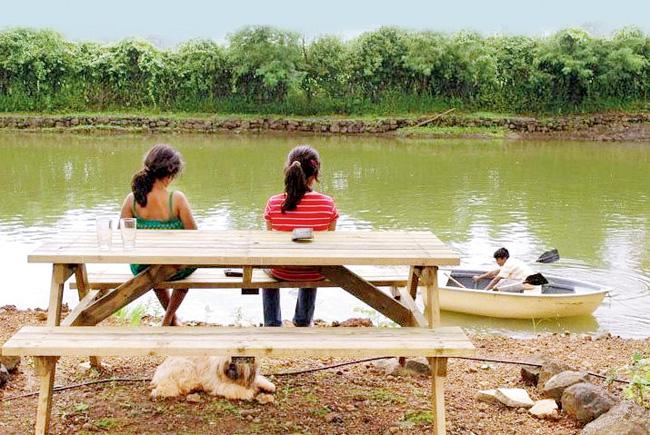 Balaji Farms

Recreating life in a farm
Just 100 km from Mumbai, and cocooned in the Western Ghats, Balaji Farms recreates all the simple elements of village life in seven acres of land: fields, orchards, temple, pond, waterfall, farm animals, rustic homes, made by unskilled hands, with natural materials and décor. These are comfortable, clean and furnished with necessary amenities. The owners are clear that Balaji Farms isn't a resort but a space where one can enjoy the simple joys of waking up to the cackle of geese and spending the day walking in the fields, swinging, kite flying, rowing, fishing, planting, feeding the fowl and cattle, riding a bullock cart, star gazing or watching time go by amid nature. The farm is home to dogs, cats, cattle, sheep, horses, doves, geese, turkey and a variety of fowl.
At:  Balaji Farms, Uddar Village, Wapheghar Post, via Pali, Sudhagad Taluka, Raigad district.
Call: 9920050877
Log on to: Balajifarms.com
Email: info@balajifarms.com
To reach:  From Mumbai, drive towards Navi Mumbai; at Panvel take the Mumbai-Pune Expressway. Take the main Khopoli exit after 300 meters after Khalapur toll (before the food court).After exit, take a right-turn and cross the bridge to reach the other side of the Expressway. Now take the middle road to Pali (straight road goes to Pen and left road goes back to the Expressway). After 25 kms, look out for an HP Petrol Pump on the right – take the right turn immediately after the pump. Another 4 kms brings you to an intersection at a poultry farm. Take left. Avoid the right road (it goes to Kavele). After 2 kms, look out for a board that reads 'Wafegar'. On the right is the famous landmark Sri Rameshwar Mahadeo temple. Take a left turn. About 50m from there, on the right side, is the entrance to the site.

Della Resorts offers a pool experience for pets
A luxe retreat
Della Resorts is an adventure and luxury resort that stands out for its distinctive architecture, unique interiors, picturesque locations and landscaped gardens. It is home to 12 different breeds of dogs ranging from the mighty Great Dane to the majestic St Bernard who are a part of the big Della family. It is the owner, Jimmy Mistry's love for animals that has been instrumental in making them extend services that cater to the needs of all pet owners. With kennels, bedding, walking and pet sitting services available, Della claims to be India's first pet-friendly luxury resort. A maximum of two pets are welcome at the resort. One may avail of basic food, bedding and walking services at an additional cost.
At: Della Resorts, Kunegaon, Lonavala.
Call: 9664477000/1800 30705050
Log on to: Dellaresorts.com
Email: info@dellaadventure.com
To reach: Take the road from Mumbai. It's 4 kms from Khandala Expressway Exit and 2.6 kms from the Old Mumbai-Pune Highway.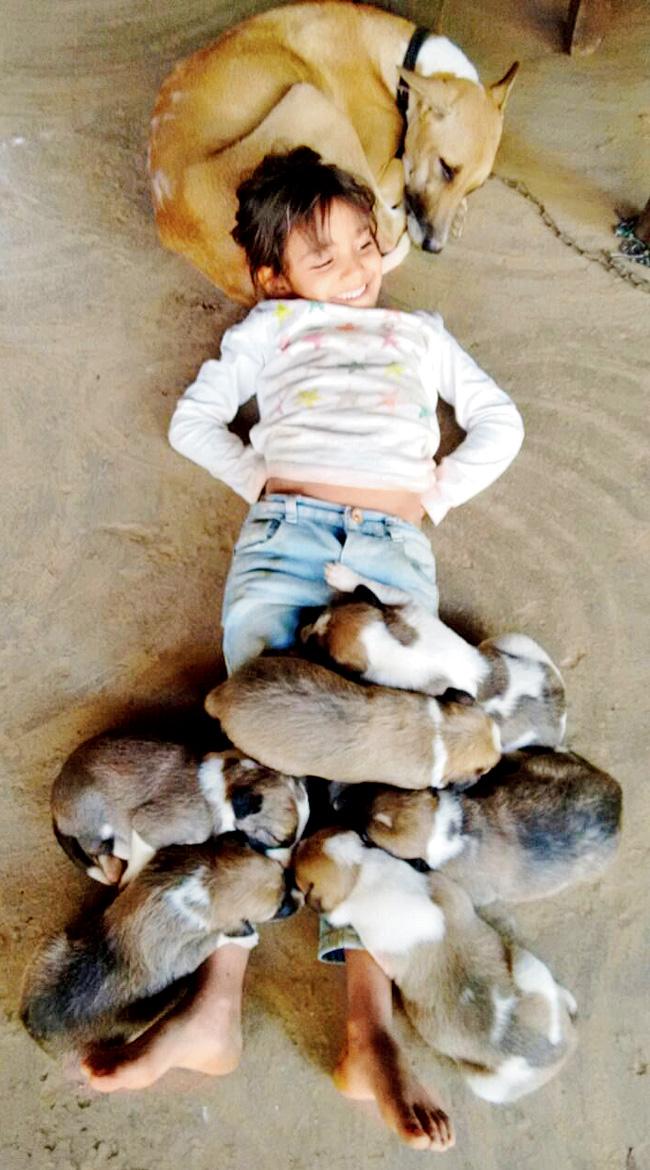 Up close and personal with nature
An authentic farm escape, Hideout is located near Vikramgad (two hours from Mumbai). It is a 26-year-old farmhouse with a brick house, mud house eco-cottages and home-cooked food. The owners aim to introduce people to a lifestyle that is organic, wholesome and binds mind, body and soul together in a happy union.
At:  Hideout, Zadapoli village, Thapadpada, Vikramgad taluka, Palghar district.
Call: 9920640815
Log on to: Hideout.co.in/
Email: hideoutfarm@gmail.com
How to reach:  Take Mumbai-Ahmedabad Highway. After reaching Silent Hill Resort, drive ahead and take right from Ten Police checkpost to the road towards Wada; drive 17 kms and take left from Pali Naka to the road towards Vikramgad.
Drive 10 kms and after crossing Sajan Nature Club, take a right on Thappapada Road and a second left to reach Hideout.
Car travel time from Mumbai is 2.5 hours, (150 kms).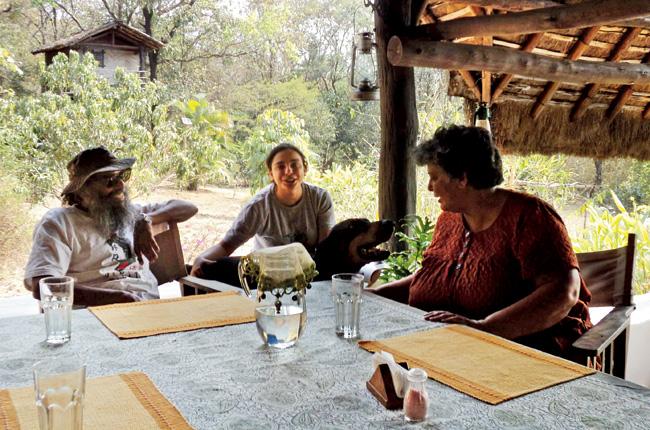 David and Morvarid Fernandez relax with their daughter Katrina and dog Bahadur at The Hermitage

Chill zone for your pooch and you
Open-air, sunlit bathrooms, machan stays and plenty of jungle-style bonhomie awaits you and your pet amid the lush, natural surroundings of the Londa Range in the Western Ghats that is home to The Hermitage Guesthouse. It's R&R guaranteed for you and your pooch, among warm, artful, earthy environs, sans mobile network range, and sometimes, spiced up with the odd visit from an Asian Sloth Bear or a barking deer! Owned by David and Morvarid Fernandez, with their Doberman, geese and cats for company, this home-style space at 720 meters above sea level, should be a delightful break for your four-legged buddy, and you too. Trust us.
At: The Hermitage Guesthouse, PO Box 23, Nersa Village, Khanapur Taluka, Belgaum, Karnataka.
Call: 9242623020 /9341998610
Log on to: Thehermitageguesthouse.com
Email: info@thehermitageguesthouse.com
To reach: The best way is to fly into Goa, and then reach the site by private taxi, which is 140 kms (approx) away. Travel time is nearly three hours from Goa's Dabolim airport. The guesthouse offers pick-up and drop options that you need to mention while booking.