Aquatic therapy is gaining ground as an alternative to land-based physiotherapy with the likes of Waheeda Rehman trying it. Experts decode the science behind it and its application across specialties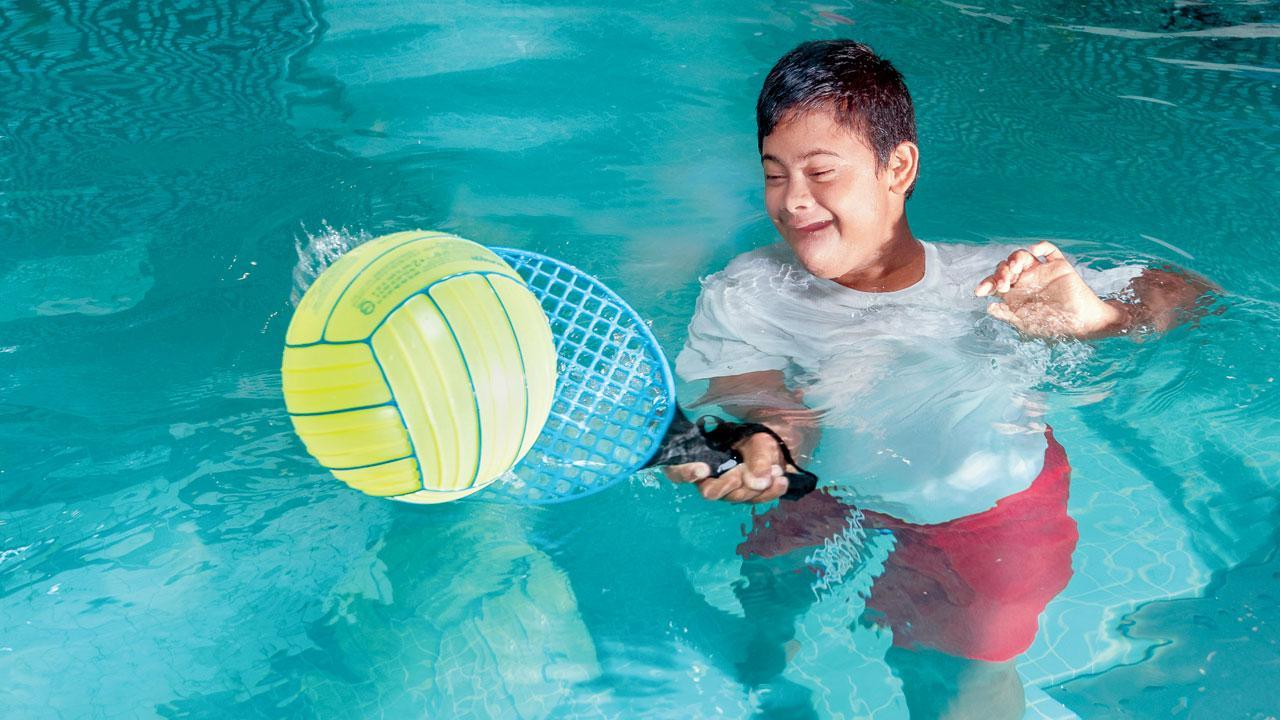 Aquatic therapy underway at AquaCentric units in Mumbai
In his 33 years at Nanavati Max Super Speciality Hospital, Dr Ali Irani, head of physiotherapy and sports medicine, has rarely encountered a patient who swims, walk in with an injury. This is a testament to the fact that water-based therapy or a fitness regime is a shortcut to wellness and helps with better rehabilitation of patients, he shares. Take for instance, veteran actor Waheeda Rehman, who recently shared in an interview with Mid-Day that she sought water-based or aquatic therapy to treat a chronic lower backache. In fact, Dr Irani, former head physiotherapist for the Indian cricket team between 1987 and 1997, recounts taking players to the pool for regular exercises, including during international matches. It is one of the best forms of exercise and rehabilitation, he shares, adding that the therapy is gaining popularity for its many benefits.

Undergoes aquatic therapy
ADVERTISEMENT
What is aquatic therapy?
Dr Arnaaz Doctor, orthopaedic physiotherapist at AquaCentric Therapy Pvt Ltd, which offers aquatic therapy in the city, tells us, "It's a rehabilitation technique carried out in warm, indoor temperature-controlled pools. The warmth of the water and the hydrostatic pressure help reduce body pains, inflammation and swelling. It helps strengthen your core, and improves balance and joint movement." Dr Arnaaz and Dr Irani explain that the therapy is driven by the principle of buoyancy. "If water is at your shoulder level, 90 per cent of your body weight is reduced. As there are no compressive forces on your joints or spine, there's better mobility and you can start rehabilitation earlier as compared to land-based therapy," explains Dr Arnaaz. Dr Irani elaborates that if one has a backache, working out on land may injure their knee or vice versa. "That won't happen in water," he adds. Moreover, as water is 800 times denser than air, Dr Arnaaz notes that exercises you do in water are 
more effective.

Actor Waheeda Rehman also underwent the therapy
So, aquatic therapy centres, like AquaCentric, typically boast of temperature-controlled pools, triple-layer sanitisation and aquatic physiotherapists. "Based on the patient's history, an assessment is done, and depending on their goals and body requirements, a treatment protocol is set," she says, adding that apart from medical needs, they also cater to strengthening and weight loss.
Cross-specialty applications
>> Dr Irani and Dr Arnaaz reveal that aquatic therapy is significant for ortho- and sports-related injuries. In fact, they share that pools for aquatic therapy can accommodate treadmills, cycles and other gym equipment, and cameras to monitor movements and postures. "After an injury, it's difficult to start exercising on land and you may end up hurting another body part, but in water, you can start within a week. This is especially beneficial for sportspersons or fitness enthusiasts. They can't afford to not exercise as cardiovascular endurance and strength reduces. Moreover, pain and inflammation, the first signs in any orthopaedic injury, will reduce due to warm water," Dr Arnaaz elaborates. She adds that due to lower chances of injury, it's also ideal for the elderly.

Dr Veena Aurangabadwala
>> It also helps cater to those with neurological issues, for instance spinal cord injury. "For those who are wheelchair-bound, we transfer them into water using a hoist. While they might not be able to walk on land, in water they can, with support. It gives them a sense of confidence," she advises.
>> It's also an effective therapy for those with polycystic ovary syndrome, as working out inside water is easier and you lose more calories, she claims.
>>  A technique called watsu, which involves relaxation of body and mind, helps with anxiety and other psychological issues. It also helps with sensory issues in kids such as ADHD and autism. The water calms them down and offers constant tactile feedback.

Dr Ali Irani
>> Dr Veena Aurangabadwala, gynaecologist, Zen Multispeciality Hospital, shares that owing to restrictions in the amount of painkillers that can be given to pregnant women for  body aches, doctors recommend natural resolutions, including aquatic therapy. "In water, your body weight or the pressure that your back has to withstand is reduced. That helps women with lower backache or spondylitis issues." It's also used for water births. "For women who want to try vaginal birth but want to avoid labour analgesia, they're given the choice of water birth, which reduces spasms and pain," she asserts.

Dr Arnaaz Doctor
Keep in mind
"Aquatic therapy can be done at any age and stage of life, from kids and seniors, to non-swimmers," Dr Arnaaz suggests. Remember to go to a centre that has indoor, temperature-controlled pools. "Look out for an aquatic physiotherapist who has super-specialisation in the area of your concern, so that they understand your body's needs and goals to customise a therapy routine," she signs off.