A books pavilion that's a sustainability dream will be installed at CSMVS tomorrow, hoping to inculcate the joy of reading in your children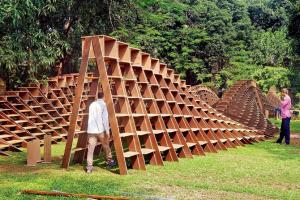 Book Worm under installation at the lawns of the museum ahead of the launch. Pic/Suresh Karkera
It was in February last year that the last page turned for the iconic Strand Book Stall in SoBo, in the sense that it downed its shutters permanently. Then, last month, Bandra bookstore Crossword bit the dust too, its sales having dipped in the face of competition from e-books, a new-age phenomenon that's given birth to the question: are physical books staring at oblivion? No one really has a definitive answer yet. But one thing's for sure — children these days are more glued to their smart gadgets than to paperbacks, unlike how it was a couple of generations ago.
It's to alter that equation that architect Nuru Karim came up with the concept of Book Worm, an installation he conceived in September last year, which will be set up on the lawns of Chhatrapati Shivaji Vastu Sangrahalaya (CSMVS) for two months starting tomorrow. The piece is a books pavilion of sorts. It's a 120 ft-by-40 ft structure spread over 4,800 sq ft that has cavities in which books in different languages will be placed. Karim says, "We want to foster community learning, and encourage people to embrace the idea of holding a tactile book, smelling it and feeling its weight."
ADVERTISEMENT

Priyasri Patodia and Nuru Karim
The idea was thus, to approach schools across the city to donate books for the museum's visitors to pick up and peruse. Gallerist Priyasri Patodia, who helped Karim get in touch with CSMVS to house Book Worm there, tells us, "We would especially like children to explore it since the digital age has almost forbidden them to touch and feel a book, even though kids have more imagination than older people." Karim adds that the installation can be dismantled and reassembled in five days, meaning it's a structure that is a smart, mobile way of inculcating the joys of reading in people in an age when brick-and-mortar bookstores seem to be facing a bleak future.
Museum speak
CSMVS director, Sabyasachi Mukherjee, says, "Community participation is at the heart of this project. There will be no bias; books on all subjects will be accessible."
Opens November 8, 10.15 am to 6 pm
AT CSMVS, Mahatma Gandhi Road, Kala Ghoda, Fort.
CALL 22844519
Catch up on all the latest Mumbai news, crime news, current affairs, and also a complete guide on Mumbai from food to things to do and events across the city here. Also download the new mid-day Android and iOS apps to get latest updates