Renowned professor's funeral mass revealed lesser-known facets of a lecturer who rocked classrooms and inspired generations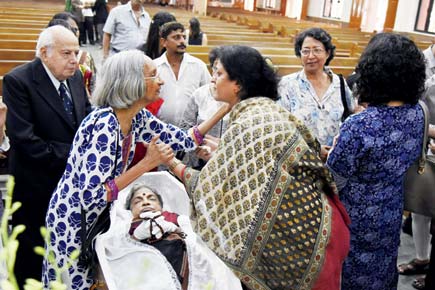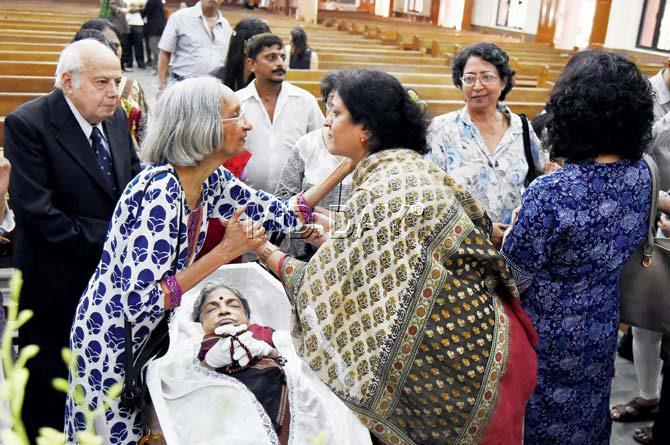 Paying their last respects to Eunice de Souza at her funeral at the St Anthony's Church, Vakola on Wednesday. Pics/Shadab Khan
A glance around the interesting interiors of St. Anthony's Church in Vakola yesterday evoked the thought that if Eunice de Souza were here, she would have told her students about the architecture style used in the church. Once she said that, and if her Literature students from St Xavier's College would have seemed quizzical, she would have said with her trademark trenchant wit, "Read about it." (This was in the pre-Google days, though it would be hard to imagine Eunice saying Google it) And then, "I want absolute minimum literacy from this class."
ADVERTISEMENT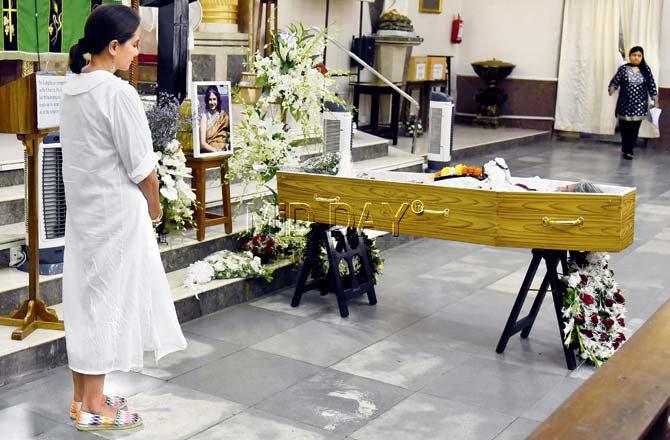 Anupama Chopra at the funeral
Present in spirit
Eunice de Souza was there, though only in spirit. The incandescent Mumbai poet-professor's funeral was held at the Vakola church yesterday, with pews filling up on a hot afternoon. It was an interesting mix - the salt-haired were for Eunice's generation, she was 76 when she died on Saturday; the pepper were her many students. "She inspired, because good teachers teach, but great teachers inspire; that is why Eunice was great," concurred three St Xavier's College figures at the service. They were former St Xavier's College principals Fr.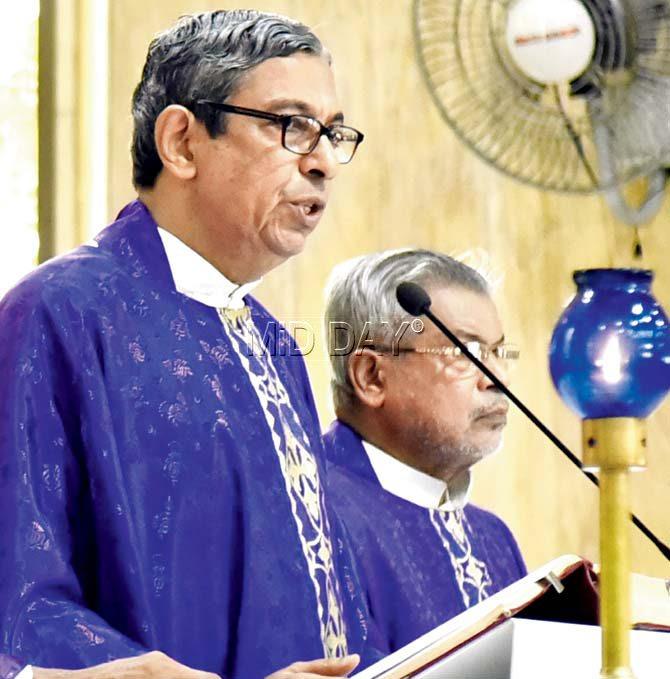 Father F Mascarenhas at the funeral
Fraser Mascarenhas, Fr. Joe Dias and current vice principal Fr. Roy Periera.
In a one-hour service, interspersed with hymns, prayers and blessings, the fathers said, "She (Eunice) had so much talent. For writing poetry, for appreciation of drama, she was responsible for putting St Xavier's on the literary map of the world. She shaped the minds of our students, she instilled in them a love for literature."
One resonant chord, of course, was Eunice's "fearlessness". The professor whose middle name was 'bohemian' told her students to stand up for what they "believed in, and chart their own destiny. She led by example and would never succumb to fear or threats."
Amazing Grace
Fr. Dias did acknowledge that sometimes, "she may have been misunderstood, but her columns after her retirement proved how much she loved her Goan culture. She also had a heart and feelings for dogs, cats, birds who she felt could teach us so much, this was another side to Eunice, which we saw after her retirement…"
The speaker ended with Rabindranath Tagore's 'Where The Mind is Without Fear…' to encapsulate what this teacher stood for. Eunice de Souza's cousin, requested everybody to look in their song sheets given at the beginning of this funeral mass and sing 'Amazing Grace'. The hymn's lyrics were printed and headlined with: As per request of Eunice de Souza (Aunty Noni). We were told that it was a favourite of Eunice and she would hum it all the time.
Noni, oh really?
Finally, a relative thanked the attendees, saying that the professor was called 'Aunty Noni' by her family. Noni seemed amusingly innocuous for a professor whose tongue could scythe adolescent egos and amateurish poetic pretensions to shreds in merciless moments, which may seem mirthful so many years after.
But then, maybe, we never knew the real Eunice de Souza at all. Scintillating, stimulating teacher in a classroom, who once ordered out her younger cousins who had slipped into St Xavier's classroom from another college, many years ago, to hear her lecture. "Her lectures were the stuff of legend and we wanted to listen to her, we used to study in another college, but slipped into Xaviers to listen to her. She at once threw us out!" they laughed, to a daughter who continually pined for her late father. A relative, Lorraine L said at her funeral, "If there is any small solace in her death, is that she will be reunited with her father, who she grieved for so many years after his death…"
Thank God for small mercies, then. And like all the students wiser after those whiplash dressing downs, many of who were struggling to keep their composure as they paid their last respects to this rockstar lecturer, say: thank God for Eunice de Souza.