Vice Admiral D M Deshpande, CWP&A, laid the keel of the first ship (yard-12651) of P17A class stealth frigates yesterday in the presence of Cmde Rakesh Anand, chairman & managing director, MDL; Sanjiv Sharma, director (finance); and senior officials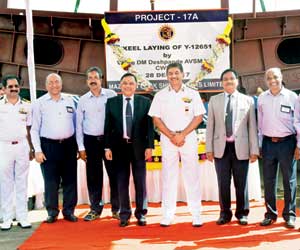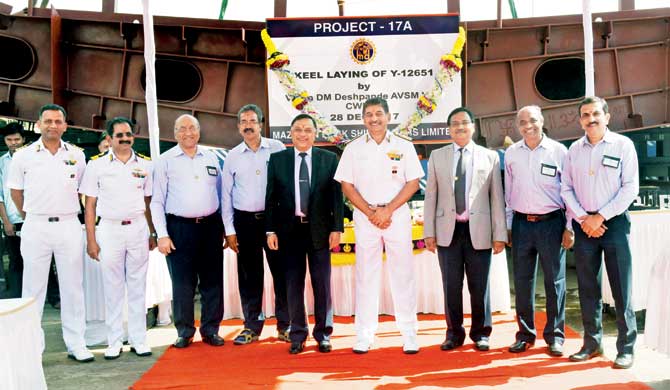 V Adm D M Deshpande, CWP&A, Cmde Rakesh Anand (retd), CMD, MDL; and Sanjiv Sharma, director (finance), along with senior officers from MDL and Navy at the keel-laying ceremony
Vice Admiral D M Deshpande, CWP&A, laid the keel of the first ship (yard-12651) of P17A class stealth frigates yesterday in the presence of Cmde Rakesh Anand, chairman & managing director, MDL; Sanjiv Sharma, director (finance); and senior officials of MDL and Indian Navy.
ADVERTISEMENT
Construction of P17A ships differs in the very concept of frontline warship building by way of adoption of modern technology of 'Integrated Construction (IC) methodology', where the blocks are pre-outfitted with pipes, etc, to reduce the build period of warships.
P17A warships are follow-on warships of the Shivalik class stealth frigates. Seven frigates in this series will be constructed, of which four will be constructed in MDL and three in GRSE with MDL as the lead yard. The P17A class frigates will have enhanced stealth features. These ships are being built using indigenously developed steel and fitted with state-of-the-art weapon and sensor systems along with advanced Integrated Platform Management System.
Catch up on all the latest Mumbai news, current affairs from Mumbai, local news, crime news and breaking headlines here
Download the new mid-day Android and iOS apps to get updates on all the latest and trending stories on the go