The car was taking a U-turn on Marine Drive when the bike crashed into the front door on the passenger side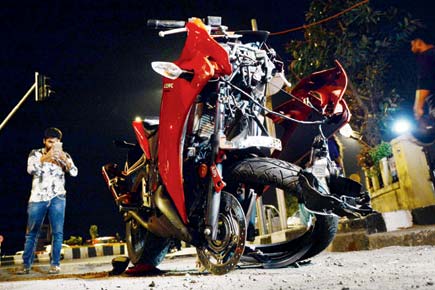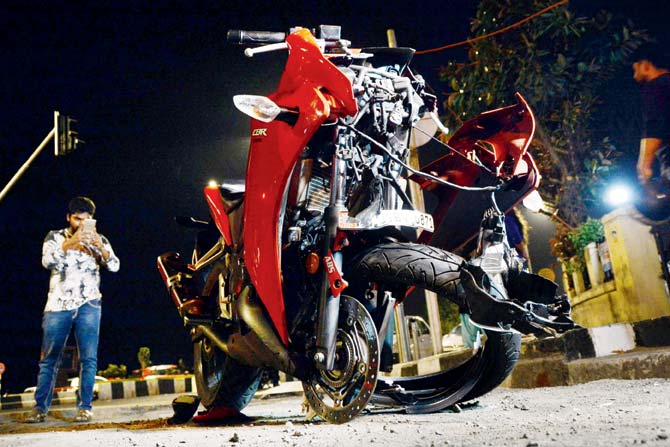 The Honda CBR that was destroyed in the accident last night
Four youths were left injured after a midnight crash between a high-end car and a super bike on Marine Drive last night. The accident happened when the sports bike, a red Honda CBR, was moving towards the Air India building at Nariman Point, and a black Jaguar was taking a U-turn half-a-kilometre from the Marine Plaza hotel signal. The CBR crashed into the front door of the Jaguar and the youths on the bike were flung at least two metres in the air before crashing to the ground.
ADVERTISEMENT
The youths have been identified as Shashank Wadke and Mangesh Patil, both residents of Girgaum and students of a south Mumbai college.
They were rushed to the nearby Gokuldas Tejpal (G.T) hospital where they are being treated. "They are under observation," said a friend.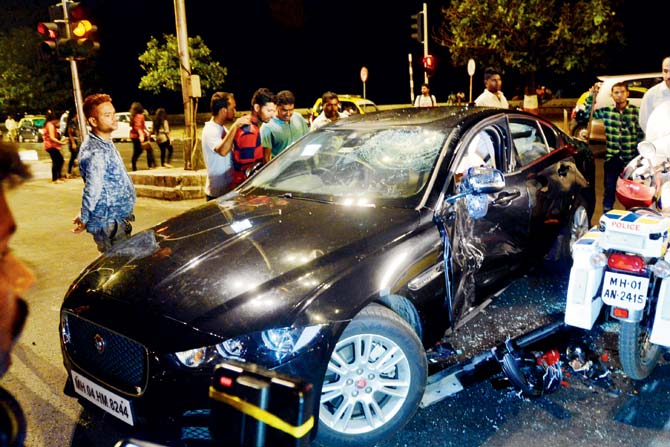 The front passenger door of the Jaguar was smashed in the accident. Pic/ Sayyed Sameer Abedi
Following the crash, two of the four people inside the Jaguar, all residents of south Mumbai and all aged below 26, also sustained injuries in the accident. They have been identified as Ronak Daftary, Isha Multani, Atith Shah and Manushree Shah. Atith and Isha were injured by the pieces of glass that they were hit with in the accident and were taken to a nearby private hospital.
Ronak was driving the car and Isha was on the passenger seat in the front. Atith was in the backseat behind Isha. After the crash, the airbags of the car opened, indicating the impact of the crash, the police said.
Ronak's friend, who did not wish to be named, said, "The speeding biker crashed into the car while my friend was taking a u-turn, all present in the car are out of danger."
Traffic police officer Ganesh Khot, who was present at the spot, said, "The accident took place around 12.30 pm. After the accident, we reached the spot to assist the local police and control traffic. We have registered an accident report in the matter."