Today, five members of the Ladakh Scouts participate in the Mumbai Marathon to show the city how cruising through punishingly high altitudes prepares them for anything in life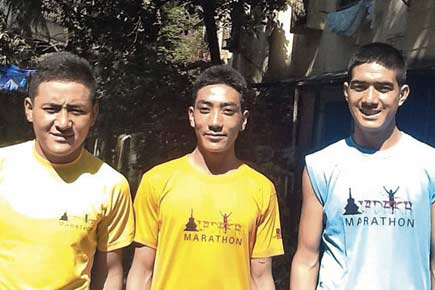 Mumbai Marathon, Ladakh runners, Ladakh Scouts, Sepoy Rigzin Norbo, Shepoy Shabir Hussain, Sepoy Tsering Gyatso

This morning, among the thousands of runners at the Mumbai Marathon, are eight youngsters who have crossed some of the world's highest passes. Thirteen climbers and runners are in town from Ladakh, and eight of them will participate in the marathon today. Three of them are new recruits in the Ladakh Scouts, also known as the snow warriors, an infantry regiment of the Indian Army, from Phayng, Leh Ladakh.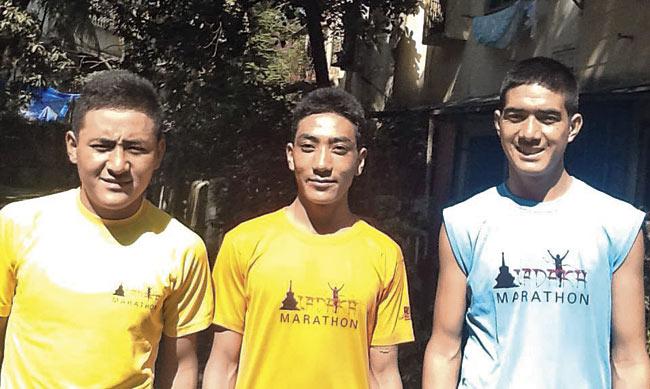 (L-R) Sepoy Rigzin Norbo, Shepoy Shabir Hussain and Sepoy Tsering Gyatso, who are part of the Ladakh Scouts, will run the Mumbai Marathon today
ADVERTISEMENT
Sepoy Tsering Gyatso (20), Sepoy Rigzin Norbo, 20, and Shepoy Shabbir Hussain, 19, are part of the group — five of the eight runners will participate in the full marathon and three will run the half marathon.
Chewang Motup Goba, the founder of the Ladakh Marathon is responsible for bringing the team to town. "The three young runners from the Ladakh Scouts are promising. They have started running only recently, but considering their timing while running at higher altitudes, I am sure they will soon be runners to watch out for and do India proud."
Colonel Sujeet Patil, Commanding Officer of Ladakh Scouts Regiment Centre, who spoke to SUNDAY MiD DAY from Ladakh, said, "The boys have gone to Mumbai from highly challenging areas. We have seen them run passionately at altitudes higher than 11,000 feet. After they broke the Khardungla Challenge in Leh in September 2013 in a record time of 6.5 hours, we decided that one of their prizes would be to send them for the Mumbai Marthon."
He added that the city marathon is an experiment and he is hopeful that the boys will do well in the marathon. "If they do not succeed, we will make some changes in our training methodology and will send them to Mumbai again," he said.
The runners
Name: Tsering Gyatso, 20
Born in: Shara village in Ladakh
Tsering Gyatso joined the Ladakh Scouts in December 2012. Then a class 11 student of the Government High School in Leh, he did not wish to continue with his studies and went for the recruitment with the hope of being employed. Gyatso won the full Ladakh marathon in September 2012. Surprisingly, Gyatso had never run before the Ladakh Marathon. At his first marathon, he finished in three hours 32 minutes. Last year, he came to Mumbai to participate in the marathon but, due to lack of practice, pulled his hamstring at 32 km.
On September 8, 2013, after more practice, Gyatso participated in the 72 km Khardungla Challenge and finished second at six hours and 49 seconds. Khardungla is just a little under 18,000 ft and is the world's highest marathon. The Bangalore ultra marathon course record is seven hours 14 minutes and Gyatso stood second there.
Today, Gyatso hopes to finish the full marathon in three and a half hours.

Name: Rigzin Norbu, 20
Born in: Shang village in the outskirts of Leh
Like Gyatso, Rigzin Norbu, too, was a class 11 student when he was recruited in the Ladakh Scouts. Norbu ran the first Ladakh Full marathon in 2012 and finished fourth. While undergoing regular training at Ladakh Scouts, he ran the Khardungla Challenge in Leh in September 2013 and came first with a record timing of six hours 55 minutes. Norbu enjoys archery in his spare time and now considers running as his new challenge and dream.

Name: Shabbir Hussain, 19
Born in: Darkit village in Kargil
Shabbir Hussain is from a small family of farmers. Hussain was in class 10 when he was recruited in the Ladakh Scouts in December 2012. Hussain had never run in his life and ran routinely as part of his training as a Ladakh Scout. He ran the full Ladakh Marathon in September 2013 and finished in three hours 25 minutes. Shabbir hopes to get the opportunity to learn ice hockey and continue with the Ladakh Scouts team.