Saba Tarikh Ahmed from Karachi is being treated at Jaslok Hospital for a rare condition called Wilson's Disease. Doctors and perfect strangers in Mumbai have provided her financial and emotional support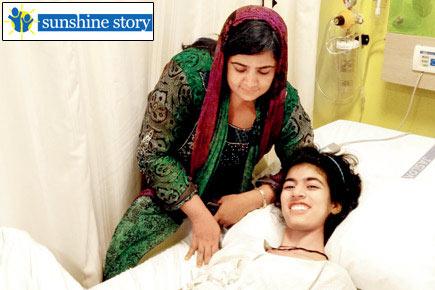 Fighting all odds: Saba Tarikh Ahmed with her mother Nazia at Jaslok Hospital, Peddar Road. Pic courtesy/Shailesh Bhatia

We may not share the best of neighbourly love with Pakistan, but it's totally a different story when a child across the border needs a strong helping hand.
Take the case of 15-year-old Saba Tarikh Ahmed, who is undergoing treatment in Jaslok Hospital, for a rare condition called Wilson's Disease, in which copper accumulates in the body's vital organs. It occurs in around 1 to 4 persons in a sample size of 100,000 people. Not only is a team of medical experts going out of its way to help her, total strangers are also chipping in to support the treatment, financially and emotionally.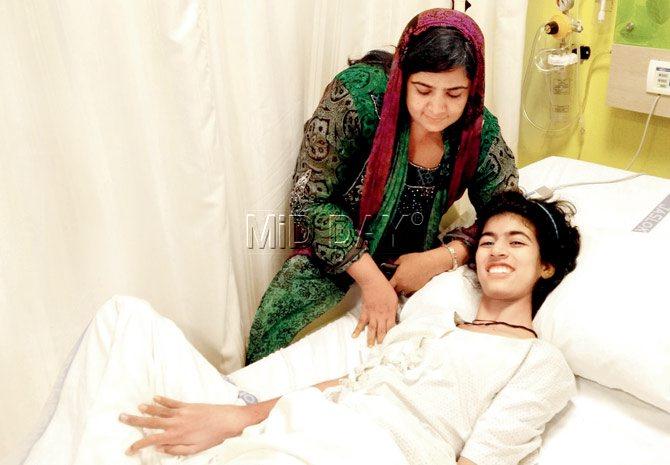 Fighting all odds: Saba Tarikh Ahmed with her mother Nazia at Jaslok Hospital, Peddar Road. Pic courtesy/Shailesh Bhatia
Feeling at home
Saba's mother Nazia is a single parent — her husband remarried and deserted her and their three children. Nazia said that the doctors in Karachi could not initially diagnose her daughter's rare ailment.
"High doses of wrong medication have taken their toll on Saba, who has become frail and weak. Eventually when the right diagnosis was made, doctors back home advised that they were ill-equipped to handle the situation and India was the optimum choice, keeping in mind our financial constraints. What we are experiencing is total love and affection, (which) one would expect only from close family members," said Nazia. She adds that India has been an incredible experience for her, and though it's her first visit, people here have embraced her family like one of their own.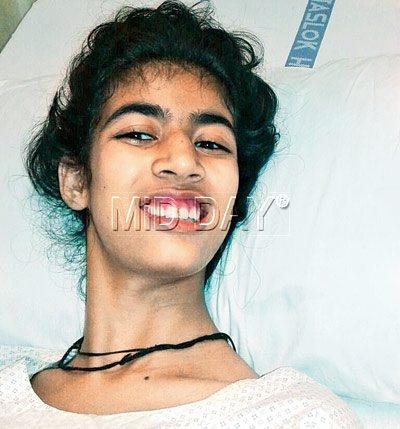 Saba Tarikh Ahmed recieved R1.5 lakh from strangers for her treatment  Pic/Shailesh Bhatia
Hope runs deep
Nazia makes it a point to pray at the nearby Haji Ali Dargah, seeking blessings for Saba's recovery whenever she has a little time on her hands. She said that when she came to India, nearly three weeks back, she could only deposit
Rs 80,000. "With the hospital bill accumulating, total strangers such as Shabia Walia (a social worker), who came to know of our plight, came forward and gave us over R1.5 lakh. In a short span of time I now feel I have a new family in Hindustan, but now with my funds totally depleted, I am exploring the option of going back to Karachi, against medical advice. Kisi ka itna bhi ehsaan lena munasib nahi (it is not advisable to milk someone's generosity)."
"I got a WhatsApp forward about her from a friend and on instinct decided to meet the family. On getting the stunning facts of the case we at the 'Bluebells Community', who basically work as messengers of help, have managed to pay off a major chunk of her bills by raising R1.6 lakh for her treatment through many benefactors, who came forward with small and big amounts. She also wanted some Urdu books, and we complied with her request," said Walia.
Medicalspeak
Dr Pettarusp Wadia, a senior neurologist at Jaslok Hospital, who specialises in movement disorder, botulinum toxin therapy and deep-brain stimulation, said that Saba was reacting adversely to high dosage of medicines, which are required to flush out the copper from her body. If left unchecked, the condition could have long-lasting, serous and irreversible implications. The patient would also require regular physiotherapy treatment to regain her motor skills. "Keeping this in mind we have to limit the dose, but this would invariably result in a longer duration of stay in the hospital. The hospital has offered a lower-cost bed, which is normally not given to foreigners, but at the end of the day, the family will require additional financial and social support in Mumbai," said Dr Wadia.
Dr Abbha Nagral, liver specialist and senior gastroenterologist at Jaslok Hospital, who is treating Saba, opined that the patient, whose liver and brain have been severely infected, was in no condition to travel back to Karachi. "Saba has a genetic disorder and the family has come to us with great faith. Keeping in mind the seriousness of the case, we have advised the mother to keep the patient — who has limited movement — in India for at least two months, as close day-to-day monitoring is required, in a scenario where the smallest of infections can blow up. We doctors have also raised some funds for her short-term treatment, which could cost nearly R5 lakh, which the family cannot afford," she said.