Eyewitnesses said that the incident occurred around 7am on Devidayal Road when sparks were seen coming out of the bus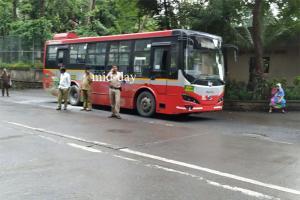 BEST bus in Mulund
An electrical bus coming out of Mulund bus depot caught fire following a short circuit on Monday morning. There were no injuries to anyone. BEST officials countered saying there was just smoke detected.
Fire brigade officials said that the fire was controlled within a few minutes as the fire brigade reached the spot. Eyewitnesses said that the incident occurred around 7 am on Devidayal Road when sparks were seen coming out of the bus. Bus staffers then quickly moved to first to control it and simultaneously alerted the fire brigade.
While fire department confirmed the incident saying it was a minor fire, the A BEST spokesperson said that there was an incident with bus no 302 was on its way to Sion and that there was no fire, but the smoke was detected from the bus liner. 
A statement from Olectra Greentech Limited, the manufacturers of the bus, stated, "Today's incident was the case of slight heating up of brake shoe due to air leakage in the right-side booster, a normal phenomenon in any vehicle, which resulted into over-heating. All the buses are equipped with foam-based fire extinguishers to handle any such exigencies. Though we are investigating the incident, we reassure that the Olectra-BYD electric buses are the safest with several safety features in the bus."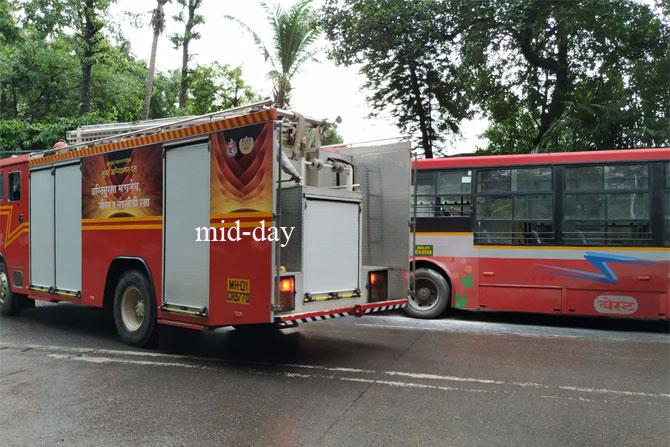 BEST bus in Mulund
The BEST has been opting out for electric buses for their emission-free features and were launched at the hands of Shiv Sena chief Uddhav Thackeray three weeks ago.
In a late-night detailed statement, the BEST spokesperson said BEST bus number 732, (MH01CV6508), reported for brake jam at 7 am, due to which the wheel hub became extremely hot and hence emitting fumes and steam due to humidity and rainwater around.
"We attended the vehicle at about 11:30 am. Brake was released and the bus was then brought back to the base Dharavi depot. At Dharavi depot, we thoroughly examined the brake system and found that the rear RH brake booster had some internal air leakage due to which the brakes tend to engage while running. The bus was attended for brake booster replacement and the bus was sent back in operation at 4 pm," the spokesperson added.
Catch up on all the latest Crime, National, International and Hatke news here. Also download the new mid-day Android and iOS apps to get latest updates