According to civic officials, the 18 bridges are in danger of collapsing at any moment. Action will soon be taken on this. The BMC did structural audits of bridges after the Gokhale bridge in Andheri East collapsed, killing two people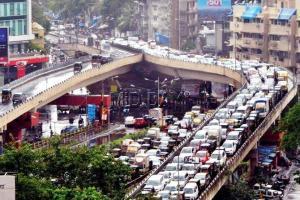 Traffic in Andheri has been out of whack since the partial closure of Gokhale bridge. Pic/Ashish Raje, Datta Kumbhar
The structural audit of 296 bridges in Mumbai by the Brihanmumbai Municipal Corporation (BMC), has revealed that 18 bridges, including eight FOBs (foot over bridges), need to be demolished urgently, as they are dilapidated. The audit report has also highlighted that 48 bridges need urgent repair.
According to civic officials, the 18 bridges are in danger of collapsing at any moment. Action will soon be taken on this. The BMC did structural audits of bridges after the Gokhale bridge in Andheri East collapsed, killing two people.
A senior official from the Bridge Department said, "The structural audit reveals that apart from bridges that have to be reconstructed, 178 bridges need repairs. Of these, 77 bridges require minor repairs. We have already floated tenders for the demolition and reconstruction of bridges. This will definitely put a burden on traffic, as we will have to shut down vehicle movement for the action."
The Bridge Department had not earlier revealed the names of the bridges that were found dangerous. On Tuesday, they were revealed after opposition leader Ravi Raja raised the issue in the Standing Committee meeting. "The BMC does not have any deadline by when these bridges will be repaired or reconstructed. If they are going to delay them, incidents like Gokhale bridge will happen. There should also be an audit of the money paid by BMC to the railways for the repairs of bridges." Officials said BMC has paid R115 crore to railways from 2008 till now.
296
No. of bridges that underwent structural audit
10
No. of bridges that could collapse anytime and must be demolished
08
No. of foot overbridges to be demolished at the earliest as they are dangerous
Catch up on all the latest Crime, National, International and Hatke news here. Also download the new mid-day Android and iOS apps to get latest updates