The city — sliced, diced and served with a dash of sauce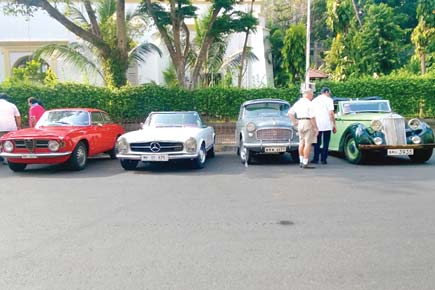 Hey, check 'em out
Well, you'd be forgiven for going nudge-nudge wink-wink, looking at these beauties, but sorry, they aren't yours to take home. These vintage cars, some even pre-war makes, belong to the members of city-based Classic Drive Group, an informal meet-up that takes place every Sunday at Horniman Circle in Fort.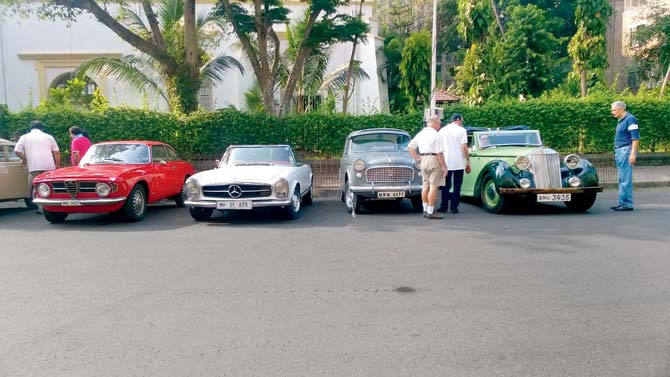 A fleet of vintage cars, belonging to Classic Drive Group, at Horniman Circle
"It's an open group where those with a passion for cars meet, have breakfast and take the cars out for a spin. Sometimes, we also go for long drives to Udwada. Even if you don't own a car, you can drop by," says a group member, Xerxes Master, adding that some of the members will host a vintage car rally in Kutch this month.
The group was recently featured in an episode of Motor Diaries, a web-series on people and their passion for vehicles, created by Sooperfly. From a 1946 Packard Clipper 6 Club Sedan to a 1957 Volkswagon Beetle and even a top-down Sunbeam Alpine, the four-minute video pans through 23 classics. All we could do was stare.
The misfire
Just the other day, four Chinese journalists were fired for an innocuous typo that suggested that Chinese premier Xi Jinping had resigned. Although not as grave, a boo-boo by the staff of Directorate General of Information and Public Relations (DGIPR) — which sends tracked news to CMO and various other departments — has been the butt of jokes among city hacks.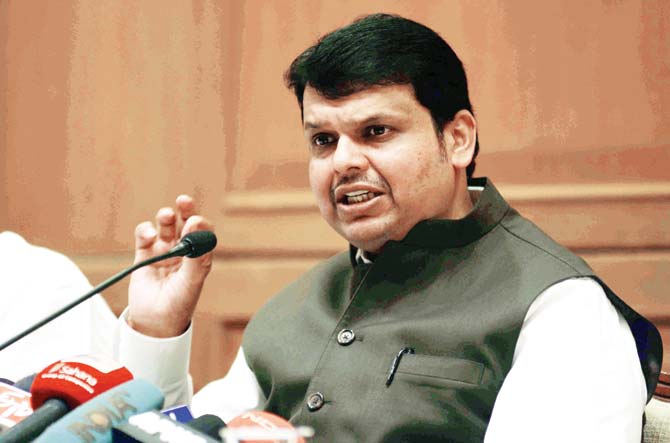 Maharashtra CM Devendra Fadnavis
It started with an email that landed in the inboxes of Mantralaya journalists from the office of DGIPR with the subject line: 'For the CM...'. Hoping for a scoop, journalists encountered a PDF file that carried a list of news reports from the Sunday papers.
It turns out that the mail was a round-up of important stories of the day prepared for the CM's review and action. No heads have rolled considering everyone is busy with the assembly session that kicked off in Nagpur on Monday. But sources say officers have identified a computer operator "who is new on the job" as the fall guy.
Nari in Benaud tribute book's group
What do former Test captains Sir Garfield Sobers, Ted Dexter, Ian and Greg Chappell, Steve Waugh, Mike Atherton and our very own Nari Contractor have in common? All of them were asked to write a piece for a prestigious tribute book on Richie Benaud, the legendary Australian skipper and commentator, who passed away last April.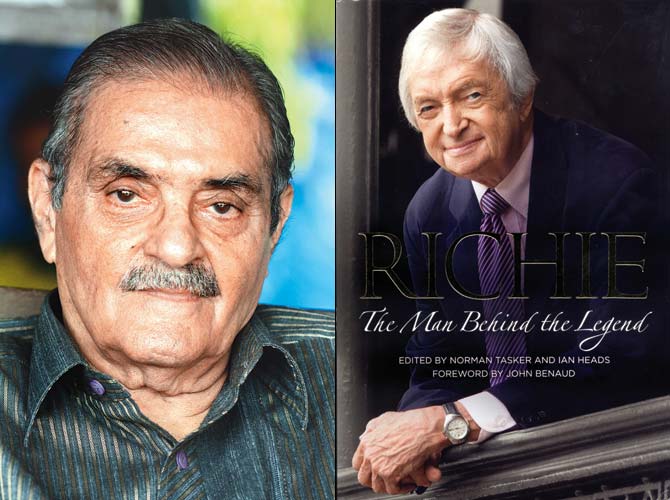 Nari Contractor and The cover of the book
Geoff Armstrong, the Sydney-based publisher, sent us a copy as a token of appreciation for the small part we played in the 397-page book, Richie – The Man Behind the Legend. Contractor (81), who played against Benaud in two home series (1956-57 and 1959-60) put the Australian's two India tours in perspective.
He was not too impressed with his leg-spin in 1956-57 but by 1959-60, his class was there for all to see. As Contractor writes, "As much as he fostered team spirit in his own side, Richie was always willing to appreciate the efforts of the opposition.
I remember the Australian team's applause near the pavilion after Jasu Patel and Polly Umrigar (4–27) bowled us to victory in the Kanpur Test. Richie and his teammates came to our dressing-room to congratulate us. There was that genuineness about it and no 'put ons' just for the camera".
Contractor summarised Benaud's standing in the game at the end of his piece: "He played with a straight bat. In his passing, Australian and world cricket lost an icon. And I lost a friend". Well played, Naribhai.
Scaling up the art
With just under a week to go for their showcase antiquities sale, Saffronart threw up its new flagship auction space, the largest of its kind in the country, in Prabhadevi yesterday.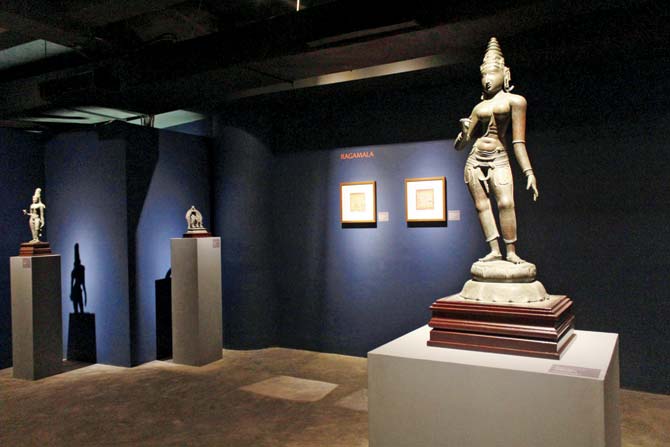 The auction space at Prabhadevi
The 10,000 sq ft room was left raw — brickworks and unfinished floor — to cater to an industrial look but was embellished with sneak peeks of their three upcoming auctions — FN Souza's paper series, Indian classical art and Indian modernists.
But, that's not all. Co-founder Minal Vazirani spoke about Saffronart's new app for art connoisseurs, through which collectors can place bids, irrespective of whether they are in the auction room or not. It's like a phone bid, but only better, since it gives you additional details, such as delivery charges.
The free app, eponymously named after the auction house, is available on Android and iOS. Vazirani hinted at more, "Stay tuned because there will be much more coming from us. The auction space undergoes renovation next year and we have exciting plans for the app."
Mangalsutra version 2.0
We received a press release from a jewellery brand that would make the modern woman go 'ugh!' instead of 'wow'; which the brand was hoping for.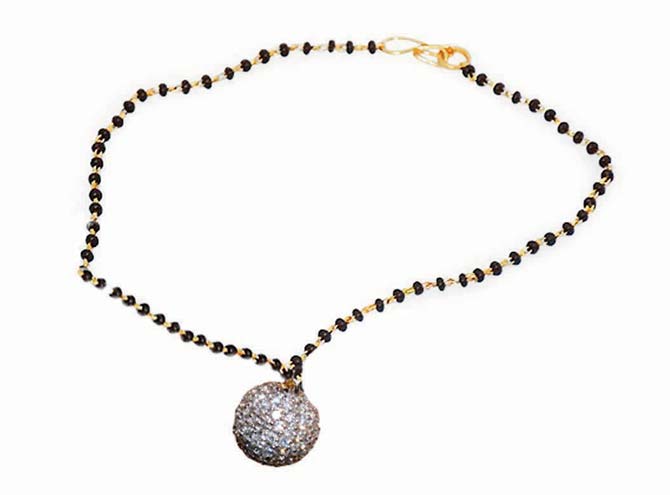 A mangalsutra bracelet
They were promoting 'Sanskaar without embarrassment' we think, when they thought up the idea of a mangalsutra bracelet. Saas bhi happy and you get to wear a far more chic neckpiece to go with your normcore outfit.
The suhaag ki nishani can discreetly dangle from the wrist. We have a better idea. Do away with the mangalsutra, sindoor, thali, shakha pola and wedding band. Symbols of patriarchy, they announce 'this woman is taken'. Ditch them all, dainty bracelet included.