The city — sliced, diced and served with a dash of sauce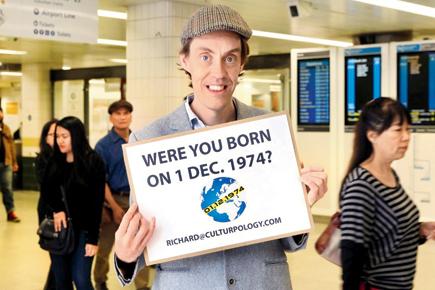 SYDNEY QUEST: Richard Avis in Sydney. PIC/JESS HUSBAND
Stories from the crow's nest
Crows may not speak our language, but they do tell tales. And not the sneaky kind either. Gardeners at the city's Byculla Zoo have told some senior officials that it is unlikely to rain a lot this year.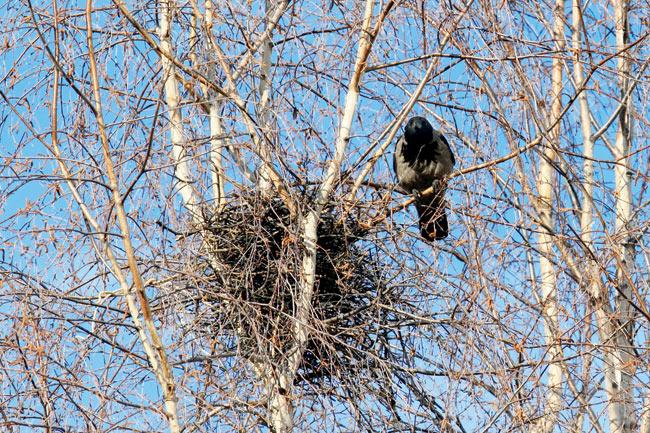 They said that while they had been trimming trees last month, they had noticed that crows' nests were at the tops of the trees. They said that as the rains draw near and get heavier, the nests are built lower and lower in the trees. The fact that the nests were towards the tops of the trees even in end-June, the gardeners said, indicated that the rain would be late as well as scanty.
Perhaps we should let the weather bureau know about this. And how about a crash course in crowspeak? Wonder where we would go to learn that — to caw-llege?
On the hunt for Time Twins
ENGLISHMAN Richard Avis is going to be in Mumbai in the next couple of days. Avis is on a unique mission to find others who are born on the same date as he was — December 1, 1974.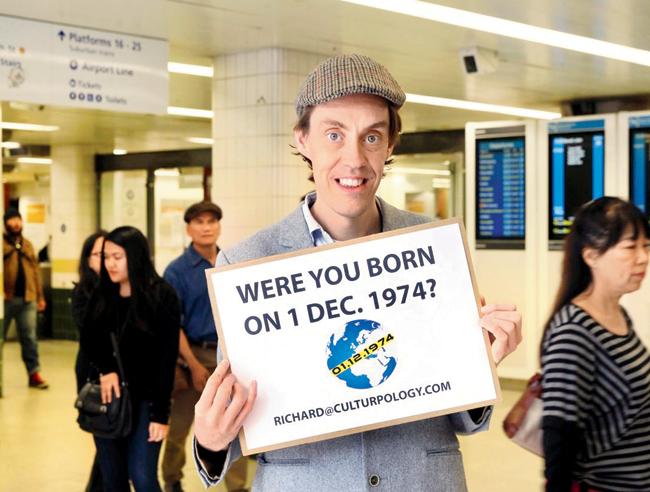 SYDNEY QUEST: Richard Avis in Sydney. PIC/JESS HUSBAND
He says, "Most people wonder what their lives would have been like if they'd been born somewhere else. Many people also wonder whether people who share the same birthdate are similar or connected in some way. I am one of these people and this led me to embark on an unprecedented international cultural project, called Time Twins, where I am meeting other people born on the same day as me around the world.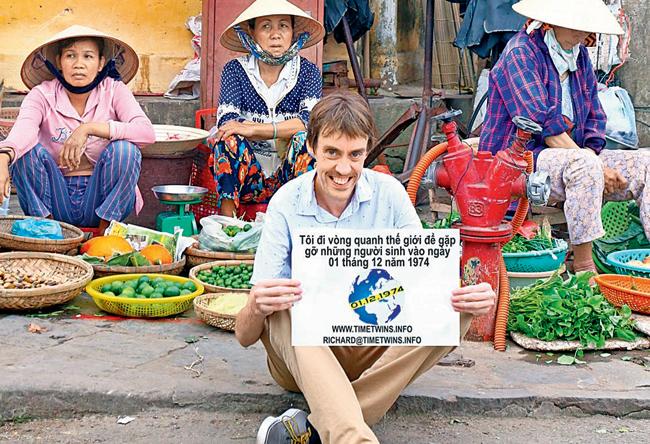 TWIN TRAIL: Looking for Time Twins in Hoi An, Vietnam
Although on one level the story is that of an eccentric Englishman undertaking a strange project, Time Twins is actually about the variety and richness of human life, examining these people's perceptions of success and age and their achievements, beliefs and lifestyles." So far, Avis has met 38 Time Twins from across Europe, Australia and South-east Asia, including an Olympian, a single mother, a female bodybuilder, a philanthropist, a racing car driver and a filmmaker. If you were born on December 1, 1974 and are interested in meeting Richard do email him at: Richard@timetwins.info or Richard@culturpology.com. Avis says that when he meets his time twins they have a chat about "our lives and our views." So, if you have the inclination and of course, more importantly the correct 'time', Richard Avis is going to be in Mumbai soon.
Dupatta to the rescue
ON AN already tiresome train journey, there are few things more irritating than a constantly crying child. And sometimes, despite their best efforts, the parents are unable to do anything to stop it.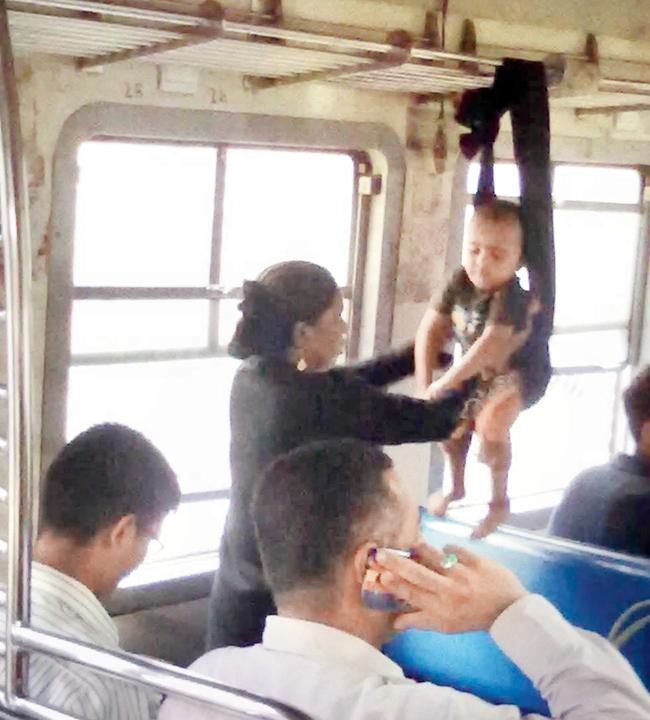 KID STUFF: A dupatta comes in use as a quick swing to calm a cranky child. PIC/PRAMOD MAHAJAN
On a recent CST-bound train a young woman was similarly at the receiving end of annoyed looks from co-passengers because of her wailing child. But necessity is the mother of invention, and this mother rose to the occasion with aplomb. She used her dupatta to fashion a swing and rocked her baby, who was suitably entertained, stopped crying and instead broke into peals of laughter. And the amused passengers forgot their annoyance and were all praise for the young mother's ingenuity.
Whom to call if you fall
MAJOR railway stations in the city on both Central and Western lines now have an ambulance at hand. From Churchgate to Andheri to Borivali, Dadar, Bandra on the Western line to Matunga, CST, Ghatkopar and Kurla on the Central line, ambulances have been spotted outside all these stations.
Monsoon means slippery platforms, overhead bridges and steps, causing many to fall and get injured. Hence, ambulances have been kept at hand to provide first aid at the earliest and take the patients to hospital quickly if required.
Lalit Patil, an ambulance driver at Andheri, said, "We have two shifts that we work in and there are two people who have been taught how to give first aid to those who get injured. If there are minor injuries we treat the people, for major injuries we rush them to the nearest hospital in the ambulance."
A railway official at Matunga railway station said, "So far there have been five to six minor incidents but the nurse in the ambulance has managed to treat the people who slipped and fell. During the rains there are a number of people who slip and fall, getting badly injured in the process. This monsoon precaution is being taken so that people can get medical attention at the earliest."