If you are at Marine Drive on a Sunday or a public holiday, you may spot a man riding a fancy bicycle without pedaling; that's Prasad Kambli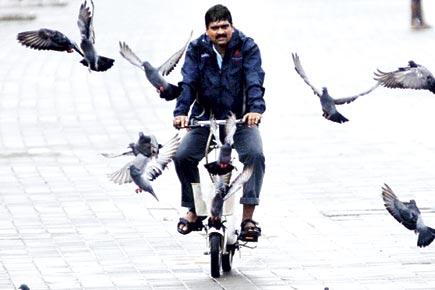 If you are at Marine Drive on a Sunday or a public holiday, you may spot a man riding a fancy bicycle without pedaling; that's Prasad Kambli. The 37-year-old made this cycle out of scrap that he collected from scrap dealers across the city.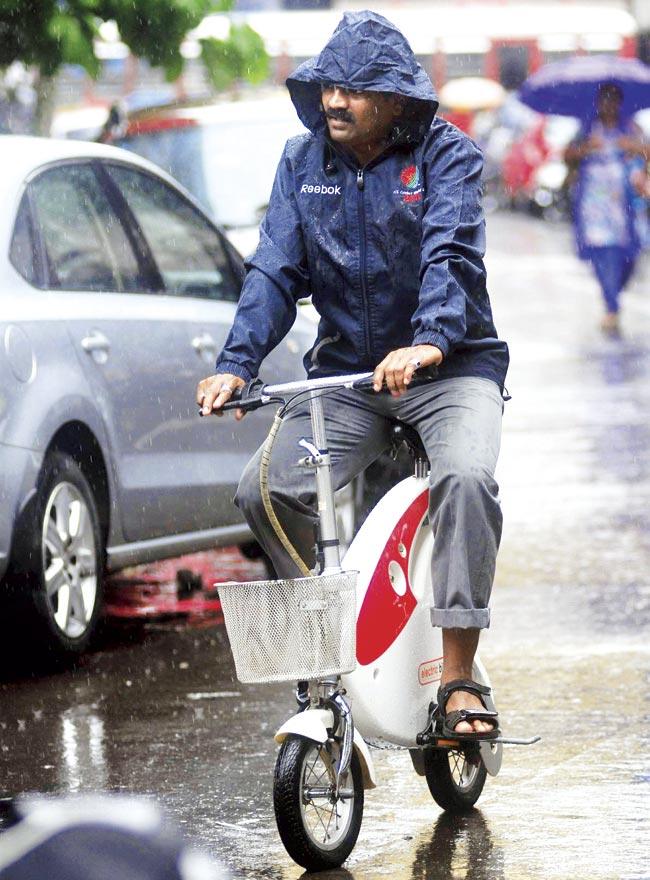 Prasad Kambli has made the bike within a budget of Rs 10,000
ADVERTISEMENT
Late night, early morn
The bicycle, which the Chira Bazaar resident hasn't named yet, took six months to complete. Kambli who works for United Parcel Service (UPS) worked on his cycle project from 11 pm to 2 am and then from 8 am to 12 noon. A part-time electrician, Kambli says, "I like buying things from scrap dealers.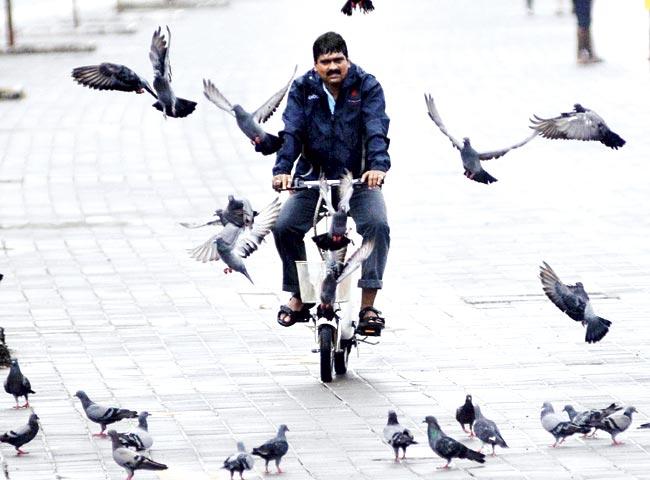 Prasad Kambli rides his battery-operated cycle at Marine Drive. Pics/Bipin Kokate
The best things in the world can be found at their shops. I came across the rusted and worn out bodywork of a bicycle, which I bought around this time last year. I then also purchased cycle chains, body parts, brakes, pedals, tyres, etc from various scrap dealers in the Nepeansea Road, Chira Bazaar and Chor Bazaar areas."
The cycle runs on two big 12 volt chargeable batteries which gives it a speed of 25 to 30 kilometres per hour. After welding and soldering the various bicycle parts together, which combined to cost Kambli between Rs 10,000 to Rs 12,000, the dream bicycle was ready.
Mind at work
The concept of the bike came to Kambli in early 2013. He shared the idea with his childhood friend Rajesh Kohli who now lives in Alibaug. "The funds that I needed to transform the idea of a battery operated bicycle to reality were given by Rajesh.
I plan on speaking to the Regional Transport Officer (RTO) for his approval to make an electric and petrol cycle similar to this battery-operated one. These ideas are in my mind. I have to still ideate and sketch models for both," says Kambli.
Though he has no background in automobile construction, Kambli says he has always been interested in making vehicles. "As children, Rajesh and I would make toy planes, cars and bikes. Now we have turned the toys into real vehicles.
I was always fascinated by Direct Current (DC) and Alternate Current (AC) which I kept experimenting with. That lead to me making this battery-operated cycle. My wife often gets irritated that I keep buying scrap. But once I make something she tells me not to give it to anyone," says Kambli.
Kambli plans on adding a headlight to the battery- operated cycle as well as some decorative lights on the bodywork. He says, "I am waiting for the monsoon to end and then I have an elaborate plan of putting lights on my cycle. Currently, I can only ride the cycle during the day; but once the lights are installed I will be able to ride the cycle in the night, too."
Future plans
Kambli, who leads a band that plays music at the Khetwadi Ganpati celebrations, says, "My group is called Sri Musical; I plan on naming my innovation and mechanical company after the group. So far, two people have asked me to upgrade their cycles to battery-operated ones. I have taken a deposit of Rs 10,000 from them."
As he rides his cycle at Marine Drive, Kambli has had a number of people approach him and ask about the cycle. He says, "People get really excited seeing me on the cycle. But I have faced a few accidents on the roads, too. The cycle has been ready since February this year. I have been conducting test rides. Often, cars and taxis have banged into me. I made repairs on my own, but buying replacement parts has been troublesome."
Environmentally friendly and an innovation in Kambli's view, his cycle is the future of transport in the city, and perhaps the world. "Right now I am juggling my job and my dream of coming up with more battery-operated cycles, as well as electric and petrol cycles. I am hoping to finish all these assignments by January 2016," ends Kambli.