Days before the opening of the 123-year-old Mulji Jetha Fountain, which Sir Ruttonsee Munji built in memory of his 15-year-old son, the landmark is under threat from drug addicts squatters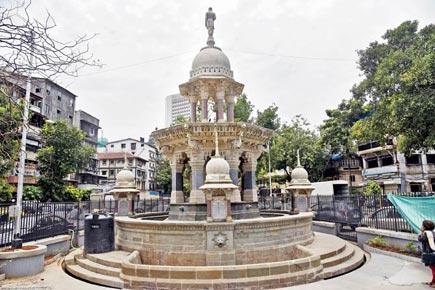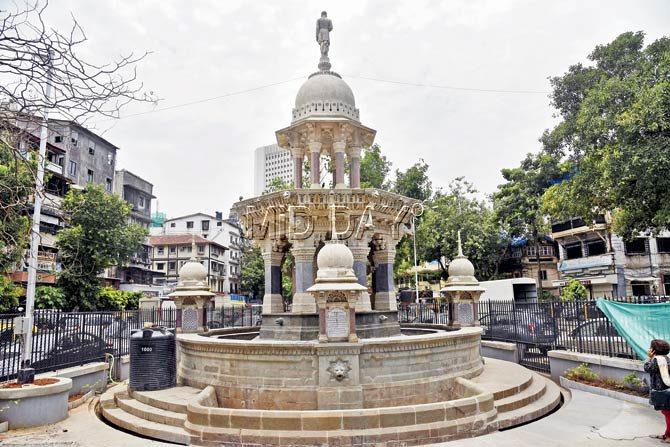 The restored fountain on P D'Mello Road
Time and again, they have disrupted restoration; our contractors have been driven away; they've stolen material too," rues Maneck Davar, chairman, Kala Ghoda Association (KGA), who revived the Mulji Jetha Fountain that stands at the junction of Mint Road and P D'Mello Road.
ADVERTISEMENT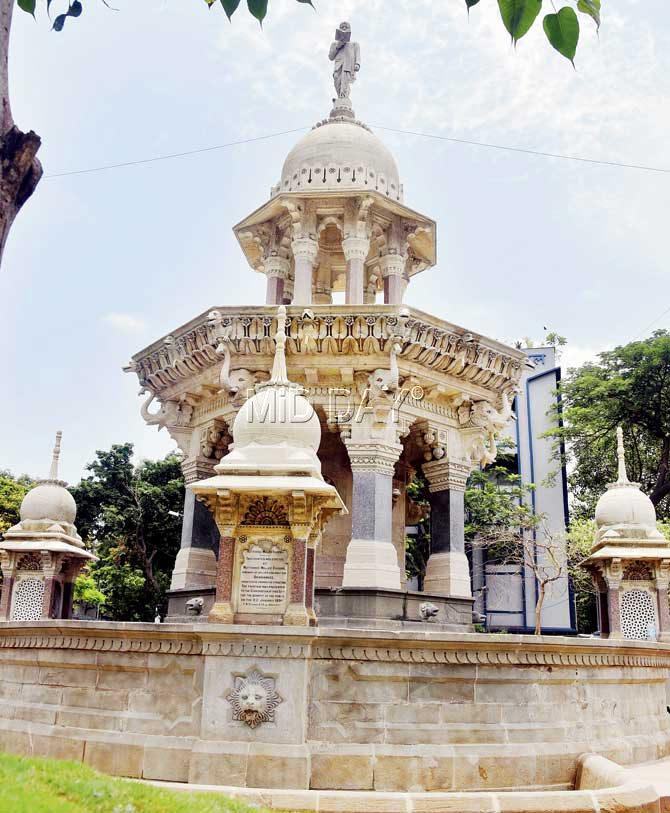 The fountain was FW Stevens' first attempt Indo-Saracenic architecture. It is a pyramidal type of fountain that starting from boy's statute and four cupolas at four cardinal points of the outer trough.
It's a bittersweet time for the KGA and conservation architect Vikas Dilawari, who've worked tirelessly to restore the Fort landmark. The 38 ft-high-fountain (slightly taller than Flora Fountain) is under threat from drug addicts and squatters who take over the space at night. "We have expressed our concerns about these dangerous elements to the police, and have briefed the Zonal DCP to introduce 24x7 vigilance. Once it's formally inaugurated, we hope that patrolling will be in place," shares Davar.
Also read: Kala Ghoda to restore famous Mulji Jetha fountain in Mumbai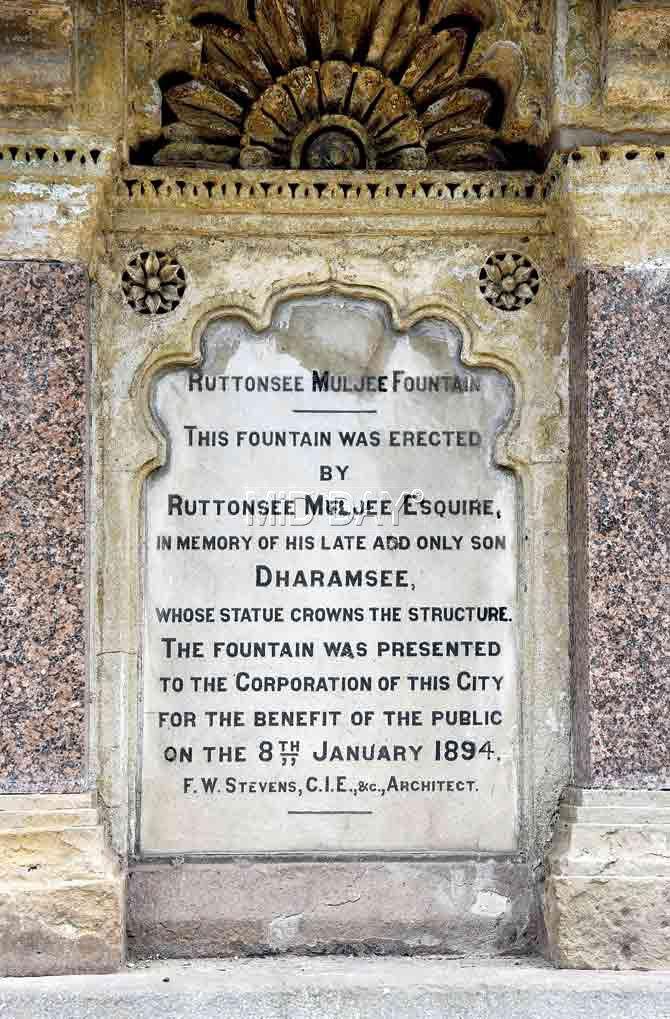 The plaque at the base of fountain that reveals the death of Ruttonsee Mulji's only son, Dharamsee, and other details including FW Stevens being its architect and the date of its opening to the public.
Indo-Saracenic marvel
Ruttonsee Mulji, a merchant, commissioned this fountain in memory of his 15-year-old son who died prematurely. Designed by the well-known 19th century architect, FW Stevens, it was executed by John Griffiths, principal of Sir JJ School of Art.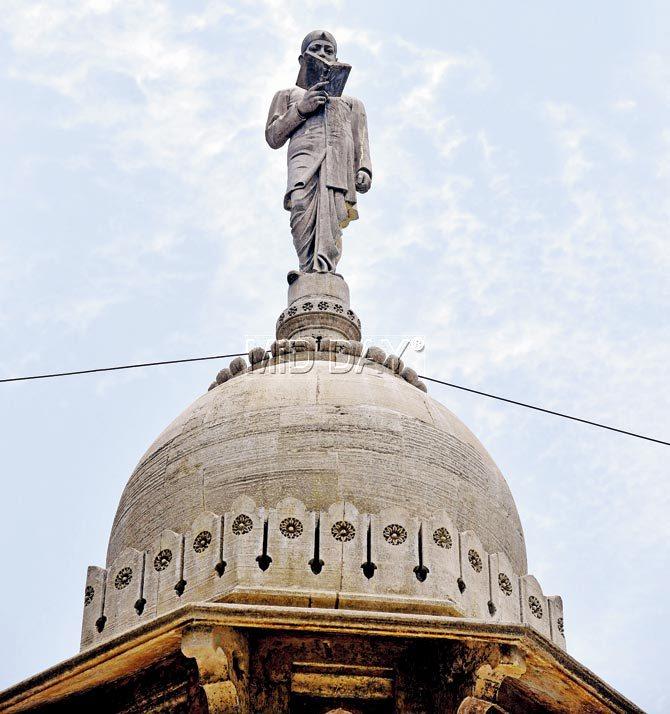 Dharamsee, son of Ruttonsee Mulji faces southward, towards Town Hall (the White Town i.e. the European quarter). Interestingly, sculptures with British/European figures like Flora Fountain face northwards, i.e. the Native Town
At the site, Dilawari is equally anxious while giving us a walkthrough of the restored structure. "The composition and proportion, and the carvings are outstanding. But these incidents are a killjoy. The Indo-Saracenic design by Stevens' is an important chronicle while documenting Bombay's architectural influences; it was his first attempt in the style [a mix of Gothic and Saracenic architecture]. Griffiths' carvings are stunning too," he reminds.
Also read - Unseen Mumbai: Mulji Jetha Fountain at Fort

Damage to figurines prior to restoration. Note the missing features
The fountain exhibits a blend of diverse materials. "The top is made of Porbandar stone, followed by the use of two types granite for the columns, and two types of basalt [Kurla and Malad] for the shaft, base and troughs," informs Dilawari, adding, "Many carvings and figurines had were either vandalised or destroyed before this restoration; which is why these incidents are a concern."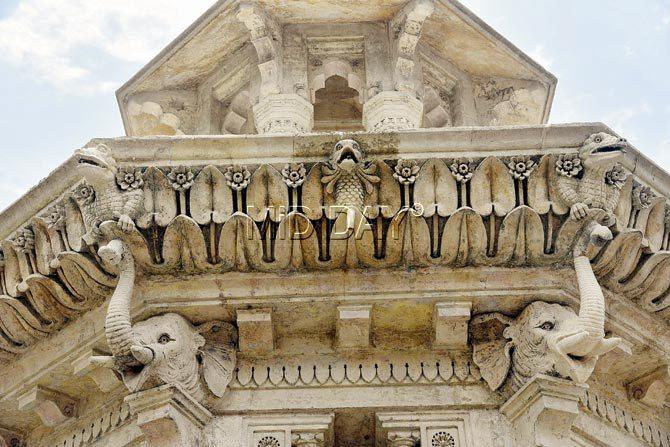 Carvers from Gujarat restored the features of most of the 42 figures of different animals that embellish the monument. These include heads of lions, goats (rams), cows, elephants (above), alligators and iguanas. PICS/PRADEEP DHIVAR
Chandrashekhar Chore, (DMC, Improvement) echoes the sentiment, "Hats off to fine restoration by KGA and Vikas Dilawari's team. It's a great effort where the original aesthetics have been retained. Hence, round-the-clock protection is crucial. We will file a formal request and complaint with the police," he says.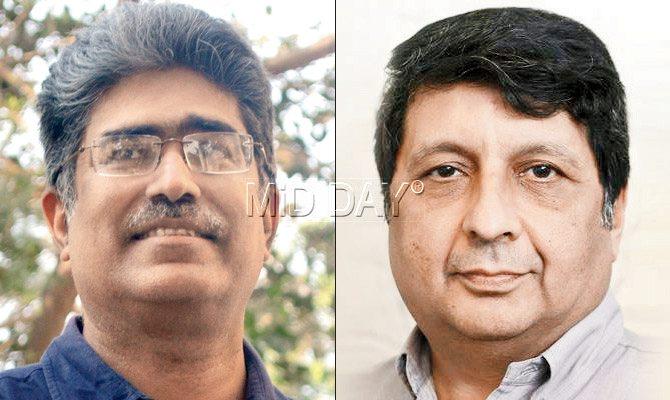 Vikas Dilawari and Maneck Davar
When mid-day contacted Zone 1 DCP, Dr Manoj Kumar Sharma, he refused to comment. However, Deven Bharati, Joint Commissioner of Police (Law& Order) was reassuring, "Once the request reaches us, we will look into it the issue."