The Brihanmumbai Municipal Corporation (BMC) demolishes stage erected at Gateway of India, says organiser failed to clear Rs 2.74 crore dues from previous event -- the Mumbai Marathon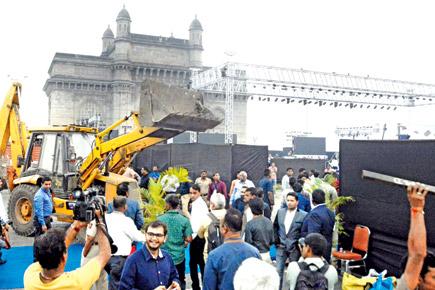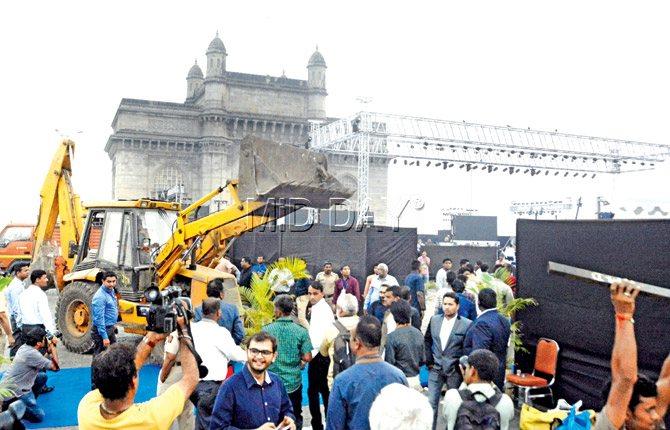 The BMC stopped the event and demolished the temporary stage that had been erected, saying that event organiser Procam International, which had organised the Mumbai Marathon, has not cleared the previous event's dues. Pics/Bipin Kokate
The stage was set with the magnificent Gateway of India in the backdrop and a cool breeze blowing. Procam International was all set to announce the launch of Nexa P1 Powerboat, Indian Grand Prix of the Seas, a three-day motorboat race series from March 3 to 5 that Mumbaikars could soak in from the city's natural amphitheatre — Marine Drive.
ADVERTISEMENT
But the organisers were in for a rude shock, as the BMC (Brihanmumbai Municipal Corporation) entered the premises with a platoon of workers, bulldozers and lorries in tow and demolished the temporary stage.
Over pending dues
According to the civic body, Procam International, which had organised the recently concluded Mumbai Marathon, had not paid them dues amounting to Rs 2.74 crore towards charges for advertising and hoardings.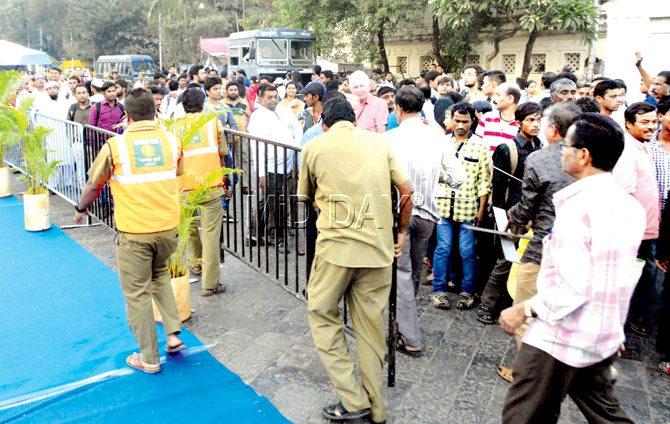 "Because previous dues were pending, no permission was given to host this event. The company has only paid R23 lakh of the total Rs 2.98 crore it was supposed to pay," said a civic official, adding that the ward office wasn't approached for permission for the event, and the company only sent a letter on Thursday.
Procam International, however, said BMC's charges are invalid. "We have appealed to the civic body that these charges are not valid. We have been conducting the Mumbai Marathon for the past 14 years and have always cleared our dues, but the BMC has added charges, against which we have appealed. The appeal process is of 15 days, which we have followed, yet the BMC took this step," said Vivek Singh, joint managing director of Procam International.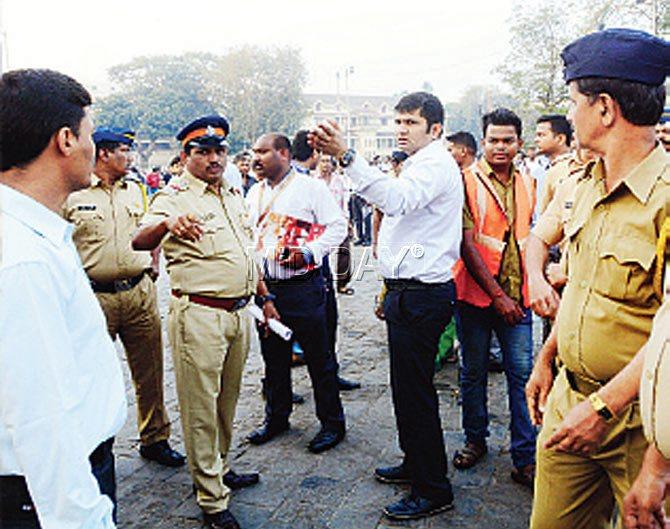 A ward assistant commissioner Kiran Dighavkar at Gateway
On why his team took the risk of going ahead with the event without BMC's permission, Singh said: "The BMC has granted us permission at the last minute in the past."
Celeb turnout
State sports minister Vinod Tawde and actor and marathoner Rahul Bose were among the personalities present at the event, which was also supposed to be attended by CM Devendra Fadnavis.
Sources said municipal commissioner Ajoy Mehta, on coming to know of the issue, told chief secretary Swadheen Kshatriya, who informed Fadnavis's office, after which the CM called off his visit.