The BMC's two new pumping stations, costing nearly Rs 200 crore, did not seem to do much, with the areas they were supposed to drain remaining flooded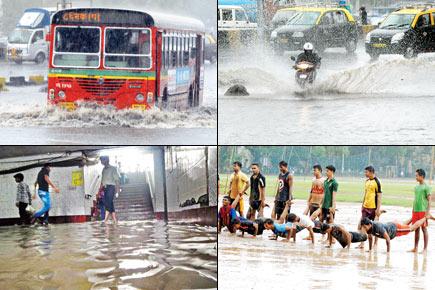 Mumbai rains
The first heavy showers yesterday washed away the Brihanmumbai Municipal Corporation's (BMC) claims that Mumbai is ready for the monsoon. The BMC had even inaugurated two new pumping stations, constructed at a cost of nearly Rs 200 crore, but even their catchment areas (areas supposed to be drained out by the pumps) were flooded. Several key areas in the city, including Khar Subway, Hindmata and the Princess Street area (near Crawford Market), which are notorious for waterlogging, remained flooded.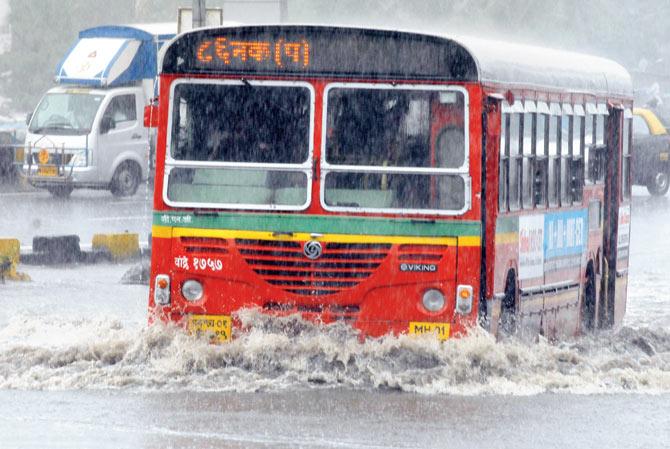 A BEST bus drives through a flooded road in Mahim. A total of 19 trees fell across the city, of which one fell on a moving bus. The bus suffered damage but no one was injured. PIC/ Shadab Khan

Areas like Worli and Currey Road, which are covered by  the new Cleveland Bunder and Love Grove pumping stations, were flooded. The Rs 116 crore Love Grove pumping station and Rs 112 crore Cleveland Bunder pumping station, which were to pump out rain water in times of high tide and heavy rainfall, were inaugurated by Sena chief Uddhav Thackeray and other leaders on Wednesday.
ADVERTISEMENT
Also read: Heavy to very heavy showers expected in the next 48 hours

The pumps  can each drain over 6,000 litres  of water per second. Residents of Dadar, Elphinstone Road, Parel and Naigaon were to be relieved of the scourge of waterlogging due to these pumps. The catchment area of Love Grove includes Chinchpokli, Saat Rasta, Byculla, J J Road, Currey Road and Worli.  The catchment area for Cleveland Bunder is Dadar, Lower Parel and Elphinstone Road.

Water logged places
"There was knee-high water in this area in the morning. But it was drained out by evening.   The area near Bharat Petroleum and the road near Siddharth Nagar were also waterlogged ," said Suresh More, a stall owner from Worli naka. Waterlogging was also seen on N M Joshi marg in Chinchpokli (west), another catchment area of the pumping stations, which was not supposed to be waterlogged.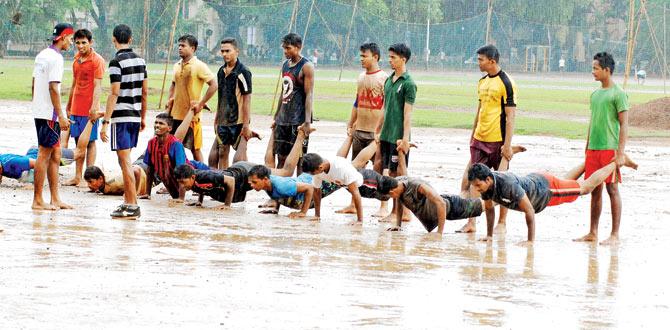 Can't stop us: The rain, heavy or otherwise, was not going to keep these police trainees from their fitness routine at Shivaji Park. Pic/Shadab Khan

"This spot gets waterlogged every monsoon. I don't know if the BMC has taken any measures to deal with it, but I don't see any difference," said Amit Kumar, a worker at a butcher shop  in Chinchpokli. Other areas in the island city, which saw waterlogging are Sion subway, Inox Tower in Mahim west and Valpakhadi in Dongri.

BMCSpeak
Additional Municipal commissioner SVR Srinivas said, "This year, the condition of our city is better. There has been waterlogging but unlike last year, where the areas remained flooded for three hours, this year the duration was not more than an hour. Even in Hindmata, the water was drained within an hour." However, BMC's own figures say Hindmata remained flooded for more than two hours.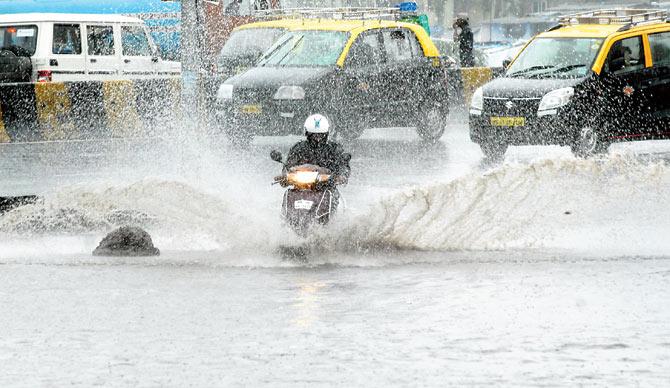 Amphibious vehicle? A man seems to ride the waves as he goes through a flooded road at Mahim after the heavy rains. Pic/ Shadab Khan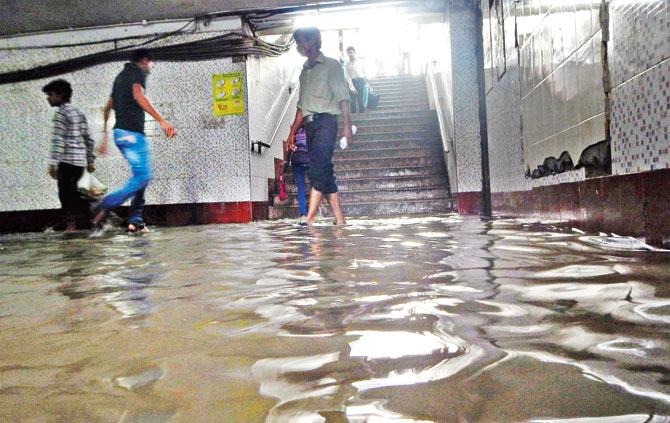 A flooded Dahisar subway. The suburbs saw 20.9 mm (eastern suburbs) and 41.9 mm (western suburbs)  of rainfall yesterday. PIC/ Nimesh Dave

Chief Engineer Storm Water Drains, Laxman Vhatkar, said, "When there is a foot of water, we declare flooding and start pumping water out. In Mumbai we have 260  spots where we use pumps to clear waterlogged areas."