While commuters dodge leaking roof, staff has been forced to work despite wet floors, ceilings and walls, especially without fans and lights due to the fear of short circuits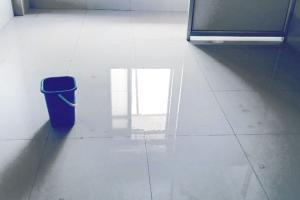 One of the rooms where the floor is covered in water
The perils of living, working or commuting in Mumbai and its suburbs don't seem to end. Both commuters and staff at the railway station's building in Thane have been suffering due to excessive leakages inside the premises this monsoon. While commuters have been dodging rainwater leaking into the waiting rooms, staff has been forced to work in rooms where the ceilings leak and the rainwater covers the floor. One of the four office rooms has been vacated due to the leakage. Staff members say that the leakage existed last monsoon, too, but has increased this season. Due to the leakage there is a fear of short circuits, so some of the fans and lights are not switched on.
One room shut
The station building has a VIP waiting room on the ground floor while there are separate waiting rooms for men and women, and four office rooms on the first floor. One of these office rooms cannot be used owing to the leakage and has been kept shut. When this reporter met the station director in his office, she saw water all over the floor and excessive leakage from the ceiling.
ADVERTISEMENT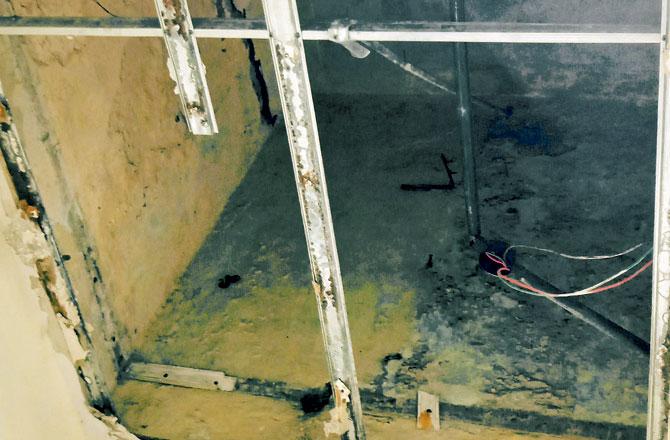 A ceiling damaged due to leakage at the station building
An official said, "We cannot use fans or lights properly, because of the fear of short circuits due to leakage. Even the AC is not functioning. Officers cannot sit in their rooms to work. We have been following up to get repairs done since the first week of June but didn't get any help from senior railway officials. The waiting rooms have no lights, but for the convenience of commuters, we have put up one. There is only a small space where they can sit as the other area has leakages."
Issue to be resolved
Station director S Nair said, "We are being inconvenienced. But we are trying to solve the problem soon." Chief PRO Central Railway A K Jain said, "Our employees have already started work on repairing the floors and roof, and it will be completed soon. Solving commuters' problems is our main concern."
Catch up on all the latest Crime, National, International and Hatke news here. Also download the new mid-day Android and iOS apps to get latest updates