15 stray dogs poisoned this month in Mira Road, an accused who gets away with a Rs 50 fine and a police force that would rather focus on humans, re-fires the cry for stricter animal cruelty laws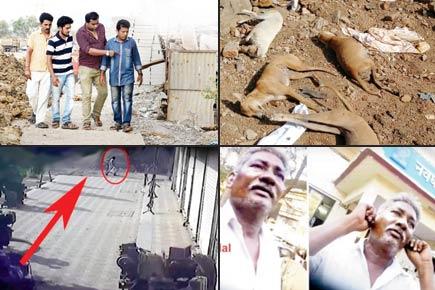 In the third week of February, Mulund-based animal welfare organisation Resqink Association for Wildlife Welfare (RAWW) received a call, informing them about a monkey spotted around housing societies that sit beside Sanjay Gandhi National Park (SGNP). The simian, the caller said, looked injured and in need of urgent help.

Salim Charania of Peace for Animals Welfare Association (centre), complainant in the case Shubhang Sharma (striped tee) and friends inspect the Mira Road site where 15 strays were allegedly poisoned. Pic/Nimesh Dave
Pawan Sharma, founder of the four-year-old organisation, said, because of the difficulty of locating the animal that could easily camouflage itself in trees in the forest-lined area, it was finally two months later on April 19 that they managed to spot and rescue it.

It turned out that the monkey was a victim of an acid attack. When they found it, its fur was burnt and it had suffered deep burn injuries to its face and chest. He was taken to the Thane SPCA where veterinarians were unable to save him.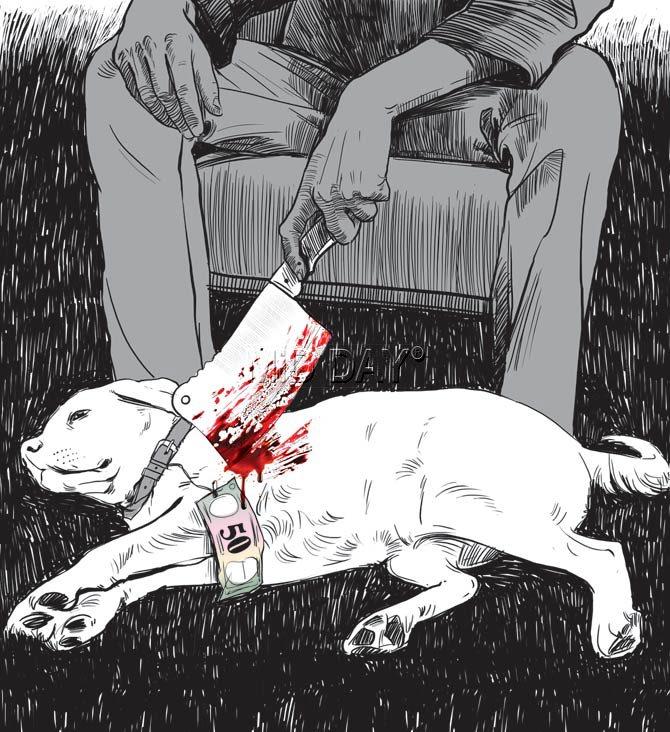 Illustration/Uday Mohite
RAWW wrote to the Bhandup Police Station explaining that the attack was not just inhuman but also a crime under the Wildlife Protection Act, 1972, and section 11, sub section 1, sub clause (a) and (c) of Prevention of Cruelty to Animals Act, 1960.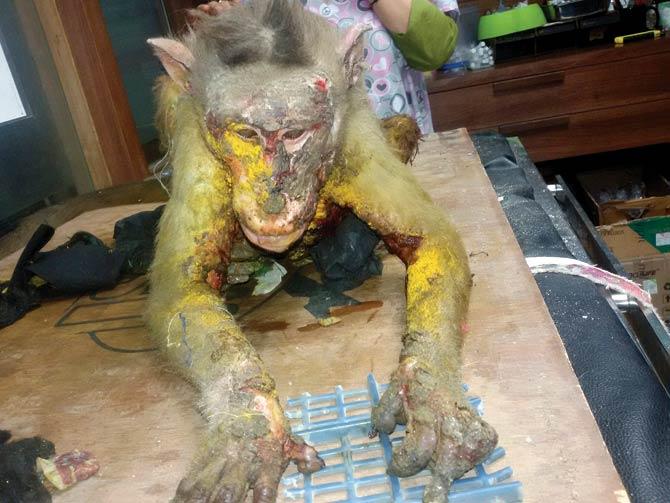 Activists found this monkey, a victim of an acid attack, near Bhandup in February. It was rushed to the Thane BSPCA, but died the next day
Yet, no FIR has been registered in the case even today. Sadly, this is not an anomaly.
Sharma, who has been an animal activist for eight years, said that the Prevention of Cruelty to Animals Act, 1960 is a non-cognizable offence and the police will file an FIR only after conducting an investigation. Sadly, action is rarely taken. In fact, in the nearly 90 cases of wildlife crimes that Sharma has filed over three years, there is not one in which he recalls the culprit being suitably punished.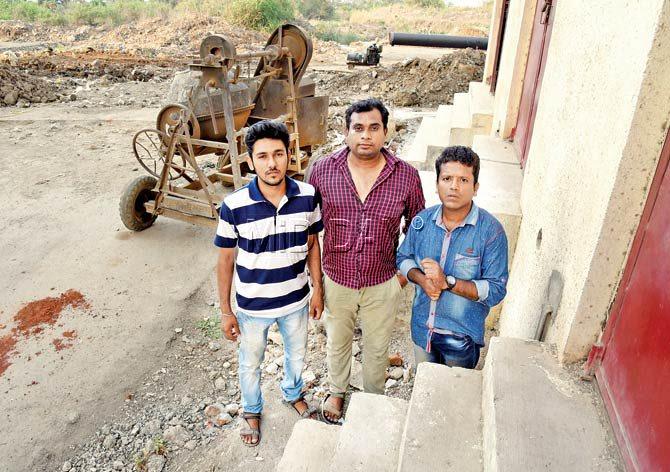 Salim Charania (in centre) of PAWA and Mira Road resident Shubhang Sharma (in tee) near the spot where 15-20 dogs were found poisoned on May 6. Pic/Nimesh Dave
Rule of 50
The realisation that even if the perpetrators of the acid attack had been identified, arrested and convicted, the maximum punishment they would have attracted is a fine Rs 50. Nuggehalli Jayasimha, managing director of Bangalore-based Humane Society of India, last week launched an online campaign, #NoMore50, urging animal lovers across India to demand harsher penalties in cruelty cases.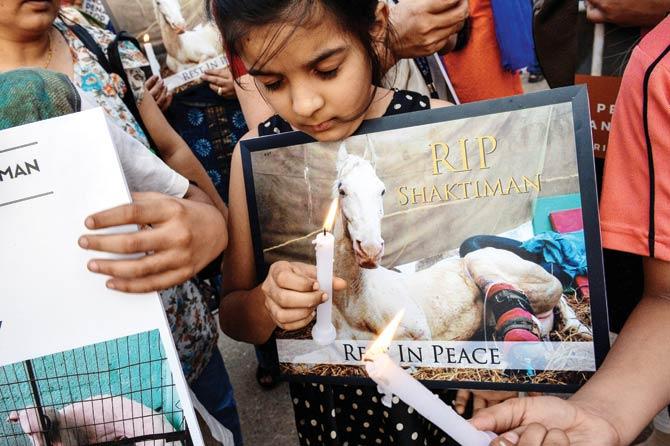 Activists in Delhi hold a placard and light candles as they pay tribute to police horse Shaktiman, who died on April 20, succumbing to injuries it received when BJP  MLA Ganesh Joshi attacked it a month before. While Joshi was arrested on March 18, he was later released on bail. Pic/AFP
The previous day, on May 12, the Supreme Court agreed to hear a PIL on the same issue by Angel Trust, a Delhi-based non-profit working for animal welfare. Lawyer Prashant Bhushan, assisted by advocate Siddhartha K Garg, acting for the NGO, filed the PIL following which the bench of justices Dipak Misra and Shiva Kirti Singh issued a notice to the environment ministry.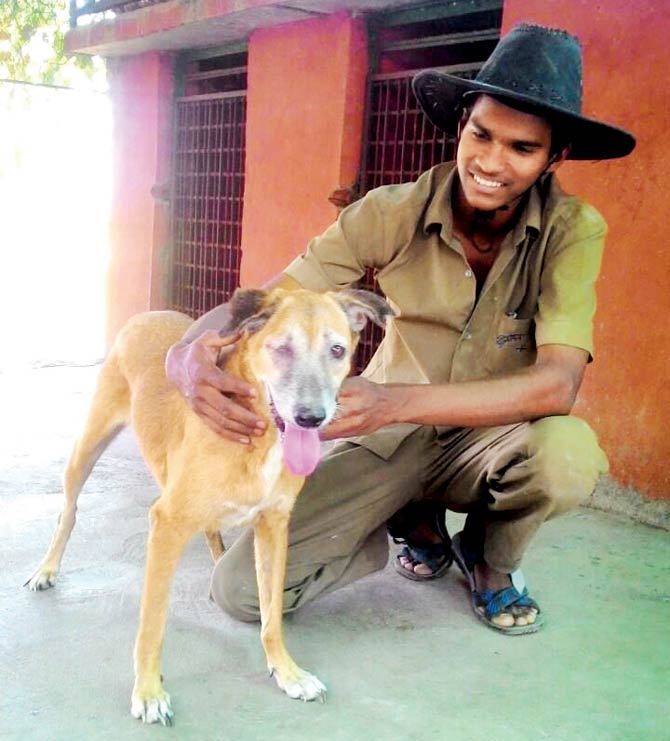 This dog, who used to live in the police quarters in Andheri (E), was allegedly beaten by a cop named Mukesh Dev. The hit was so powerful that its eye was gauged out. The case has found mention in the Angel Trust PIL. While Dev is out on bail, the dog is at a Pune shelter
Jayasimha said the present law, Prevention of Cruelty to Animals Act, 1960, prescribed the penalty for inflicting cruelty on any animal. It could be beating an animal, over-loading a bullock cart, torture, mutilation or even killing. "R50 was a considerable amount 55 years ago, when the statute was enacted. As of today, it has no deterrent value whatsoever. If we do the valuation as per the current rate, the fine should be between R3000-5000. Making this crime a cognizable offence is also the need of the hour. We are gathering support to our campaign from many political parties and MPs. We will soon also approach Prakash Javdekar, who heads the Ministry of Environment, Forest and Climate Change (MoEF)."
Navamita Mukherjee from Humane Society International, India, said, "BJP MP Poonam Mahajan has filed a private member bill in the Parliament urging the MoEF to make changes in the existing laws and also increase the penalty."
She added, "Our campaign is getting tremendous response. The development in the field of technology has helped bring forward animal cruelty cases with the help of social networking sites and mobile applications. There has been an increase in the cases of animal cruelty over the years. The world is turing apathetic towards animals. Stress and frustration run high and animals are an easy target. Children should be taught to be compassionate towards animals as various researches done in the past have proven that children who are violent towards animals tend to continue the pattern in adulthood, and do not hesitate to get aggressive with their own either."
Among the celebrities who have shown support to the campaign are Usha Uthup, Sudesh Bhosle, Anup Jalota, Tara Sharma, Arman Mallik and Nagarjuna with wife Amala.
Fear of law needed
Animal cruelty cases, as Mukherjee said, are aplenty. Earlier this month, Shubhang Sharma, a 26-year-old Mira Road resident had stepped out of his home for a morning walk when he usually fed the area's strays. He found a few of them lying unconscious on the side of the pavement near the building. Closer inspection revealed that they were dead. Later, Sharma realised that it wasn't five but over 15 dogs who had died, allegedly due to poisoning.
Though Sharma, along with Salim Charania, founder of Peace for Animals Welfare Association (PAWA), approached the local Navghar Police Station and registered an FIR, they didn't expect much action. Instead, they started investigating the case on their own.
Study of CCTV footage from buildings in the area and one from Pill Heights, which faced the main road, revealed that a local person, identified as Shamlal Badal, had fed poisoned food to the dogs. Charania and Sharma allege that Badal is a butcher who sells pork and that the dogs were a threat to the pigs he reared. Sharma said, "The FIR was registered under the Animal Cruelty Act and the accused was arrested on May 7 but was released on bail immediately as it is a bailable offence." Last year too, there was a similar case of mass poisoning, in which 50 dogs were killed in Bhayandar. No investigation was conducted in the case.
"The rate of conviction is abysmal and that's because cops don't take these cases seriously. Even when a chargesheet is filed, poor investigation allows the accused to enjoy the benefit of doubt."
In this case alone, the panchanama of the area and collection of the bin bag, in which the poisoned food is believed to have been dumped, was done on May 13, seven days after the dogs were found dead. Fearing arrest, Badal had admitted himself to a hospital.
Police sub-inspector and investigation officer in the case, BS Dabhade said, "We had arrested the accused Shamlal Badal on May 13 for allegedly killing the dog and he was produced before the court in Thane after which he was released on bail. Our investigation into the case is in progress and we are collecting evidence to make the case strong."
The city's police, already overburdened, end up treating animal cruelty cases as secondary. What is needed, agree activists and police, is a separate wing dedicated to detection of such crimes.
A case in point is that of a dog who was mercilessly beaten by, ironically, a cop on April 7.
The stray used to live in the residential police quarters next to Andheri East police station. The accused is Mukesh Dev, who allegedly thrashed the dog with a stick and later locked it inside a toilet. Apparently, onlookers tried to intervene, but the man paid no heed.
The dog managed to escape later. At present, the dog is recovering at a private kennel in Pune. An FIR was registered. While Dev was arrested on April 22, he was released on bail the same day.
It was only after the media reported the issue that the police called the accused for questioning.
"The need of the hour is to have a dedicated team at each police station to deal with animal cruelty cases because almost every other day such cases are reported," said Sharma.
Meet Ashar, a Thane-based animal welfare officer, would put that number to three a day. "That's 90 cases a month that to us alone. As activists, we have limited financial resources. This involves hiring lawyers to make a strong case. But we do the best we can."
A senior police officer, who did not wished to be identified for the story, said, "There are several animal cruelty cases that come to various police stations in the city and we try to see to it that we register a case. But often, the complainant doesn't want to step forward and register an FIR since they find the process time-consuming. Also, due to lack of staff, it is tough to deal with all such cases."