Woman whose husband Reza Abid Ali was left comatose by an Uber cabbie speeding down a one-way street wants ride-hailing company to be held accountable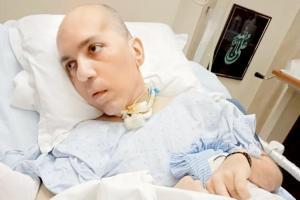 Reza Abid Ali has been in a comatose state since November 14, 2016
For almost two whole years, Reza Abid Ali, 44, has been lying in a comatose state, all thanks to an inexperienced and reckless Uber driver who knocked him down and left him with grievous head injuries. His family, which comprises his wife Nahid, 42, and their children Saif, 18, and Nada, 11, is not only seeing him suffer every single day, but is also feeling weighed down by Reza's very steep medical bills.
The bills have now gone upwards of Rs 1 crore. Despite knowing everything, all Uber has chosen to offer the family is their 'thoughts and prayers'. Holding back tears, Nahid tells mid-day, "He is the man of our house. He is in this condition now, but still we have him with us, and that gives me, my children, mother and sister-in-law the boost and courage we need to face the world. Because he's fighting, we're fighting to have him with us."
ADVERTISEMENT
No help from Uber
Reza slipped into this state after Uber driver Sarfaraz Mohammed Safi knocked down his two-wheeler in a no-entry zone near Bandra Talao on November 14, 2016. Reza has suffered a fracture in the left frontal bone and right occipital bone.
An FIR was registered against Safi at the Bandra police station, under sections 279 (rash and negligent driving) and 338 (causing grievous hurt by act endangering life or personal safety of others). But, he was let off on bail. Uber took him off their services. However, till date, neither have the Uber management nor any of their representatives reached out to or visited the family to apologise for what happened. They've not even offered to pay the ever-increasing medical expenses that are more than Rs 1 crore now.
The family has been able to provide their sole breadwinner full medical support only because of the financial help extended by good Samaritan family members and close friends. Reza comes from an influential family. His grandfather Abid Ali Jaffar Bhai was the union labour minister during Jawarhalal Nehru's tenure.
Reza's father Azad Abid Ali once owned Hindustan Tyres Private Limited at Agripada. After his demise, Reza was running the family business until 2005, when they had to sell it because of a financial crisis. The family moved from their plush Peddar Road home to suburban Khar, and Reza began working at Four Seasons Automobile in Tardeo. Reza was extremely passionate about motorbikes and was also the safety officer for many two-wheeler rides organised in the outskirts of Mumbai. He owned a KTM 390 and always wore his beloved Harley Davidson helmet, which he had on even on the fateful evening of November 14, 2016.
No background check
Nahid says she always tells her children, "I'm willing to forgive the driver only because he did not let my husband die on the road. He could have fled from the accident spot, but didn't, thanks to the traffic police constable, who witnessed the entire incident." (See box: 'We found him lying on the road') While Uber hasn't offered the family any help, they hadn't even run a background check on the driver, who'd got his licence a mere three days before the accident. Despite looking at the GPS map, he entered a no-entry lane, which led to the accident. Speaking about Uber, Nahid said, "I want Uber's top management to spend at least one sleepless night suffering the way we have for the past two years and the rest of our lives for no fault of ours.
Uber cannot escape this claiming none of this was their responsibility. No one from the company came to even say sorry." Nitin Dossa, executive chairman, Western India Automobile Association seconds Nahid, "Uber cannot shed its responsibility by merely saying that the cab did not have a passenger. The fact remains that the cab was attached to Uber, and at the time of accident, the driver was on the application to find the route. It is high time Uber acknowledges accident victims and pays compensation to the family, if they wish to continue to do business in India, or we will ensure that like London and China, Uber is forced to quit India."
Uber says
Almost two years on, the cab aggregator is still not apologising for the incident. When mid-day reached out to Uber, a spokesperson said, "This was a regrettable and concerning incident. The driver partner continues to not have access to the Uber app. We've extended our support to the authorities in their investigation process. Our thoughts and prayers continue to be with the victim."

Zulfiquar Memon
'Uber loves to play the classic corporate card'
Zulfiquar Memon, advocate managing partner, MZM Legal said, "A writ petition has already been filed in Bombay High Court against Uber on behalf of the family. Uber loves to play the classic corporate card and distances itself from any crisis. In all the cases I have read, they seem to be co-operating with the investigating agencies, but how much of that has been productive, only time will tell. In this case we have a victim, the sole breadwinner in his family, who is in a permanent comatose state. The least they could have done was tender an apology and show some remorse for what has happened. Unfortunately, none of that has happened yet. The questions here are no different from any other case: What background checks have they done? How much do they actually know about their drivers? In whose hands are we letting our loved ones commute? How safe is the service?"
Reza's doctor says
Dr J P Jadwani, consulting cardiologist and physician, Holy Family Hospital said, "It is because of the sheer determination of his wife and family members that Reza Abid Ali is still alive, though in a comatose state. The accident has caused irreparable and extensive damage to his brain, irrespective of numerous brain surgeries he underwent in the last few months."
'We found him lying on the road'
Traffic constable Dadaso Kadam, who was working for the Bandra traffic department when the accident occurred said, "Around 7.25 pm on November 14, 2016, we saw a Wagon R, coming from the wrong direction, which knocked down a motorcyclist coming from Mahim. We rushed to the spot and found the Wagon R (which is currently active in Pune as per its vehicle registration status), being driven by Sarfaraz Mohammed Safi, a resident of Malad. Reza Abid Ali, who was on a KTM 390 motorcycle was found lying on the road. He's suffered serious head injuries. We rushed him to the hospital."
Also read: Uber accident death: NGO asks for cab aggregators to be placed under government control
Catch up on all the latest Mumbai news, crime news, current affairs, and also a complete guide on Mumbai from food to things to do and events across the city here. Also download the new mid-day Android and iOS apps to get latest updates