The Maharashtra Pollution Control Board (MPCB) can do very little to actually control the sale of harmful colours during the Holi festivities.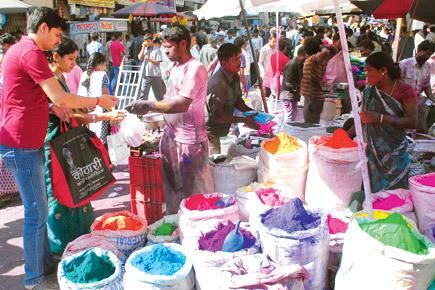 Toxic Holi colours are being openly sold
The Maharashtra Pollution Control Board (MPCB) can do very little to actually control the sale of harmful colours during the Holi festivities. According to board officials, the real authority to ban such colours lies with the Brihanmumbai Municipal Corporation (BMC).

NOT SAFE: Toxic Holi colours are being openly sold everywhere, as the BMC has not taken any action or banned their entry into the market. Pic/Sayed Sameer Abedi
ADVERTISEMENT
The MPCB has been running awareness campaigns in cinema halls and on radio channels, promoting eco-friendly colours and ways to save water. However, toxic colours are freely being sold everywhere. These colours contain harmful substances such as zinc, chromium, mercury, lead, mercury, asbestos etc.
MPCB spokesperson Sanjay Bhuskute said, "For the last six years, we have been creating awareness and appealing to people to save water and play Holi with environment-friendly colours. In the last five years, we've seen a positive response to the campaigns. This year, too, we expect people to avoid buying toxic colours and use eco-friendly colours instead."
Bhuskute also said that the board officials were also campaigning to get people to avoid using polythene bags, which cause injuries.
Bhuskute further added that it was the responsibility of the BMC to take action against those selling toxic colours. "We don't have the authority to take action against such merchants. It is the BMC's job."
An official from MPCB, requesting anonymity, informed mid-day that a considerable amount of such toxic colours come into the market from Dharavi. "The BMC should have a proper plan much before Holi and conduct raids at such units, so that the colour does not reach the market. Now with Holi a couple of days away, it will be very difficult to stop its sale as it has already reached the market."
In the past, there have been cases where people have suffered skin allergies due to these colours. If they enter the eyes, there is also a chance of loss of vision.
Andheri resident Dilip Shinde recalled, "Last year after Holi, I noticed red rashes on my entire body. When I went to the doctor the next day, he told me it was a reaction to the harmful content in the colours. I will play dry Holi using the environment friendly colours this year."
Doctor says
Dr Sneh Thadani, dermatologist at Sai Snehdeep Hospital in Koparkhairane suggested that in case one suffered rashes, one should apply calamine lotion to soothe the skin. "Also apply liberal amounts of waterproof sunscreen (SPF 30 or above) to all exposed parts of the body to avoid a potential photochemical reaction when the chemicals in colours come in contact with sunlight," she added.
Officials from the concerned department, the shops and establishments department, were unavailable for comment, as their phones were switched off.
Harmful side effects
Recent studies have found safety issues with all three forms in which Holi colours are produced: pastes, dry colours and water colours. The various ingredients found in synthetic colours like lead oxide (black), mercury sulphide (red), aluminium bromide (silver), copper sulphate (green), Prussian blue have been known to cause various health problems ranging from dermatitis (skin becoming red and blotchy), eye allergies, skin problems and even temporary blindness.