Cancer patients, confused senior citizens, hawkers these are just some of the people forcibly bundled into the squalid Beggars' Home in Chembur, says NGO report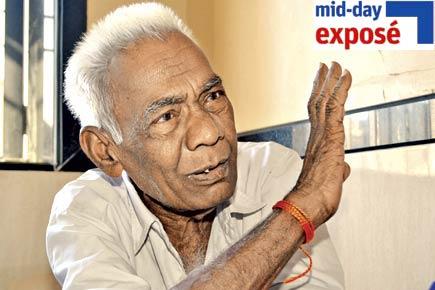 A beggars' home, where majority of inmates are not beggars this is the truth about the Chembur Beggars' Home; most of the people here have been caught by police and left here.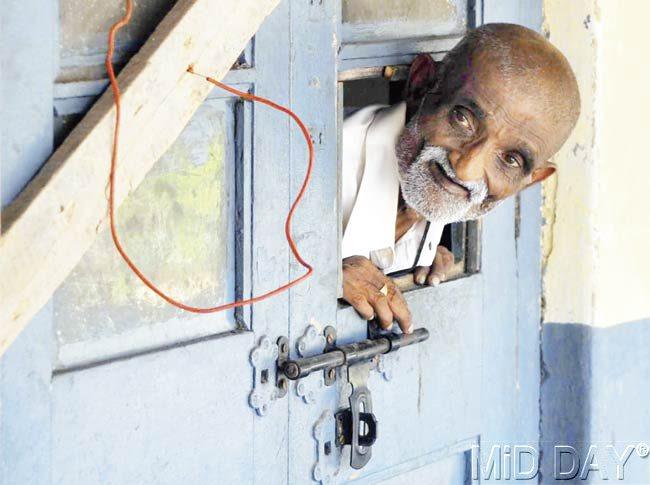 Most people look up to visitors with hope that they will be rescued from the home. Pics/Suresh KK
But around 70-80 per cent of the people are the elderly suffering from mental illnesses, cancer patients and even persons who are simply walking on the roads. Meanwhile, frantic families are on the lookout for these missing family members, unaware that they have been forcibly put into a beggar's home.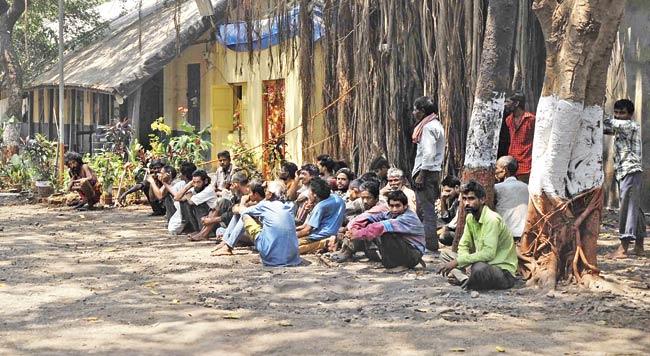 Inmates at the Chembur Beggars' Home live in poor, unhygienic conditions
"While the state institution's condition remains extremely poor, it is the law that needs to be addressed; custodial conditions are merely an aspect of vulnerability and exploitation that the law creates," says Mohammed Tarique (30), programme head at Koshish, an NGO affiliated to the Tata Institute of Social Sciences that addresses the interrelated issues of beggary, destitution and homelessness.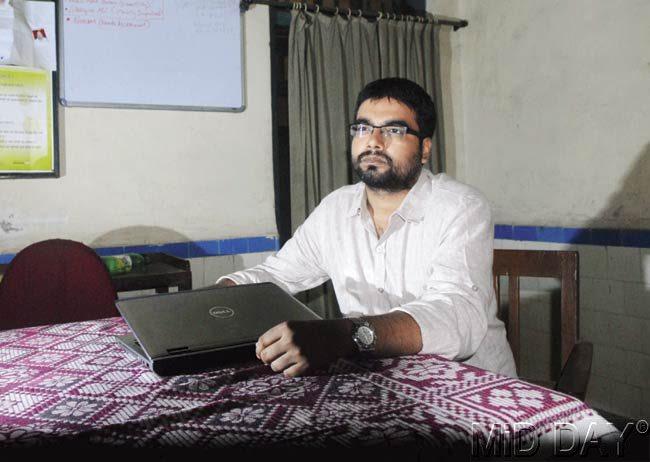 Mohammed Tarique has been instrumental in making amendments to The Bombay Prevention of Begging Act 1959 that the cops have misused so often to put people into the beggars' home. Pic/Pradeep Dhivar
Tarique has been closely working on the situation at the beggars' home and is instrumental in mooting amendments to the existing The Bombay Prevention of Begging Act, 1959.
'Picked up' as beggars
"Our experience common to most homeless groups is the possibility of getting processed under beggar prevention laws. A person may or may not be into begging, but presence on the street makes one vulnerable to getting 'picked up' and confined into institutions under the law," said Tarique. mid-day brings to you several such cases (see boxes).
He added, "The anti-beggar law itself does not draw any distinction between organised begging and people who beg to sustain themselves. The current institutionalised approach to prevent begging is resulting in punishing the destitute.
However, the irony is that nearly 70 to 80 percent of the people brought into the beggars' home are not beggars, nor they were caught in the midst of the act of begging. Koshish is making an attempt to bring changes to the existing beggary law, as we strongly believe that detaining these people in custodial institutions, the problem they face get further compounded.
The real solution, perhaps, would be to recognise the potential of the people and expand their livelihood options and ensure care for elderly and destitute." Gautam Arwel, superintendent at the home, said, "The police are not trained to identify beggars, and they randomly round up people whom they feel might be a beggar. The beggary act also gives immunity to the police, as it has many loopholes."
He added, "The police should be more careful and should make a brief inquiry before arresting the person. Also, the police should check if the person has any means of begging and every police officer should be aware of the Bombay Prevention of Beggary Act, 1959. Moreover, the police should refrain from abusing, hitting or manhandling suspects, they should not be treated as hardcore criminals or offenders."
'Beggars' according to cops
Farmer in city for cancer treatment
Who: Narayan Yadav (74)
When: March 10
Where: CST railway station
How: Yadav is a farmer from Jharkhand. He is in Mumbai for cancer treatment and is staying at a rented accommodation near Wadala. On the morning of March 10, he left his house wearing a dhoti and vest, and got into a local train that took him to CST station.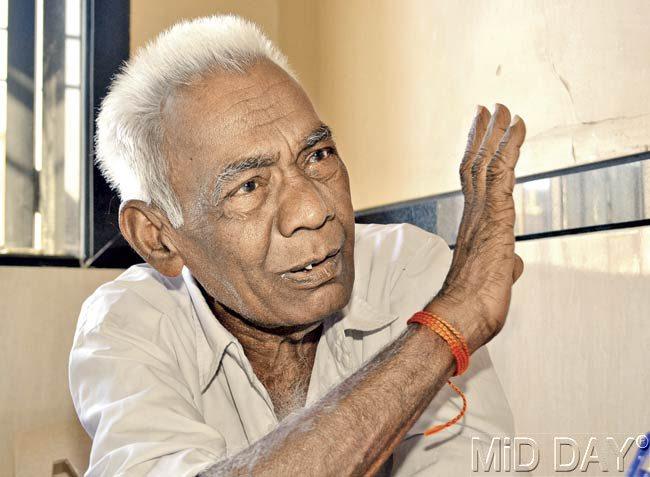 Narayan Yadav. Pic/Datta Kumbhar
Yadav had no money nor had any identity, and had left without informing his son Gullu (40), who had accompanied him to Mumbai.
"I wanted to return to Jharkand and at CST as I was walking about, two policemen came and asked me to sit in a vehicle, which had around 20 odd people including old and sick.
The vehicle was stinking with urine and human excreta. I pleaded to them that I am not a beggar, but my pleas were unheard and I was produced before the Magistrate court in Kurla; who sent me to seven days of remand," recalled Yadav.
Meanwhile, his son Gullu was frantically searching for him all over the city. He filed a missing complaint at the RAK Marg police station. Volunteers from Koshish got in touch with him and told him his father was at the beggars' home.
Present status
Yadav was released from the home after a two-day ordeal and with the intervention of Koshish. Gullu has decided not to leave his father alone ever. At night, he ensures that his father's leg is tied with a rope, so that he does not leave the house alone again.
Missing diploma grad
Who: Ravi Chugani (34)
When: March 18
Where: CST railway station
How: Ravi is an IT diploma graduate from Raipur. According to his elder brother Vishal (34), a college lecturer, Ravi was missing since August 2013 and a missing complaint had been lodged at the local police station.

Ravi Chugani. Pic/Suresh KK
Ravi is undergoing a psychiatry ailment since 1994, after his parents passed away. "We visited numerous hospitals and even published newspaper advertisements, but to no avail. My entire family had given up hope of getting Ravi back. I am thankful to the efforts made by volunteers of Koshish, due to which we got him back."
Ideally, the police should have admitted Ravi to the hospital for psychiatry treatment at Thane under the Mental Health Act, instead of booking him under the Begging Act, especially when he was not actually begging or in the process of begging.
Present status
Ravi has been released from the beggars' home; he is now back in Raipur with his brother Vishal.
Retired employee picked up
Who: Raghunath Khengre (84)
When: March 18
Where: CST railway station
How: A resident of Bhatwadi, Ghatkopar (W), Raghunath is retired from service and makes it a policy to visit his old telecom office in Fort every afternoon. That afternoon, he had just stepped out of the railway canteen near CST, when two policemen stopped him and forcibly took him to a vehicle meant for beggars.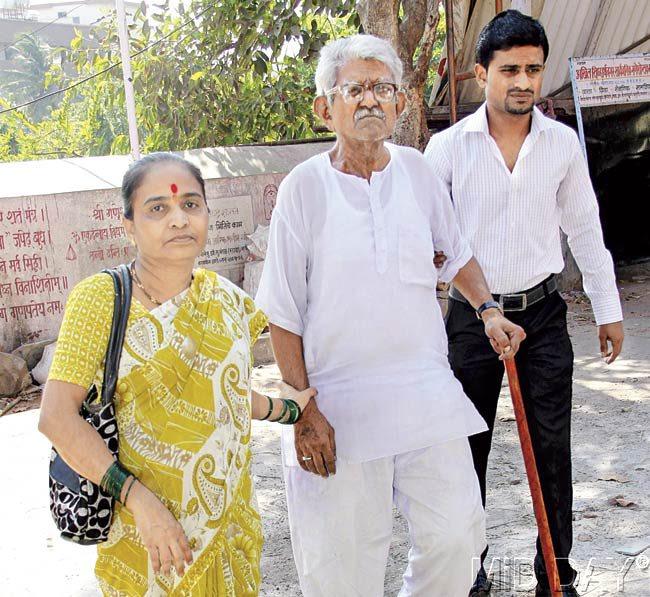 Raghunath Khengre. Pic/Sameer Markande
"I kept telling them I am not a beggar and even pleaded to them to dial my family members' mobile number to confirm, but they did not pay any heed. The vehicle was shabby and stinking, it had 15-20 more people, and some of them didn't look like beggars."
His grandson Rohit and the entire family started searching for him at all possible locations; they even visited the Ghatkopar police station to lodge a complaint and at the railway station, they were informed about an accident that was reported that morning, luckily, the age did not tally with Raghunath's.
Rohit's mother Kalpana watched local TV news channels the whole day, in case any news about Raghunath flashed. The next day Rohit got a call from a volunteer of Koshish, and after spending 48 hours, Raghunath was released.
Present status
Raghunath, does not leave his house any more to go to CST, a routine he followed for almost 20 years. He keeps to places near his house. The entire Khengre family is upset with the behaviour of the policemen who detained the senior citizen. "Does my grandfather look like a beggar? Even after he told the police, they did not believe him," said an angry Rohit.
From hawker to beggar
Who: Ruidas Kare (60)
When: January 24
Where: Gateway of India
How: Kare has been selling artificial ornaments for the last 15 years. "I even pay hafta to the local Colaba police constables and even BMC staffers; they all know me.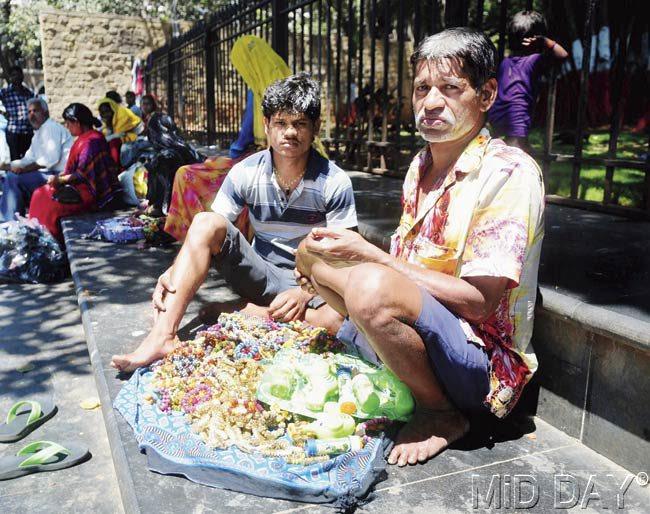 Ruidas Kare. Pic/Bipin Kokate
Even after paying them, the police dragged me to the beggar van and when I confronted them, they said: 'upar se order hai.'" The same treatment is meted out to other hawkers at Gateway of India. Even women are not spared.
"I have never taken alms from anyone, and I have lived in dignity. I am still being treated as a criminal and produced before the court, where no one hears our pleas. Beggars' home is not a place for common people," added Kare.

Present status
Kare continues to sell outside Gateway of India, but now takes precautions. One hawker watches out for the beggar vehicle and alerts others, who bundle their belongings and escape before being caught. However, they continue paying hafta.