With Nag Panchami on Wednesday, August 19 snake catchers break myths about these much misunderstood reptiles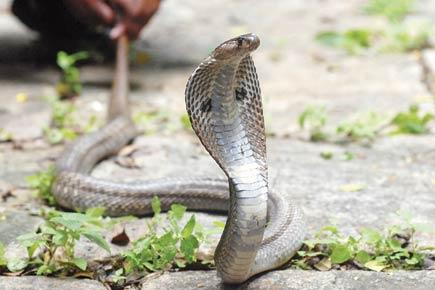 It is high season for snake rescuers in the city. The monsoon is the time when snakes come out of their lairs, sending citizens into panic mode. SARRP, a Non Governmental Organization (NGO) which stands for Spreading Awareness on Reptiles and Rehabilitation Programme, gets at least 10 snake calls a day this season from people in the city.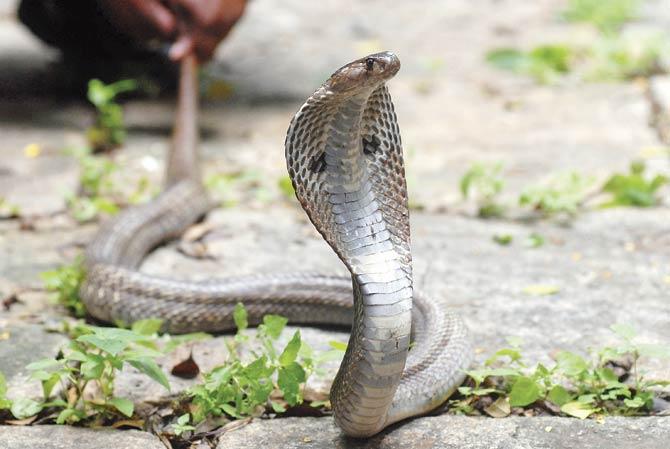 ADVERTISEMENT
Santosh Shinde, Founder member and President of the SARRP says, "We don't just rescue snakes; we have also rescued owls, considered 'unlucky'. We rescue other reptiles as and when we get calls. We recently rescued a four-foot monitor lizard from Mira Road. The police, fire brigade and BMC (Brihanmumbai Municipal Corporation) disaster management department reach out to us, fairly often."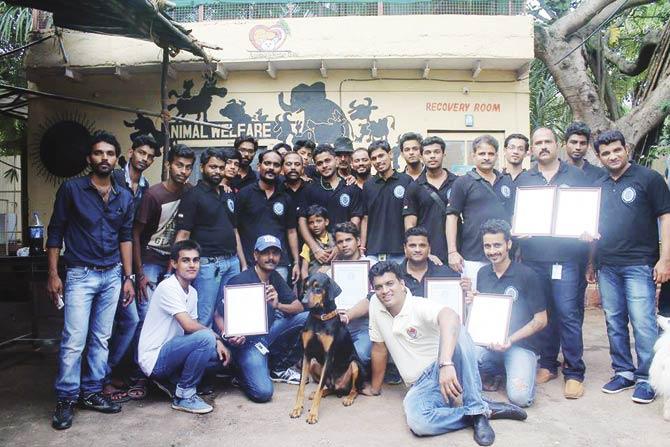 Some SARRP members at the NGO's fifth anniversary in July this year
Calls
SARRP has 35 snake catchers and reptile rescuers in the city. Explaining how the snake and reptile rescue is carried out, Shinde says, "We get calls 24X7 and our volunteers are spread across the city so we have a number which is used as a helpline.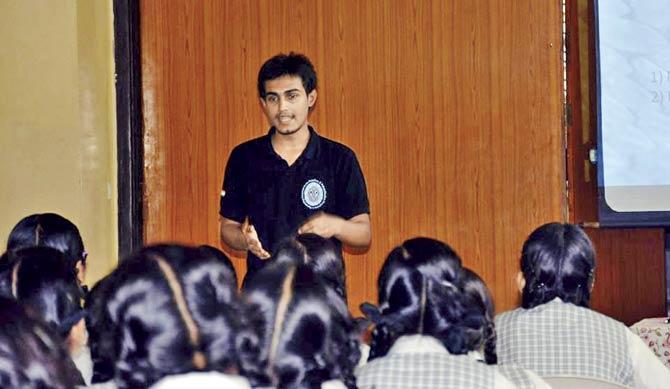 A volunteer gives an awareness talk to students at a Mumbai school
When the calls come we have a Whatsapp group of all volunteers. Whoever is near the place where the incident happened or the person who has time, attends to the call." One of the group's youngest snake catchers — Omkar Deherkar is a student.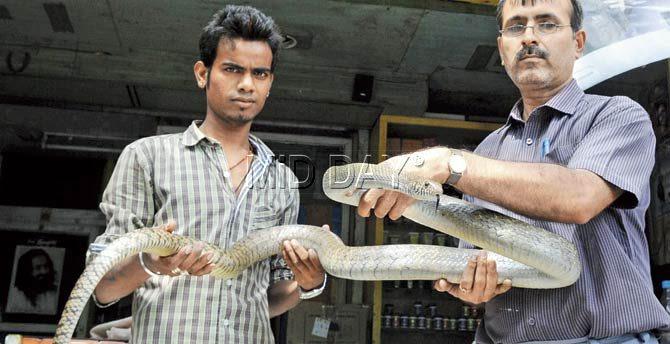 SARRP members with a snake they rescued. Pic/Nimesh Dave
The 21-year-old says, "I have been working with SARRP for the last five years. I attend to the calls from Borivali to Virar. I have learnt a lot about reptiles and their types by attending to calls. People tend to call again and again till we reach and take away the snake. The fright quotient is very high."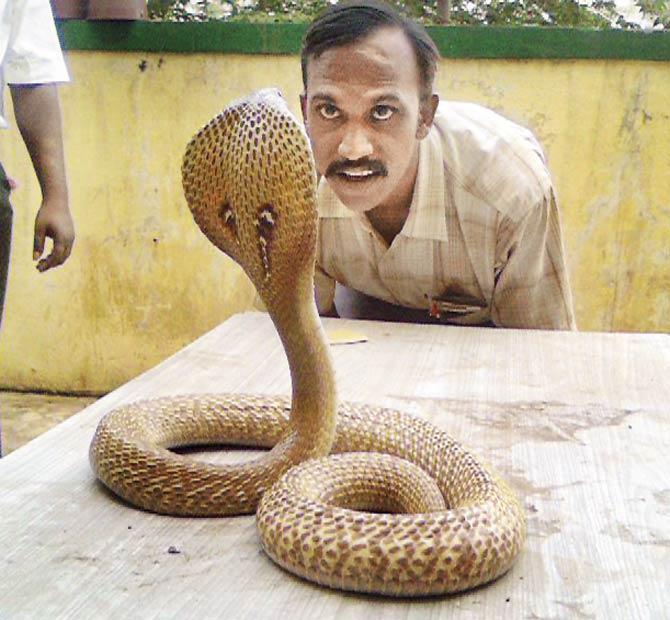 Jaywant Dukhande
When Dr Sunetra Wadke attends to snake calls she says people are unaware at times that a woman can catch a snake. The veterinarian says, "When I reach the place, I see that people are just relieved that the snake has been taken away.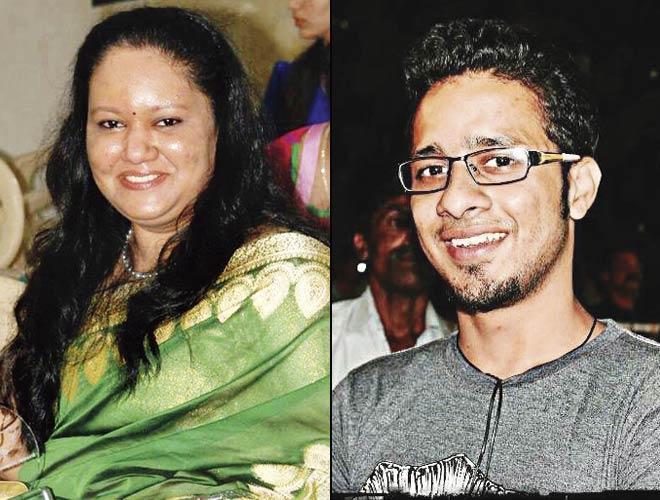 Dr Sunetra Wadke and Omkar Deherkar
They do not bother about who is rescuing it. Once we catch the snake, we treat it and then seek the Forest Department's permission to release it in the wild. The Forest Department has to be kept in the loop whenever we rescue a snake or a reptile."
"If the snake is dehydrated, we give it first aid and treat it and then release it in the wild. We get calls from outside Mumbai also, but we have a snake catcher's network of sorts so we know people who catch snakes in places across the state and inform them," says Shinde.
Awareness
Jaywant Dukhande, who is one of SARRP's oldest snake catchers, is a police inspector. He conducts awareness programmes for his colleagues in the force. He says, "The first call when a snake is spotted goes to the police.
But we are generally unaware of what has to be done with a snake. The police reach the spot but are helpless in this case. Through the awareness programme conducted by SARRP, we educate the police about the types of snakes and crowd control in such situations."
Deherkar who has conducted a number of awareness talks says, "My aim is to save as many snakes as possible, as they have lived here much before us. At SARRP, we all give our 100 per cent to save the snake.
We provide the service free of cost. People need to know that a snake will never attack unless it feels threatened. We visit schools, colleges, corporate offices, police stations, etc educating people about snakes."
Myths
The misconceptions and myths that surround snakes are barriers according to Dr Wadke. She says, "I have been with SARRP since the time that it started in 2008 and much before it was a formal NGO. There is a lot of fear that is associated with snakes. It is not legal to have a snake as a pet in India. But people do not like them in general too."
Shinde adds, "People consider snakes to have God like quality and so during the rescue come with milk to feed them. When we rescue them they sometimes create a problem saying that we should not catch them, since they are divine. Some people are scared of them and attack them with sticks. This frightens the snake and it may attack."
"There are many superstitions associated with snakes which make people look down on them. People as a result panic when they see snakes and this is a bad sign. Right from school students to corporates to the police, almost all people in the city have stories told to them of the bad things snakes do which frightens them and causes wrong information to spread," says Dukhande.
"There are many negative associations with snakes and even educated people do not think rationally when it comes to them. Using a stick or stoning the snake is not the solution, this is what we try to convey to people by our awareness programmes and during the rescues. All snakes do not bite and are not threats like most people believe. For the past five years, SARRP and its members have been trying to change this notion," says Shinde.
Love
It is illegal to train anyone to catch a snake, SARRP members have love for nature and they spread that to others via their talks. Deherkar says, "I was always interested in snakes. After my Xth exams I joined SARRP and started accompanying Santosh Shinde and other members.
I learnt a lot about snakes and other reptiles and how to handle them. I started by being cautious and curious and that helped me to aid people as well as the animals in need." Dr Wadke says, "During my college years I was very famous as a lady snake catcher and would attend to calls.
But now with my practice as a veterinarian it is tough to make time to attend to calls as I have patients to attend to." "I caught my first snake in 1987," says Dukhande. He adds, "I was attached to animals since my childhood. Snakes always captured my imagination.
I worked alone to rescue them till 2003, then I started working with Santosh Shinde and SARRP. The awareness programmes and snake rescues helps me to spread my love for snakes to people in the city."