Gold ornaments were stolen from Ulhasnagar's Chaliya Mandir. While cops are hunting for culprits, the real mystery is whether jewels are worth Rs 8 lakh, as temple trust claims, or Rs 5 lakh, as per cops' estimate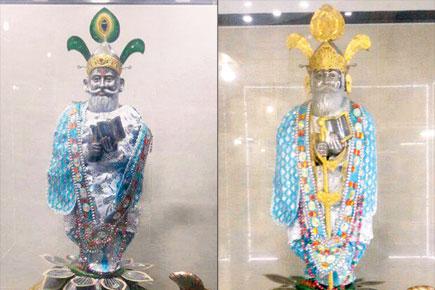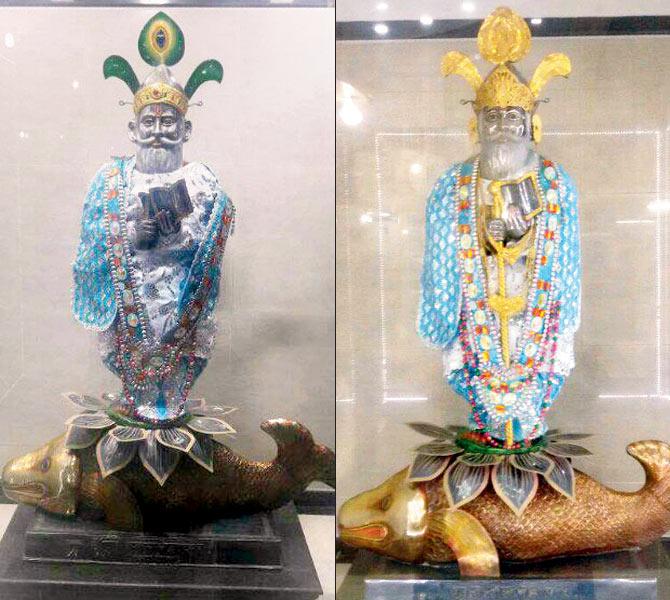 Earrings, necklaces, chains, rings and a mukut. Pic\Navneet Barhate
Robbers decamped with gold ornaments from Chaliya Mandir in Ulhasnagar late on Tuesday night. While cops are on the hunt for the culprits, the real mystery is whether the ornaments are worth Rs 8 lakh, as the temple trust claims, or Rs 5 lakh, as per the cops' estimate
ADVERTISEMENT
Heavy loot
Trustee Bhagwandas Sundardas Ramani (64) filed a complaint with the Hill Line police. informing them that the robbery took place between 11 pm on Tuesday and 5 am on Wednesday. He also mentioned that 10 different types of ornaments, including mukut (crown), earrings, necklaces, chains and rings among others, had been stolen.
Also read - Mumbai Crime: Diamond-studded gold strips stolen from Jain temple at Marine Drive
Also read - Mumbai robbery: Man steals gold necklace from Ambe Maata
Sources said that the watchman was found in an unconscious state after the incident and even a couple of the CCTV cameras were switched off during the heist. "The temple is quite popular and thousands of devotees visit it daily. The committee members claimed that the stolen ornaments are worth Rs 8 lakh, but as per the cops' estimate, the value is Rs 5 lakh," said an officer from Hill Line police station.
Also read: Jewel thief strikes Ganpati temple in Pune, steals idol's ornaments
Also read: Idols, donation box stolen from Jain temple in Mumbai
DCP visits temple
Meanwhile, DCP (Ulhasnagar division) Sunil Bharatwaj visited the temple and enquired about the incident. "We have registered a case under Sections 457 (lurking house-trespass or house-breaking by night) and 380 (theft in dwelling house) of the Indian Penal Code. A probe has been started to trace the accused," said M Waghmare, senior police inspector, Hill Line police station.