Today is the ninth death anniversary of a young man called Manjunath, who died because he followed his conscience and fought against corruption. Was Manjunath idiotic or heroic? A city college has a debate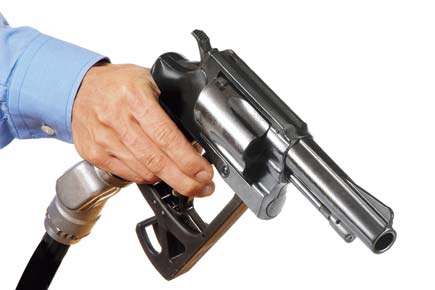 Today, November 19, 2014 marks the ninth death anniversary of Manjunath Shanmugam. Manjunath was a marketing manager for Indian Oil Corporation (IOC) who was murdered for taking on the petrol mafia in Lakhimpur Kheri (UP).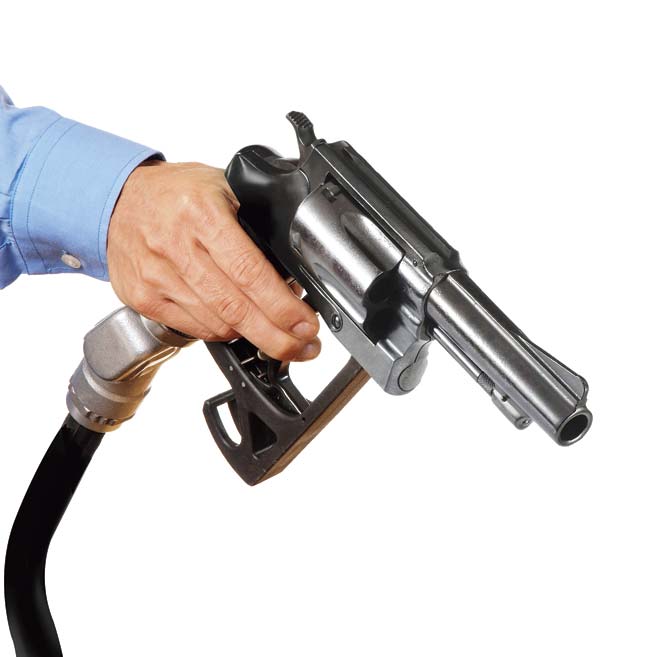 He sealed petrol pumps that were supplying adulterated fuel answering his conscience's calls even when guns were pointed (both literally and metaphorically) at his head. His death, brought to life the debate about whether those who defy the odds and try to right the wrong are heroes or idiots.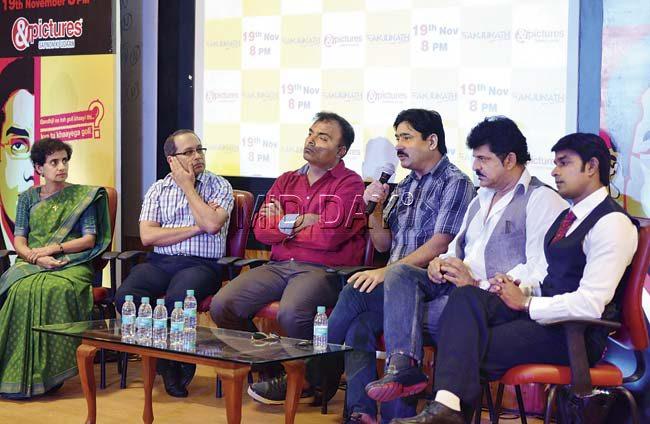 (from l) Dr Marie Fernandes, Alok Chopra, Sandeep Verma, Yashpal Sharma, Rajesh Khattar and SashoSatiiysh Saarathy. Pics/Khushnum Bhandari
Movie
Manjunath lives on through a movie called, Manjunath with a tagline 'Idiot tha saala' made by director, Sandeep A Verma. The 'Idiot tha saala' catch line, refers to the heart of the matter, whether Manjunath was an 'idiot' to do what he did, which is risk and eventually lose his life in a bid to weed out the scam, fighting forces much bigger than himself.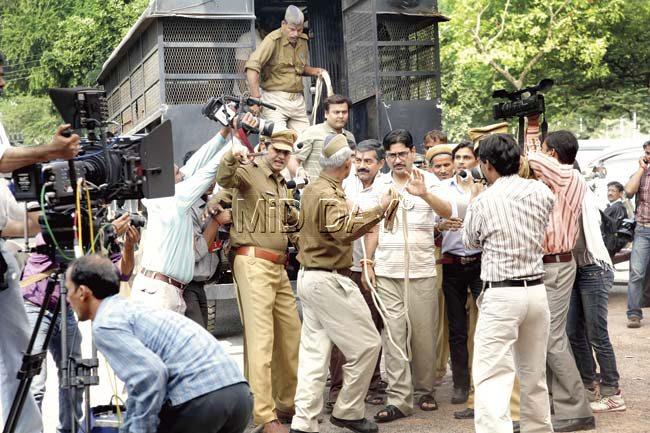 This movie was shown to students of St Andrews College (Bandra) recently, followed by a debate on the subject. While the hot November sun blazed outside, the hall was packed with students, for who the movie had ignited a fire. The crux of the discussion was: follow your conscience and die, or turn a blind eye to wrongs, benefit with bribes and live?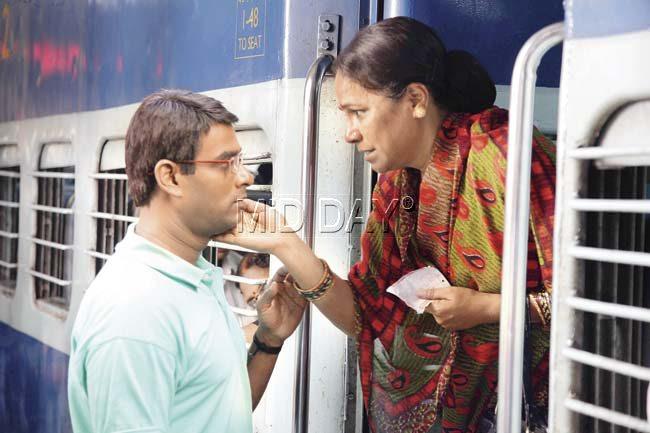 From the movie, Manjunath
Pane
The panelists included Sandeep Verma (director) greeted by warm applause as he stepped on to the dais, St Andrews principal Dr Marie Fernandes, Alok Chopra Commissioner, Excise & Customs, Mumbai, Yashpal Sharma (actor played Manjunath's killer in the movie), Rajesh Khattar (actor who played Manjunath's boss) and S S Saarathy who played Manjunath in the film. The discussion started with the anchor asking: are people brave or simply stupid to take on the system?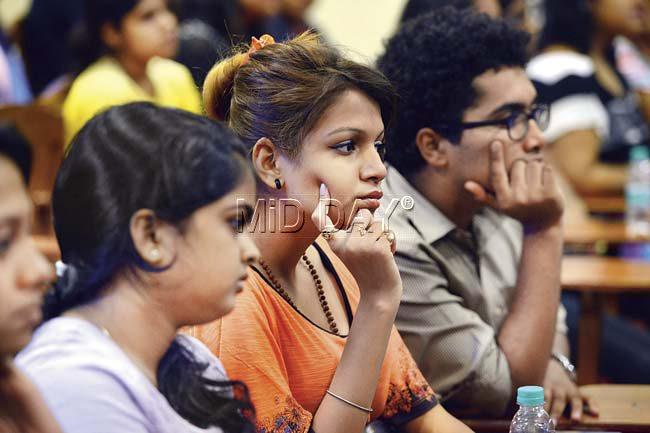 The students are absorbed in the discussion
Challenging
Alok Chopra said that, "These are very delicate situations. I too have faced them in my career. We do have government support though, we are a uniformed force."
Chopra did say that this can be especially challenging when the boss or a person leading a team is confronted with a situation. "That is when your team is looking up to you. If you buckle (succumb to pressure) at that time, then things become very difficult."
Chopra said though it is tough to take on corruption, with honesty, integrity and an iron will one can take on individuals looking to subvert the system. He did add as a rider though, "Sometimes, kismet (destiny) helps. You take a decision and everything falls in place at the same time."
Idiot
The baton or more precisely, the mike was passed on to Sandeep Verma, who took the discussion back, to his reason for making the movie, especially the talked about provocative, 'Idiot tha saala' line accompanying the movie name.
"I met Manjunath's family in Karnataka. I knew that Manjunath had come from a humble background. I met his grief-stricken but proud parents. I could discern that his mother was shocked that people were implying that Manjunath could have exposed the scam in a different way.
He could have been more patient, used different methods, that he was stupid or naïve, and that is why he was killed. People made them feel almost ashamed that they had a son who could not adjust to a situation."
While the students absorbed Verma's statement, the director looked angry as he stated, "This was really a barometer of how society treats its heroes. It was a reflection of us. I was angry when I heard this.
Manjunath's mother told me she does not want a single rupee from this movie. She only wants me to show that her son was not stupid but courageous."
Killed
Actor Yashpal Sharma, who played Manjunath's killer in the movie stated that, "Who kills people like Manjunath? We are all responsible. Everyday, we kill Manjunath. Manjunath is not a person, he is a thought, he is a principle. The person Manjunath will not come back but we can keep his spirit alive."
This, he explained is done by doing away with the "chalta hai attitude. Everybody does it, let me too (be corrupt)." He did admit though that living by the truth sounds good and uplifting but it is, "very difficult. Yet, it is not impossible."
Impossible is nothing for Chopra who claimed that our education system must plug the lacunae of values in our society. "We used to have a subject called Moral Science, when I was young, morality has to be ingrained from an early age.
We need steel in our education system," he signed off. Dr Marie Fernandes said that the college has a "value education programme," in response to Chopra's observation.
Guts
Rajesh Khattar, who played Manjunath's boss in the movie, said, "Manjunath's boss never took a stand. He did not have the guts his junior had. Yet, even if we do not have the courage to be Manjunath we can at least support Manjunaths."
S S Saarathy who played Manjunath in the film stated he had to add bulk to his physique to play the character. He also said he had met Manjunath's family. Most pertinently, he claimed that, "Manjunath has stayed with me even after the film."
Safe
With the clock ticking on, the discussion reached its interaction session. After some prompting, a few students raised questions.
One asked about how different it was acting in a commercial movie and a film like Manjunath, and got the answer that, it is far easier with a commercial film. They give you money, publicity and you have assured eyeballs. With this kind of film, you just never know whether you will get an audience.
The speakers said that today, the family too is responsible for inculcating ethics and the family has to do away with the 'stay safe' attitude. "Even if a youngster wants to take on the system to correct a wrong, he is advised by the family not to stick his neck out, to stay safe. Jawaani ka josh is tempered by the boodhas.
Yet, we should have more faith in the young, this generation is forever restless. They need the right tick marks in the boxes from both, educators and family, otherwise there is confusion and the safety first attitude comes in," the panelists said.
Beacons
Having said all that, Chopra added that there will always be people like Manjunath. "Whatever the odds, they do not buckle, they are beacons for us to follow." What made the difference in this discussion was that it was not preachy.
The speakers admitted that it was difficult to be a Manjunath. In fact, Sandeep Verma claimed that, "I have been a coward in my life. I do not have the courage to be Manjunath." Students were told that not everybody can or needs to take on petrol mafias. It is the small fights that we can win by not giving in to daily corruption.
Fire
It was an inspiring afternoon, and the speakers kept it realistic. To sum up, it was all about the courage to follow your conscience but if that kind of courage is not there, at least support the persons who do so.
While Manjunath's story has a sad ending, the overall message was optimistic. The panelists were sure that the future of India, the young generation will be the fire that consumes corruption in the country. Manjunath airs on &Pictures and &PicturesHD tonight at 8 pm
Who was Manjunath?
Shanmugam Manjunath (October 24, 1978 to November 19, 2005) was a marketing manager (grade A officer) for the Indian Oil Corporation (IOC) who was murdered for sealing a corrupt petrol station in Lakhimpur Kheri, UP.
This incident inspired several students at IIM, IIT and other institutes culminating with the IIM students setting up the 'The Manjunath Shanmugam Trust'.
While working for the Indian Oil Corporation (IOC) in Lucknow, he had ordered two petrol pumps at Lakhimpur Kheri sealed for selling adulterated fuel for three months.
When the pump started operating again a month later, Manjunath decided to conduct a surprise raid around November 19, 2005. Manjunath was shot dead in Gola Gokarannath town of Lakhimpur Kheri.
His body, riddled with at least six bullets, was found in the backseat of his own car, which was being driven by two employees of the petrol pump.