Dipchand Gupta, 30, spots purse having Rs 33,000 cash by the tracks and gives it to Thane stationmaster; latter traces owner who gets back entire month's earnings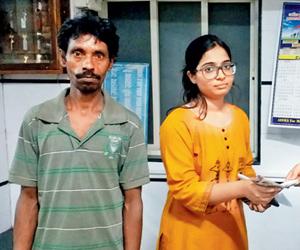 (From left) Dipchand Gupta, a ragpicker, Akshara Mokashi and Thane stationmaster Vijay Rajak
This man could have gone from rags to riches overnight; instead, he went from rags to respect. A ragpicker in Thane, Dipchand Gupta, 30, found a woman's purse on the tracks on Monday night during the course of his work. Inside, he found debit and credit cards and Rs 33,000 cash, a sum he probably hasn't had the fortune to even see, let alone have. However, Gupta didn't make away with it. He gave it to the Thane stationmaster, who later handed it over to the woman who had lost it. Both the woman and stationmaster gave Gupta Rs 2,500 as a token of appreciation.
ADVERTISEMENT
Gupta was picking up empty plastic bottles and other waste on the railway tracks near Thane station when he found the purse on the track of platform number 5, right at the end where the ladies coach halts.
On seeing the wad of Rs 2,000 and Rs 500 currency notes and valuables within, Gupta, who wasn't even able to count how much money was inside, immediately went to the stationmaster and handed over the purse, explaining to him how and where he had found it.
Rlys finds owner
Thane stationmaster B K Mahindhar said, "Gupta came to me and gave me the purse, telling me that he had found it on the track near platform number 5. Quite simply and innocently he said to me 'There is a lot of money inside it; please take care'. There was a total of Rs 33,000 cash, and debit and credit cards in the purse."
Thankful and relieved
"We found out that it belonged to Akshara Mokashi, a Thane resident, and immediately called her up. When she came to the station to take it, she told us she had lost it around 9 pm; thanks to Gupta, she got it back within an hour. Before she left, Gupta even warned her to be more careful in the future, especially while travelling in crowded trains with such a huge amount of cash," said another railway official.
Mokashi, 22, who works in Ghatkopar, said that on Monday, before leaving for home, she had withdrawn the previous month's entire salary to give to her family for household expenses.
"I realised I'd lost my purse when I got down from the autorickshaw. I called my friend to search for it near the station. We retraced my steps and looked in all the spots I had stopped, but, in the meantime, the ragpicker found it and gave it to a railway official. I am really thankful to him. It's my hard-earned money. I couldn't stop crying when I got the call that it had been found," added Mokashi.
Also read: Wallet returned after 14 years with more money than when lost
Catch up on all the latest Mumbai news, crime news, current affairs, and also a complete guide on Mumbai from food to things to do and events across the city here. Also download the new mid-day Android and iOS apps to get latest updates