As the National Green Tribunal calls for a shutdown of 371 industrial units along Kasadi river, local villagers say damage extends far beyond the pollution in the river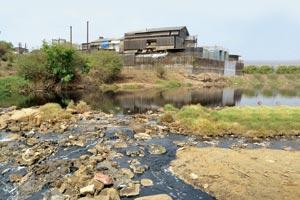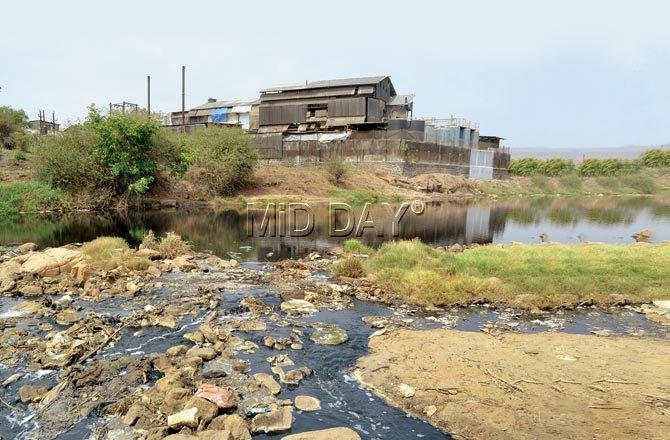 Kasadi river was once a fishing haven, boasting of 45 varieties of fish, but in 2013 it was declared 'unsuitable for fishing'. Pics/Datta Kumbhar
The narrow, winding lanes, that open into the homes of the Koli villagers of Roadpali, in the Kalamboli area of Navi Mumbai, once served as a monsoon pathway for the nearby Kasadi river. The elderly locals remember how, during high tide, the river would bend and flow aimlessly by the side of their homes, and wash into the open farmlands of their neighbours, the Agri community, whose primary source of livelihood was farming. "During this season, even they would fish with us," says 30-year-old Yogesh Pagade, recounting this scene from his early childhood. The first heavy showers, he says, would bring with it a shoal of catfish — locally called chivanna — into the fields of the Agris, who didn't spare the opportunity for a good catch. That's the one time in the year when every inch of Roadpali turned into a fishing haven.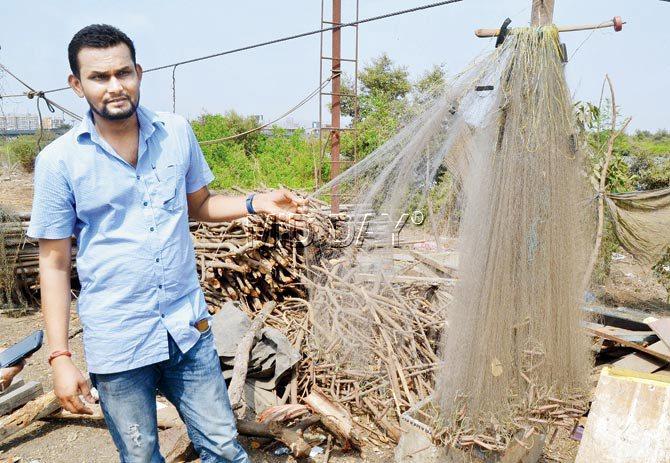 Yogesh Pagade, 30, started the Mission Save Kasadi River campaign along with other residents two years ago
Today, fishing in this region is as good as dead. It was, however, the way of life for villagers until 2008, before the riverbed turned into a dumping ground for waste from the nearby industries and residential complexes. Kasadi river gained national attention last August after dogs that had waded in it, mysteriously turned blue, creating a health scare among locals. The first stretch of this 20km-long river flows from Malanggad in Kalyan till the industrial area — comprising 977 factories in Taloja MIDC — and then through the industrial belt to Kopar and Kharghar. The second stretch has been badly hit by pollution. "Due to industrial effluents, this river changes colour every day," Yogesh rues.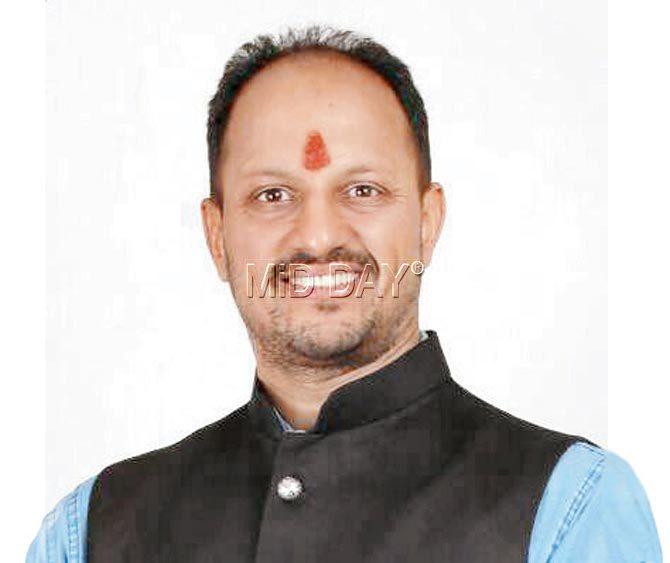 Satish Shetty
In 2013, the government of Maharashtra's fishery department declared the river "unsuitable for fishing". That was just the beginning of the downward spiral. Today, the stench emanating from the black river is so toxic that the National Green Tribunal (NGT) was forced to intervene. Last week, it ordered closure of 371 industrial units in Taloja MIDC that were allegedly responsible for polluting the river. For the locals, this is possibly the first fight they've won in their long-drawn battle to save this once resplendent river.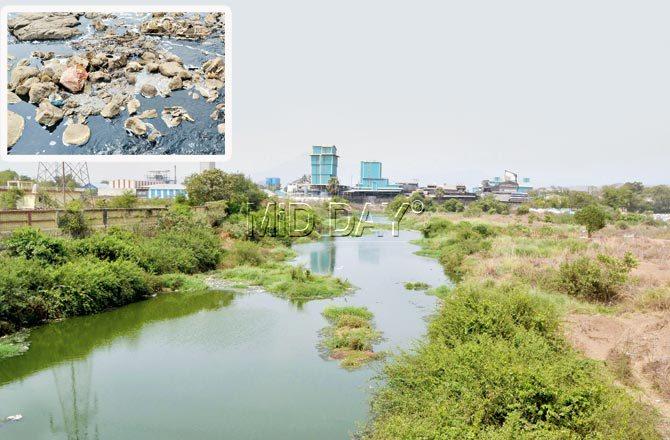 There are 977 factories in and around the 20km-long Kasadi river that flows from Malanggad in Kalyan till Taloja MIDC, meeting the sea a few kilometres from Belapur creek. Pics/Datta Kumbhar
Loss of livelihood
Back in the 90s, Yogesh's father and grandfather would net a catch of anywhere between 50 and 100 kg on the days they'd go fishing in Kasadi river. Because of its close proximity to the Arabian sea, the river would boast of a rich aquatic life. Yogesh's mother Indubai Pagade, 55, says there were at least 45 varieties of fish, ranging from mackerel, shark, prawns, tilapia, lobster, Bombay duck, crab, raawas (Indian salmon) and pomfret, apart from salt water fish, in this river. "Their population was so huge that you did not even need nets to catch the tiger prawns and crabs. If you put your hands inside, you could grab them," recalls Yogesh's neighbour Pinky Pagade, a fishmonger.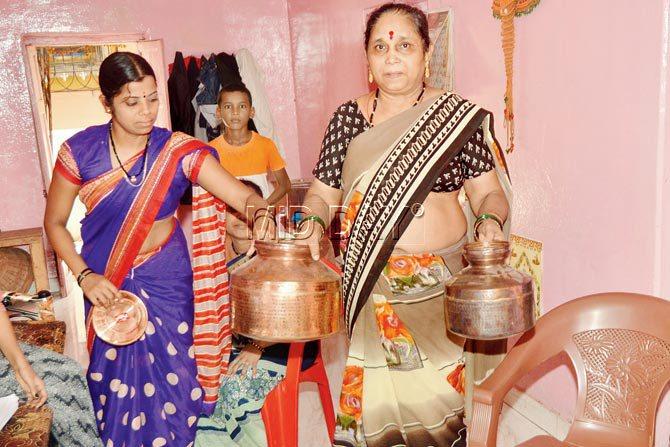 Indubai Pagade holds two copper handis in her hands. The one on the left had been wrapped up in plastic, while the other, exposed to the air, turned black overnight
For the Kolis, the original inhabitants of the city, fishing has been the only source of livelihood for centuries. Roadpali village, which now comprises around 5,000 residents, wasn't any different. "Our men would go fishing thrice a week [Sunday, Wednesday and Friday], and we women, would sell this catch in the markets nearby, as well as outside. At Dadar market, there was a huge demand for our kolbis (prawns) and kurlyas (crabs). They were said to be the juiciest," says Indubai.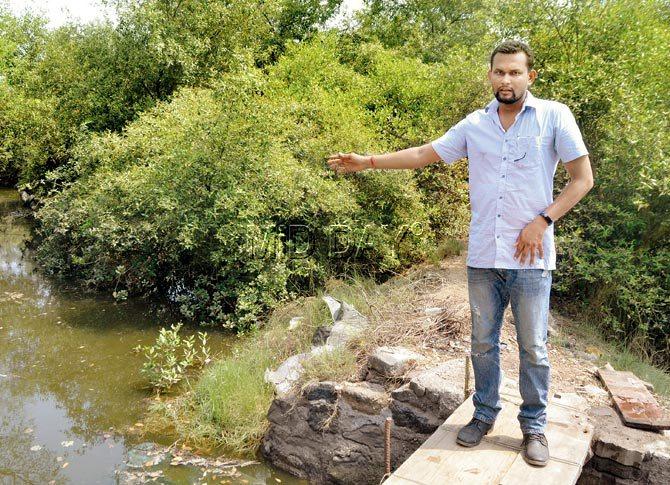 Yogesh Pagade, a resident of Roadpali village, started the Mission Save Kasadi River campaign along with residents two years ago
Their fortunes started taking a turn for the worse in the 70s, when the plan for expanding then Bombay into the Thane district, was initiated. Industries — these included chemical, fish, pharmaceutical and machinery factories — started developing rapidly and haphazardly around the belt, and with it, newer townships started mushrooming. It wasn't long before untreated waste started being dumped into the river, making it most uninhabitable for fish, as well as the rich flora and fauna — the pink flamingoes were commonly sighted here.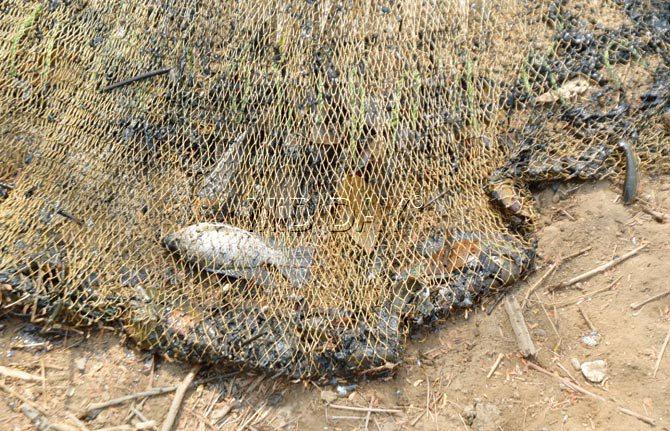 With the state declaring the river unsuitable for fishing in 2013, the locals have lost a source of livelihood. While the men look for odd jobs, the women buy fish from Colaba and sell them at Taloja. Some breed tilapias in artificial ponds, but the industrial pollution affects the quality here too. Local resident, Vaishali Pagade says, 'People in Taloja began accusing us of selling chemicalwala macchi'
By mid 2000, not only did the fish population start depleting, villagers fishing in the toxic river also started earning a notorious reputation. "People in Taloja began accusing us of selling chemicalwala macchi," says Vaishali Pagade, another resident of Roadpali. When the state government put a check on fishing activity in the river five years ago, they also snatched the centuries-old livelihood of the village. "For a community that did not know anything apart from fishing, this came as a huge shock to us," says Yogesh's sister Priyanka, 25, who is an undergraduate. "Nobody gives us work in their offices, so the men in our village are now doing odd jobs. Many work as watchmen, bodyguards and autorickshaw drivers," says Yogesh, who started the Mission Save Kasadi River campaign along with residents two years ago. He also works as a car washer in Navi Mumbai. The women, on the other hand, continue to sell fish. "It's the only job we know," says Indubai. Only now, they travel in a truck to Colaba's Sassoon Dock at 4 am, where they buy fish at a wholesale market. They return to Navi Mumbai six hours later, and go from village to village on foot, to sell their fish. "Even then people don't buy, thinking we are selling them fish from the river. After covering the transport cost, we barely get returns of R100-200. Sometimes, I don't even know why we are working so hard," says Pinky.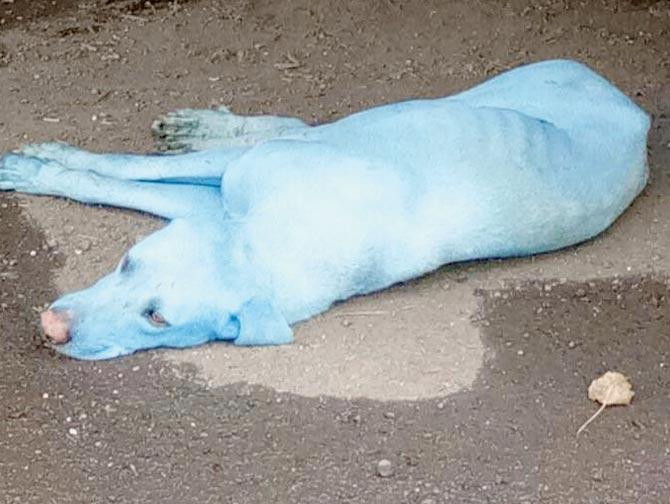 In August last year, dogs that waded in Kasadi river, had mysteriously turned blue. Pic/Arati Chauhan Via Facebook
Some families like that of Jayshree Kadake have made artificial lakes near the river, where the only kind of fish that they can breed is the tilapia. When we visit the lake, which is near the Belapur creek and a stone's throw away from where Yogesh lives, Jayshree's father-in-law Shantaram Pagade and neighbour Padmakar Waghe, enter the river with a traditional fishing net that they call paag. Two minutes after the net is dunked into the water, they manage to catch a tilapia, among other small fish. The net, however, is covered in sludge. "During high tide water from the polluted river inevitably enters into the lakes too," says Jayshree, who barely manages to sell 3 to 4 kg tilapia — for R30 a kilo — daily.
Making of the toxic river
In November last year, 10 members of the Common Effluent Treatment Plant (CETP) at Taloja were booked for releasing untreated industrial waste into Kasadi river, after state environment minister Ramdas Kadam made a surprise visit to the plant and found it shut. The committee running the CETP was dissolved after the booked members resigned from their post. The body is currently awaiting a new committee and elections for the next, are expected this month. Until then, the body is being helmed by retired government officer BD Ahire, chairman of the committee. "The CETP in Taloja was formed around 20 years ago under the Maharashtra Cooperative Society Act and comprises representatives of the industries in Taloja, who are in charge of treating the waste generated in their factories at their plant, before it is discharged back into the creek [near Kasadi river]," says GR Naik, member of the administrative board, CETP.
As per Maharashtra Pollution Control Board (MPCB) standards, the treatment plants of CETP have a minimum inlet capacity of waste water comprising 2,700 chemical oxygen demand (COD) milligram per litre (mg/l) and 1,000 biochemical oxygen demand (BOD). The plant is expected to treat it to a minimum of 250 COD and 30 BOD, before releasing it into the environment, says Naik. "What happened was that the CETP ended up receiving around 4,000 to 8,000 COD and 2,000 BOD in waste. How do you expect plants with this capacity to treat waste with such alarming levels of pollutants?" he asks. He points out that the committee acted irresponsibly in not highlighting the issue to the MPCB.
"The industries were expected to treat the waste first and meet the MPCB standards, before discharging it into the plant. They didn't do it, and now everyone is blaming CETP," he adds. After an application was filed by local corporator Arvind P Mhatre of Panvel Municipal Corporation at the National Green Tribunal (NGT) in Pune, the latter ordered a joint inquiry by the MPCB and Central Pollution Control Board (CPCB). The inquiry conducted in December last year revealed that the mechanical bar screen chamber, which receives the industries' waste was not operational for six months. Further, the oil and grease trap, which has the same function as the bar screen, was "completely submerged, with effluents covered with a layer of scum".
Incidentally, when mid-day reached out to a very senior MPCB official, who was also part of the inquiry, he had a different take on the issue. "None of the treated waste water is discharged into the river. It is only released into the creek. Kasadi has turned black because it doesn't have any flow. If any water body remains stagnant, this is bound to happen," says the official, on condition of anonymity. "The question to be asked then is where all this waste was going," asks Yogesh. The local activist pointed out that there were leaks in the pipeline, maintained by the Maharashtra Industrial Development Corporation (MIDC), which led to the untreated effluents leaking into the river, instead of the creek. Deputy engineer Santosh Kalaskar of Taloja MIDC refused to comment on the issue, saying he was recently transferred.
Keeping all these issues in mind, the NGT this week ordered shutting down of 371 chemical factories. "However, MPCB has told the tribunal that it will shut down 18 of these industries immediately. The remaining 350-odd industries have been asked to take immediate measures to check their pollutant levels, before the next hearing on July 4," said Satish Shetty, president of Taloja Industries Association (TIA). In an unlikely gesture, Shetty lauded the tribunal's decision, "I don't believe in making money at the cost of damaging the environment. I have been running my factories here for the last 25 years, and I know how badly the Kolis have been affected. We are responsible for the huge loss that this community has suffered, and we've not even compensated them enough. The tribunal's action will definitely be in the larger interest of everyone."
Living in a death trap
It's not just the water, which is of grave concern. "The air the villagers are breathing is also of dangerous quality," says a doctor, who resides in Roadpali village, but did not wish to be named. Corporator Mhatre, who first initiated action against the industries, says, "There have been instances when birds flying over Taloja MIDC, unexpectedly dropped dead. If fish and birds can't survive here, how will human beings live here."
Indubai shows us a brand new copper handi that she bought recently, which turned black within a few hours. "If you wear a white shirt and roam around the area for a few hours, you will notice patches all over it," adds Mhatre. On entering Roadpali, any first-time visitor would immediately feel a sense of discomfort. This writer and photographer felt a burning sensation in their eyes, and also had difficulty breathing. Priyanka informs that post 8 pm daily, there is an unbearable stench in the air. "We have to close all our doors and windows, or else we begin to feel giddy," she says.
While no official health survey has been carried out in the village, the doctor from the village said there had been a huge rise in chronic obstructive pulmonary disease (COPD) here. "Of the 10 patients with breathing problems, at least eight currently suffer from asthma," he says.
"There has also been a rise in low birth weights. All the new born infants are between 1.5 to 2 kg," he says. Among other diseases, the doctor said he had noticed cases of carcinoma — type of cancer that starts in cells that make up the skin or the tissue lining organs — and tuberculosis. Statistics available at a health centre of the Revised National Tuberculosis Control Programme (RNTCP) in the neighbouring Wavanje village of Taloja, revealed that a total of 68 patients were diagnosed with TB alone this year. "Premature greying of hair in the early teens and rapid hair fall are now common symptoms in villagers," he adds.
What next?
Shetty says that over the next few months, the TIA is planning to provide alternative solutions for all the damage that has happened. It has joined hands with MyVets Charitable Trust and Research Centre, an NGO, which works in the area of environmental and wildlife conservation, and Kharghar Swacch Manch, to plant more trees in the area to contain the pollution in the region. Dr Yuvraj R Kaginkar, founder trustee of MyVets, says that rivers with backwaters enjoy continuous flow of current. "But Kasadi, which is slightly inside, only sees flow during monsoon. During the rest of the year, it remains stagnant. When pollution in such rivers increases, flora and fauna is immediately affected. At this point, it is hard to say what has caused the levels of toxins to increase inside. Both residential and industrial waste could be the source."
In his proposal to the industries, Kaginkar has suggested setting up floating islands in the river. These are buoyant mats, planted like a garden and launched onto a waterway. The floating islands remove pollutants from a waterway, including nitrates, phosphates, ammonia and heavy metal. He has also suggested water aeration techniques. Aeration brings water and air in close contact in order to remove dissolved gases (such as carbon dioxide). "If we get a nod, that day won't be too far, when Kasadi is restored to its original glory," he says.
2388
Volume of chemical oxygen demand (mg/l) released from CETP on December 13, 2017
250
Maximum volume of chemical oxygen demand, which CETP is expected to discharge
Diseases Ravaging Taloja
A local doctor (not wishing to be identified) said he had noticed cases of carcinoma, a cancer that starts in skin cells among village residents. The birth weight of newborns has dropped to 1.5-2 kg. Data from a health centre in a nearby Wavanje village says in the last six months, 68 patients were diagnosed with TB. Premature greying in the early teens and rapid hair fall have become common.
Catch up on all the latest Crime, National, International and Hatke news here. Also download the new mid-day Android and iOS apps to get latest updates