The Chudasama home at Malabar Hill had a high-profile visitor last evening when Former HRD minister Murli Manohar Joshi dropped by to meet his old friend, Mumbai's eternal Sheriff, and the man whose bon mots best defined the city's political chutzpah - Nana Chudasama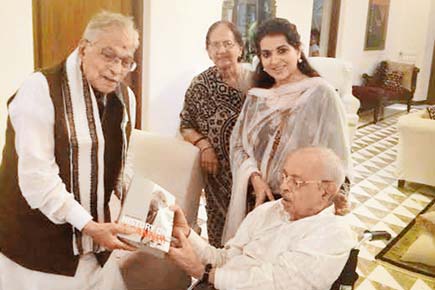 The Chudasama home at Malabar Hill had a high-profile visitor last evening when Former HRD minister Murli Manohar Joshi dropped by to meet his old friend, Mumbai's eternal Sheriff, and the man whose bon mots best defined the city's political chutzpah - Nana Chudasama.
"He was happy to receive daddy's book, History On a Banner, as it is a chronicle of political events," says Chudasama's doting daughter, BJP spokesperson Shaina NC about the encounter. "And he said he has quoted from many of daddy's banners in parliament."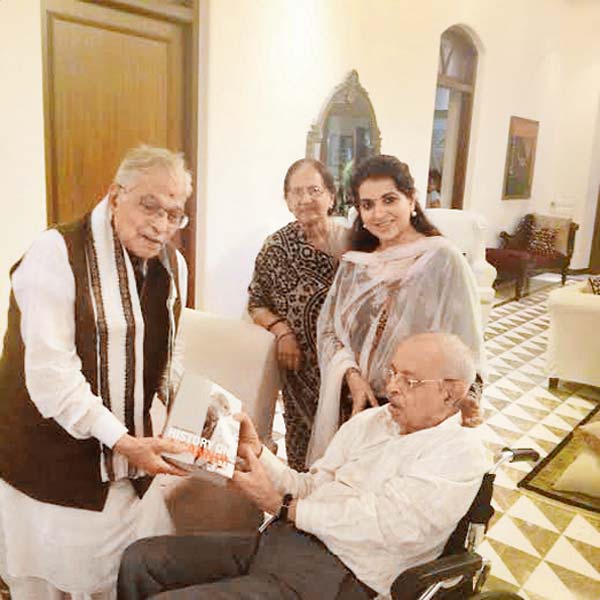 Murli Manohar Joshi with Nana and Munira Chudasama and Shaina NC 
What's more, the erudite Joshi, the only Lok Sabha MP to win four times from Allahabad and who also represented constituencies in Varanasi and Kanpur (which when you come to think of it is the entire Ganga Arti) is said to have spoken fluent English throughout the evening, allowed himself to be persuaded to stay on for a simple and delicious home-cooked meal supervised by the graceful Munira Chudasama, herself the daughter of a venerable and renowned clan from Mumbai.
From Commerce to the Arts
The kerfuffle over the Guardian's damning critique of the Bhupen Khakhar exhibition at the Tate reminded us of the oft-repeated comment about Khakhar, heard amongst artists of a certain ilk; "Bhupen Khakhar entered the Samovar as a CA and left as an artist."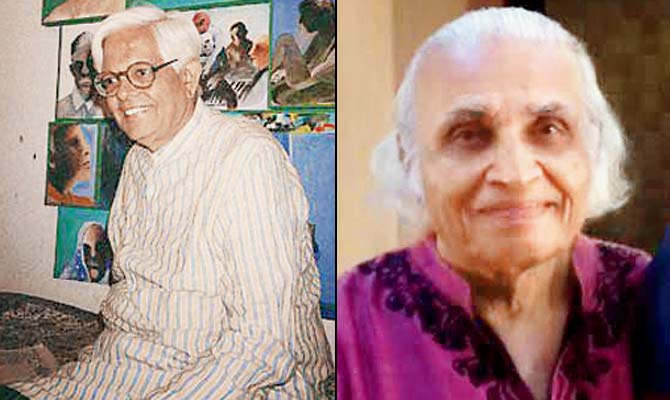 Bhupen Khakhar and Sunil Kothari
To be sure, the soft-spoken and self-effacing alumnus of Sydenham College, was part of an exclusive group of talented men who'd wandered into the hallowed portals of the city's leading commerce college, when they ought to have been in a liberal arts one.
The celebrated dance critic Sunil Kothari who'd taught at the college was another, and our friend, the aesthete son of the legendary Bimal Roy, Joy Roy is another. Those were the days when educational institutions were strictly divided into watertight compartments of learning, where those who were inclined towards the arts or science or commerce were neatly segregated.
Khakhar broke out of that mould to go on to become one of the country's leading artists. And regardless of what the Guardian says - India's art world is richer for it.
Pipped again?
It's so rare to hear Anil Ambani's top guy Amitabh Jhunjhunwala say anything to the media, that when the Group Managing Director and Vice-Chairman of the Anil Ambani-led Reliance Group recently asserted that the company he headed was not the country's most indebted group as projected by Credit Suisse in its House of Debts, it made the financial community sit up and take notice.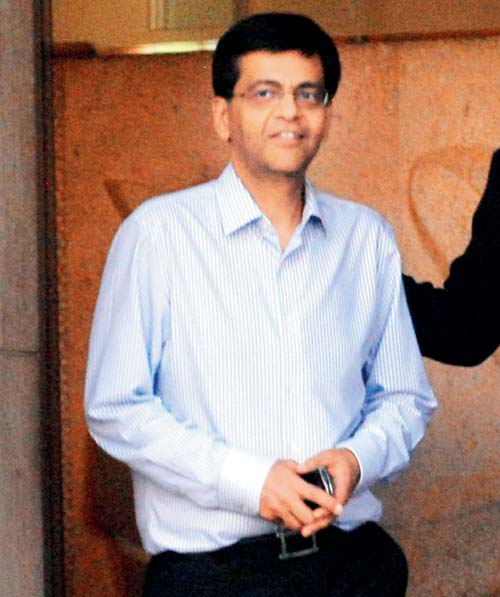 Amitabh Jhunjhunwala
Jhunjhunwala's point was that financial services business operates differently from non-financial business, and to compare Reliance Group's debt (after including financial services debt of Reliance Capital) with other groups was akin to comparing apples and oranges.
Reliance Capital's debt, he averred, should be excluded from Reliance Groups debt for any meaningful and rightful comparison with other Corporate Groups.
What made his argument interesting is Jhunjhunwala's claim that there were at least four traditional business groups ahead of his group on gross debt basis. "Which are the four he alluded to? " commented a Dalal street type on hearing the news. "Wonder if he counted RIL in that group? If so, that makes one more list in which elder brother Mukesh leads," he chuckled.
Diva's big day
A surfeit of love came the way of the gorgeous Dimple Kapadia who celebrated her birthday on Monday.

Dimple Kapadia
The senders were her old pals Abu Jani and Sandeep Khosla, who posted this picture of the diva with the words: Happy Birthday #themostbeautiful #dimplekapadia #our #muse #bestfriend #love #abujanisandeepkhosla #classic #chikan #allhandmade #instastar #instadiva #instastyle #instabeauty #instaforever #bollywoodbest #happiness #always #ajsk #trendsetters #always #original #weloveyou @dk_dimple_kapadia Sweet!
Piquant pairing
Two beautiful, high-born girls, from very similar backgrounds, whose parents had once been the toast of the NRI crowd, now find themselves once more linked in a piquant way: the former husband of one is now dating the other.
"The situation is really interesting as unbeknownst to the dashing middle-aged man in question, the lives of his former wife and current GF have been inextricably linked already," says a London-based gent who's known both families for Yonkers.
"It is of course a hilarious situation only rescued by the fact that all concerned parties are dealing with this new development with great dignity and tact. But it's straight out of a movie script," he says. Indeed.
Time for a RE-THINK?
Has the time come to reassess our response to the Tarun Tejpal THINK brouhaha now that the need for strong liberal voices is called for? In retrospect, the relentless media campaign that shredded the once darling of the intelligentsia could be regarded as excessive.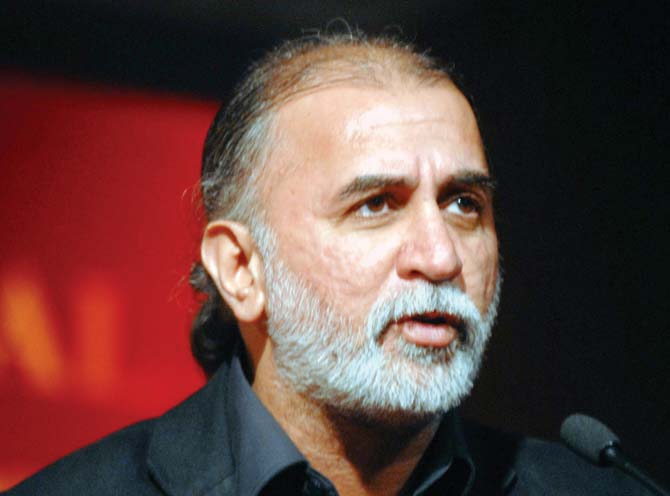 Tarun Tejpal
No doubt Tejpal had committed a grave error. One that pricked the bubble of his public image and gave his detractors ammunition to demolish him, but was there really need for such a vociferous dragging through the coals? This line of thinking has been finding more and more takers especially now when regressive thoughts and actions seem to rule.
A discredited Tejpal, though out on bail, after all is not in any condition to fight the good fight. However, as predicted by this column, the rehabilitation of the once celebrated writer is underway: word comes in that his high-profile festival for the country's intelligentsia will resume as early as next year. If this is true we won't be surprised. After all, everyone makes a comeback in India. Ask the politicians.