Tomorrow is Navroz, a time for revelry for Mumbai's Iranis and Parsis, who solely trust 101 year-old Iranian Sweets Palace confectionary for their slice of the diamond-shaped traditional sweet, Baklava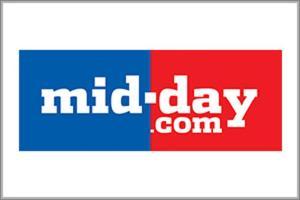 Tomorrow is Navroz, a time for revelry for Mumbai's Iranis and Parsis, who solely trust 101 year-old Iranian Sweets Palace confectionary for their slice of the diamond-shaped traditional sweet, Baklava

Tonight, when the Spring Equinox clocks in to usher Navroz (Iranian New Year), at 9.21.31 pm (Iran Standard Time, 11.15 pm IST), Irani and Parsi communities of Mumbai will gather around their dinner tables, decorated with Sapt Shin (seven elements that begin with the Farsi letter 'S', including garlic, milk or milk products, apples, coins, vinegar, trays, sweets). Iranian confectioner Hassan Irani's Baklava always finds space in the offerings. This 101 year-old family run confectionary on Imamwada Road is a fascinating reminder of Mumbai's countless community-driven tales of enterprise.u00a0



Haji Mohamed Hassan Hajati aka Hassan Irani owns the 101 year-old
Iranian Sweets Palace in Bhendi Bazar, a family establishment that he
has managed for 30 years now, with the same zeal and enterprise of his
grandfather, who founded this landmark. PIC /SHADAB KHAN

Once Upon A Time...
In 1909, Haji Ghulam Ali and his partner Haji Khalifa left Yazd in Iran to start Iranian Sweets Palace, a Halviyat (sweetmeat shop), Gulab and Dry Fruits business located bang in the middle of Mumbai's bustling Bhendi Bazar. Soon, Haji Ghulam Ali took over the business when Khalifa left the partnership. Haji Ghulam Ali (real name: Mohamed Jaffer Yazd) was a shrewd entrepreneur who ensured his sweets were good enough to wipe off the competition. "Back then, there were about seven confectionaries selling Baklava and other Irani sweets. He survived the stiff competition since he was single-mindedly focused on creating a name for his shop," reminisces grandson and current owner Haji Mohamed Hassan Hajati (Hassan Irani).

His grandfather bought the shop space for Rs 30 in 1909. "His well wishers feared he was cheated since it was actually worth Rs 15! Those days, Imamwada contained the highest Iranian population. Today, there are barely two lakh Iranians scattered around South and South-Central Mumbai," Hassan laments.

From Stock Trader To Sweetmaker
Taking forward his family's legacy and tradition, Hassan has been managing the shop for the last 30 years. What's fascinating is that Hassan is a full-time stock trader who takes a month-long sabbatical as Navroz nears, to engage in this annual sweet-making ritual. "My job as a stock trader allows me to run this place. I barely recover the costs, since I use only the finest ingredients. It's important to keep the family tradition alive. I've taught my son about the business and he will take over, eventually."



Baklava, the mother of all Iranian mithai

Work at Iranian Sweets Palace begins in late February. All the ingredients, especially the nuts (pistachio, almonds, walnuts cashew nuts, groundnuts) and dry fruits arrive from Iran, and are ground in a hand-grinder at Hassan's kitchen. "We don't use machine grinders as it fails to squeeze out natural oils. Ten days of grinding the ingredients are followed by another ten days to cook the ingredients in copper utensils," he explains.

This year, business began on March 5. "I don't prepare fresh batches after March 21. The sweets are displayed in a sini -- giant, circular serving trays on which the prepared sweet is rolled out with a longish rolling pin and finally cut into diamond-cut shapes for display. Ably assisted by his two helpers and teenager son, Hassan doesn't believe in publicising his heritage. "I don't advertise. I retain the old way of trade. My clientele will never leave me nor will I abandon them," he says.

Hassan has retained the original structure. Except for the occasional coat of paint, the interiors are intact from the time his grandfather acquired it. "For the rest of year the shop is shut though I undertake party and wedding orders, but only if it's a bulk orderu00a0-- 15 kgs and above. I get orders from the US, Canada and New Zealand," he adds, as his juggles between last-minute orders for Navroz from concerned Iranis and Parsi, over his cell phone.

Baklava And All Things Rich
Almost every ethnic group whose ancestry dates back to the Middle East has laid claim to creating this delicious pastry. However, around 8 BC, the Assyrians first prepared layers of thin bread dough, laced with chopped nuts in between, soaked it with honey and baked it in primitive wood ovens. Historically, Baklava was a food for the rich until mid-19th century. Greek seamen and merchants travelling east to Mesopotamia (today's Iraq) and Persepolis (today's Iran) soon discovered the delights of Baklava.

Counter Culture
Hassan intends to keep his shop open till end of March or "till stocks last!" After that he plans to take off to Iran. If you drop by at Iranian Sweets Palace, it's a tough call to walk away without a return gift. Apart from the famous Baklava, we recommend Louse Pista, Louse Zaffran (Saffron), Louse Badam (almonds) and Nokul (groundnuts), Shirini Pashmak. Gulab Jal (rose water), Gulab Sherbet and fresh Iranian paneer is also on sale. Prices range from Rs 200 to Rs 600 (per kg / Baklava). He also stocks Shervin Gaz (sugar, glucose, rose water, pista and egg white), exported from Esfahan in Iran.

143, Imamwada Road, Haroon Manzil, B Block, Bhendi Bazar. Open daily in March from 10 a.m. to 8 p.m.

Demise of the Irani Cafe
Hassan's take on the Irani cafe is insightful - "It's not feasible. The rates of these properties have multiplied since my grandfather's times. It's not like before. Old generation owners don't find the support from the younger generation to run these businesses. They prefer to sell it off instead and save them the headache, which has turned into loss-making ventures."
ADVERTISEMENT