21 people died and over 80 were injured when an under construction flyover collapsed on a busy street in Kolkata; Hyderabad-based contractor terms it an 'Act of God'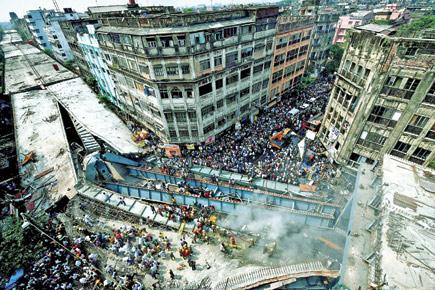 The under-construction flyover collapsed on Vivekananda Road in Kolkata. Hyderabad-based company IVRCL was tasked with constructing the 2.2 km flyover since 2009
Kolkata: While at least 21 people were killed, over 80 others injured and many trapped as portion of an under-construction 2.2-km-long flyover collapsed on a congested road intersection in Kolkata, the company that made the bridge blamed the fall on 'God'.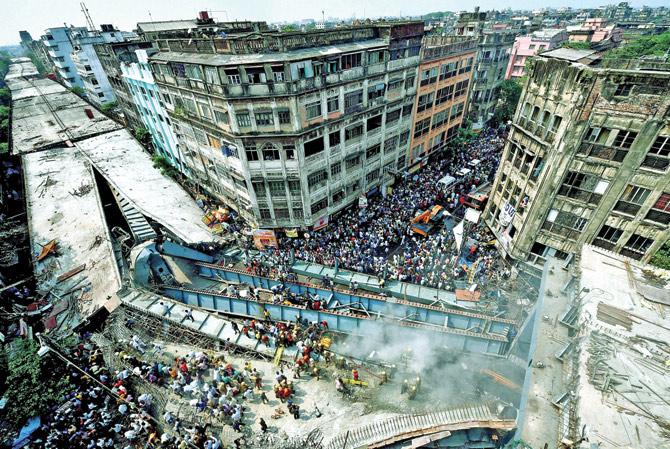 The under-construction flyover collapsed on Vivekananda Road in Kolkata. Hyderabad-based company IVRCL was tasked with constructing the 2.2 km flyover since 2009
ADVERTISEMENT
"It's nothing but a God's act. So far, in 27 years we have constructed several bridges... it (the collapse) never happened," said K Panduranga Rao, Group Head (HR and Admin) of the Hyderabad-based company.
Two of IVRCL's engineers are also missing from the collapsed site, he said, adding, searches are in progress to find them. When asked about the reason for the collapse, Director (Operations), A G K Murty, said, "It's not due to any quality issue nor any technical issue, as of now".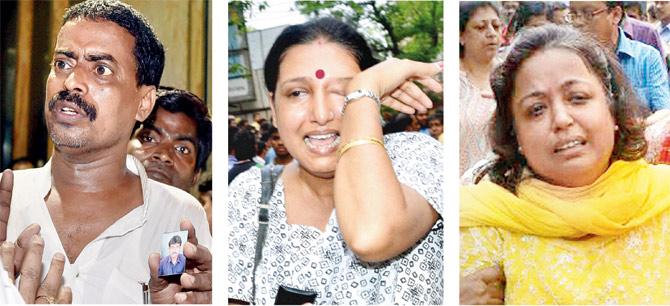 Relatives of the injured in the flyover collapse were inconsolable. Pics/PTI
Murty said 70 per cent of work on construction of the flyover had been completed, and today (Thursday) 60th slab was being "done" (when it collapsed). The two officials said the company would cooperate with government agencies.
"Whatever best possible, we will be doing. All the projects have their own insurance... whatever best possible, we will be doing for the people involved," Murty said.
"We are in deep shock. We at the management are also in shock... we are waiting for what's happened. We are checking," the officials added.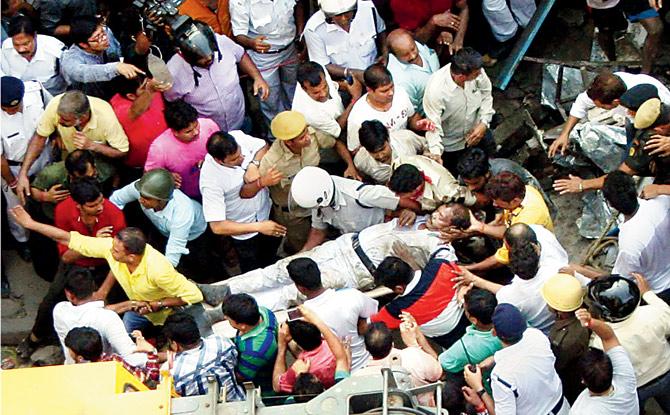 An injured traffic police personnel is shifted to an ambulance. Pics/PTI
In Kolkata, police said 21 persons have so far died in the incident in Burrabazar area, which houses the city's largest wholesale market, while several others were injured. The injured were rushed to hospitals in the vicinity. State administration officials said 62 people have been injured and taken to hospital, while several others were feared trapped under the debris. A number of vehicles were also crushed under the concrete and steel debris.
e incident took place around noon at the busy Rabindra Sarani-K K Tagore Street crossing near Burrabazar, one of the most congested areas in the city. A number of hawkers operate under the flyover, which is also used for parking several vehicles.
'Stringent action'
Four columns of Army personnel (about 300 in number) alongwith NDRF, state disaster management, city police and fire brigade personnel joined in rescue operations. The Army sent 10 ambulances along with its complement of medics to the spot, who continued to work through the night. A team of engineers from the Army also reached the spot to help the civic authorities dismantle the debris. General Officer in Command of Army's Bengal area, Lt Gen Rajeev Tewary supervised the operations.
"Stringent action will be taken against officials of the construction company and others involved," said Mamata Banerjee, West Bengal chief minister, who cut short her election campaign and rushed back to the city.
FIR registered
Joint Commissioner of Police (Crime) Debasish Boral said that the local office of IVRCL has been sealed and a case registered against it under IPC sections 304 (culpable homicide not amounting to murder), 308 (attempt to culpable homicide) and 407
(breach of trust).