"People not included in the list are being branded as either infiltrators or refugees by Bharatiya Janata Party leaders and harassed," the Trinamool Congress chief said, adding that people's freedom cannot be snatched in the name of NRC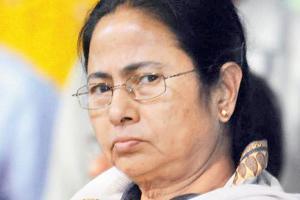 Mamata Banerjee
Upping the ante on her opposition to the draft NRC in Assam, West Bengal Chief Minister Mamata Banerjee on Tuesday claimed that 38 lakh Bengali-speaking persons -- both Hindus and Muslims -- were left out of the list.
"Unfortunately, most Indian citizens left out of the draft National Register of Citizens (NRC) in Assam speak Bengali (language)... out of over 40 lakh persons left out, around 25 lakh are Hindus and 13 lakh Muslims who speak Bengali," she told reporters here.
ADVERTISEMENT
"People not included in the list are being branded as either infiltrators or refugees by Bharatiya Janata Party leaders and harassed," the Trinamool Congress chief said, adding that people's freedom cannot be snatched in the name of NRC.
Showing documents of persons left out of the NRC even though residing in Assam for several years, Banerjee asked: "Are they infiltrators or refugees, or Indian citizens? According to an agreement inked in 1971, people who had come to India till March 24 that year (1971) are very much Indian citizens. The name of a freedom fighter's grandson is also missing."
Referring to her interaction with members of the United Bengali Forum, the Trinamool supremo claimed that those left out have not been allowed to protest and that fake cases are being slapped against them.
"As many as 1,200 persons have been sent to a detention camp, including children and people from Bengal's Murshidabad. Why are 400 companies of central forces being deployed in a small state like Assam? It is an attempt to suppress the voice of the people," the Chief Minister claimed.
She also dubbed the NRC preparation as a "political strategy of the BJP" in view of the coming elections in the country.
Taking a dig at the BJP, Banerjee said: "Does (BJP chief) Amit Shah's father have an original birth certificate? I do not have (my father's birth certificate). That is why I am asking. How many political leaders in India will be able to furnish their father's or mother's birth certificates?"
While the draft NRC published in Assam on July 30 included the names of 2,89,83,677 persons, the names of 40,07,707 others were missing. A total of 3,29,91,384 persons had applied for inclusion of their names.
The filing of claims and objections, forms for which are available at Seva Kendras in Assam, will start on August 30 and continue till September 28.
Catch up on all the latest Crime, National, International and Hatke news here. Also download the new mid-day Android and iOS apps to get latest updates
This story has been sourced from a third party syndicated feed, agencies. Except for the change in headline, the story has been provided "AS-IS," "AS AVAILABLE, without any verification or editing from our side. Mid-day accepts no responsibility or liability for its dependability, trustworthiness, reliability and data of the text. Mid-day management/mid-day.com reserves the sole right to alter, delete or remove (without notice) the content in its absolute discretion for any reason whatsoever.