Pakistani qawwal Amjad Sabri's murder last week points to a religious education that has ceased to evoke the imagination of the faithful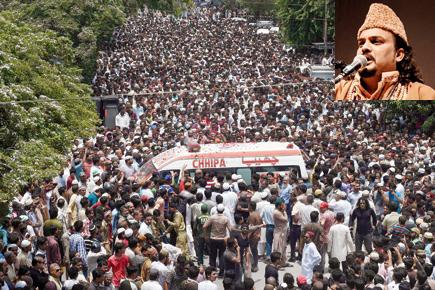 Thousands of people attended the funeral procession of Amjad Sabri, killed when unidentified gunmen open fire on his car in Karachi, on June 23.

Two years before the brutal murder of qawwal Amjad Sabri in Karachi last week, the singer and two television channels were issued a notice of blasphemy by the Islamabad High Court for airing a qawwali that allegedly offended certain religious figures. While this may not be the only motive for his killing in a city known for vicious violence in recent times, musicians and artists have been targetted in Pakistan (and South Asia) for practicing the arts and harbouring views considered too liberal or unorthodox. But in Karachi, there can a hundred other reasons for considering that someone should be dead. You may be shot for resisting the snatching of your cell phone by a thief on the street (no offence meant). One rumour doing the rounds is that Sabri was killed after he declined to perform for a prominent political organisation, and instead attended an event of an opponent. The real motive will probably never be revealed.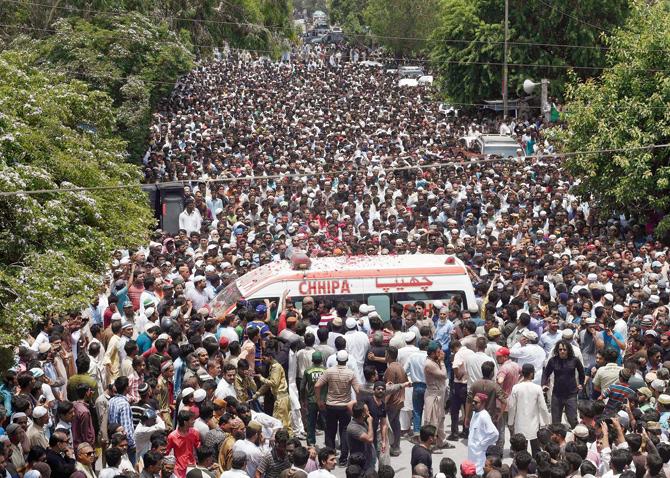 Thousands of people attended the funeral procession of Amjad Sabri, killed when unidentified gunmen open fire on his car in Karachi, on June 23. Pic/AFP
But, aside from these petty scuffles for which Karachi is now infamous, we cannot ignore the larger question of threat to artists, scholars and liberal activists across South Asia, and to religious plurality itself that the qawwal's art and repertoire is traditionally known for.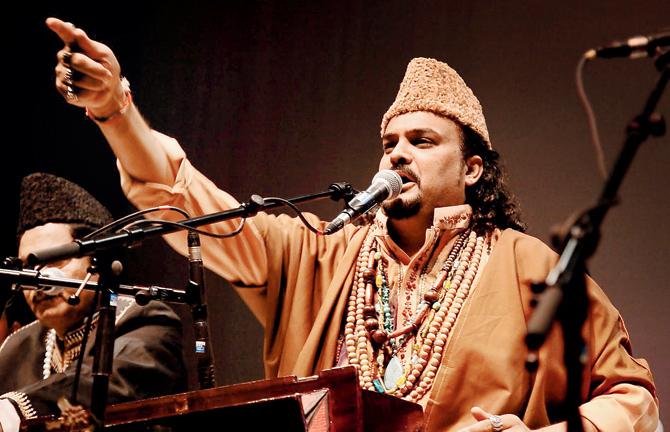 Amjad Sabri, 45, was one of the sub-continent's most popular exponents of qawwali, a musical genre that dates back to more than 700 years. PIC Courtesy/The Dawn
Recently, the tradition of popular lyrics in some religious songs have been criticised as 'unIslamic'. Apparently, one of sabri's songs aired on TV, for which the blasphemy notice was sent in 2014, said, 'Ali ke saath hai Zehra ki shaadi' (It's the wedding of Ali, Prophet's cousin, with Fatima Zehra, the Prophet's daughter). Written by Mir Hasan Mir, this devotional song goes on to describe how this holy wedding was blessed by God and attended by all the Prophets. What enraged the fanatics further was that the broadcast in which Sabri and his team performed the song was from a family wedding somewhere in Pakistan, with some guests allegedly seen swaying to its beats.
To begin with, the very debate of whether music and singing are 'allowed' in Islam has never been settled, despite millions of Muslims continuing to sing and hear devotional songs and being moved by them every day. Moreover, the devotional lyrics about the Prophet, his family, companions, and local saints, that stirred the faithful for hundreds of years, are no longer acceptable to some due to their use of music and local idiom.
In order to reach out to the popular piety of believing masses, these lyrics in local languages and dialects like Urdu, Braj, Bhojpuri, Punjabi and Dakkani are usually light and playful, using local idioms, cultural symbols and analogies from people's daily lives, often taking liberties with the narrative to emphasize certain points. Marriage or meeting of lovers, for instance, has been a common symbol in much of popular mystic poetry. Some lyrics are naïve, like in the Bhojpuri song, Jaiben Madina ham jaroor jab Allah paisa daide (I would definitely travel to Madina if Allah gives some money), or Hori hoye rahi hai hajrat Ali ke dwar (the festival of Holi is being played at Hazrat Ali's door). But more philosophical poetry uses complex symbols, such as in Naaz Khialvi's poem, Tum ek gorakh dhanda ho (You are a puzzle/trickster), referring to the Almighty! Sung by the late Nusrat Fateh Ali Khan, the Gorakh dhanda song has also been attacked in Pakistan as blasphemous.
The problem is that traditionally, both artists and the listeners of such syncretic lyrics easily understood the inherent emotion and deeper nuances since their religious education involved plurality and cultural symbolism. So far, it was normal to sing the biography of the Prophet or other religious figures in a rhythmic song composed in a local dialect. But in today's orthodox religiosity, where New Age preachers like Zakir Naik push a straightjacketed, Arabized version of Islam to their audience, the old-fashioned, hybrid religious narrative is seen as polluted and irrelevant. Why sing a song in Urdu if just the plain saying of the namaz will take you to heaven?
Today's religious education has ceased to evoke the imagination of the faithful. Their faiths have turned rigid and radical, thus more vulnerable to hurt too. And it's not true in Pakistan or Islam alone — we have seen similar intolerance in India and Bangladesh as well. Anyone taking a diversion from the straight path is not tolerated, although ironically, all these and more cultural diversions existed in our centuries-old practices. Indian artist MF Husain opted for self exile in London after his paintings of Hindu deities in the nude were seen as derogatory by many Hindus, although he claimed to depict the idea of purity through nudity, a concept that exists in the Indian cultural tradition. Similarly, for those who allow only one 'standard' version of the Ramayana, AK Ramanujan's Three Hundred Ramayanas was not acceptable as recommended college reading.
The fanaticism is spreading. Only one kind of monolithic faith and identity is being imposed on everyone. If you differ or dissent, you have no right to live in your country. And now, even exile to a neighbouring country isn't an option, since you'll meet the same zealots there too.
The writer is a Delhi-based independent filmmaker and author whose documentary, Khayal Darpan (2006) explored the classical music scene in Pakistan. His book, Muslim Devotional Art in India (2012, Routledge) documents the popular visual culture of Islam in India.