The North Korean leader's younger sister, Kim Yo-jong, delivered a handwritten note to the South Korean president inviting him to visit Pyongyang at the 'earliest date possible'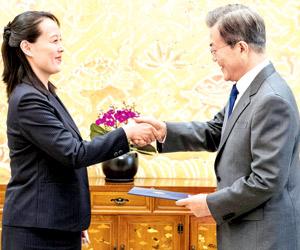 Kim Yo Jong (left) hands over an autographed letter from her brother Kim Jong Un (inset) to Moon Jae-in during their meeting at the presidential Blue House in Seoul. Pics/AFP and AP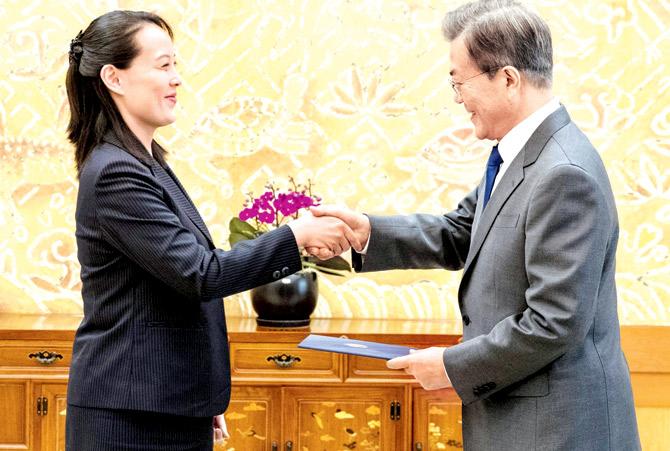 Kim Yo Jong (left) hands over an autographed letter from her brother Kim Jong Un (inset) to Moon Jae-in during their meeting at the presidential Blue House in Seoul. Pics/AFP and AP
North Korean leader Kim Jong Un has invited the South's President Moon Jae-in for a summit in Pyongyang, Seoul said yesterday. The invitation, delivered by Kim's visiting sister Kim Yo Jong, said Kim was willing to meet the South's leader "at the earliest date possible", said a spokesman for the presidential Blue House.
ADVERTISEMENT
An inter-Korean summit would be the third of its kind, after Kim's father and predecessor Kim Jong Il met the South's Kim Dae-jung and Roh Moo-hyun in 2000 and 2007 respectively, both of them in Pyongyang.
After months of silence on whether it would even take part in the Pyeongchang Winter Olympics in the South, which had their opening ceremony yesterday, North Korea has gone on a charm offensive, dispatching athletes, performers and Kim's sister plus other diplomatic delegates to the South. Moon called for efforts to "create the right conditions to realise" such a visit, his spokesman said, urging Pyongyang to actively seek dialogue with US.