One of the most powerful typhoons to ever hit the Philippines killed at least eight people yesterday as ferocious gales and landslides destroyed thousands of homes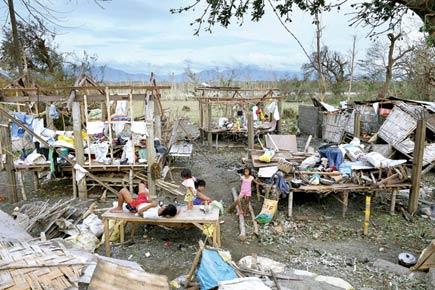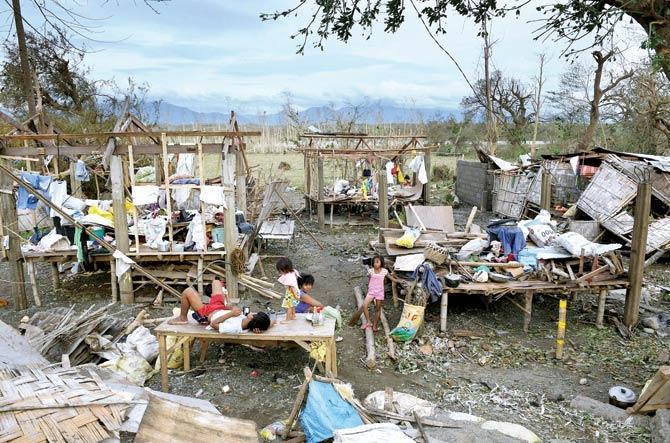 Children play amid their destroyed houses after typhoon Haima hit their homes near San Pablo town on Thursday. PIC/AFP
San Pablo: One of the most powerful typhoons to ever hit the Philippines killed at least eight people yesterday as ferocious gales and landslides destroyed thousands of homes.
ADVERTISEMENT
Super Typhoon Haima struck last night with winds similar to those of catastrophic Haiyan in 2013, which was then the strongest storm to strike the disaster-prone Southeast Asian archipelago and claim over 7,350 lives.
Haima roared across mountain and farming communities of the northern regions of the main island of Luzon overnight, causing widespread destruction, authorities said.
"We were frightened because of the strong winds. There was no power, no help coming," Jovy Dalupan (20) said as she sheltered at nightfall on the side of a highway in San Pablo, a damaged town of 20,000 in Isabela province.
Haima hit coastal towns facing the Pacific Ocean with sustained winds of 225 km an hour, and wind gusts of up to 315 km. It weakened overnight as it rammed into mountain ranges and by morning had passed over the western edge of Luzon and into the South China Sea, heading towards southern China.
The governor of Cagayan said the entire region was without power as he reported widespread destruction.
President Rodrigo Duterte said all possible preparations had been made for Haima. "We only pray we be spared the destruction such as the previous times, which brought agony and suffering," Duterte said in Beijing, where he was on a state visit.